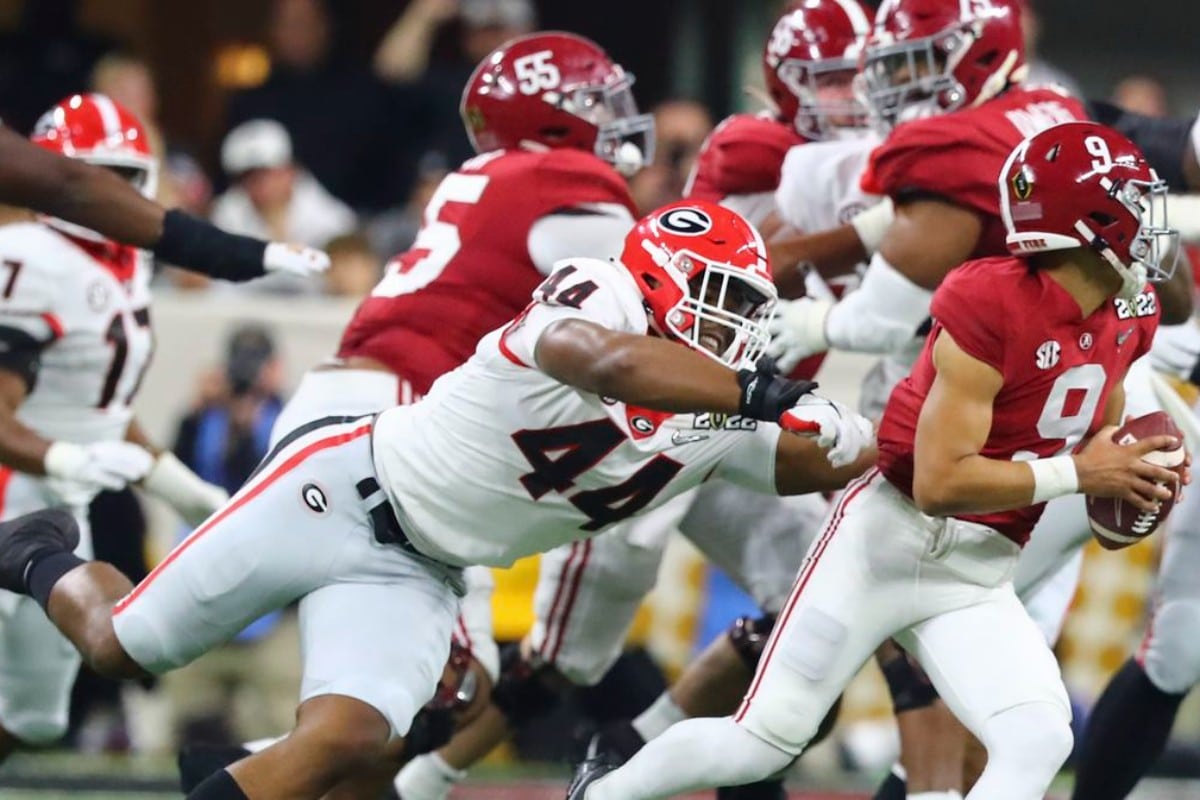 The Georgia defenseman is one of the most impressive athletes in this class. But when will it be ready?
Travon Walker – Edge rusher – 21 years – Junior – georgia
Cut : 1m96
Weight : 125 kg
Estimated draft position: 1st round
Stats 2021 : 33 tackles, including 7 and a half for loss, 6 sacks, 2 passes defended, a fumble covered
NFL Comparison: Calais-Campbell
Strong points
– Power and tentacle arms
– Versatility and flexibility
– Explosive and skillful on the chase
He is the player whose rating has skyrocketed the most in recent weeks. Effective in the national crown of the Georgia Bulldogs, in university, without being the most decisive, Travon Walker managed to turn a good number of heads during the draft process, because of a size and athletic qualities that are simply astounding. Defensive tackle training, number 44 had to lose weight to deviate a little more on the defensive line of Athens. With the success that we know. Walker is one of these new defenders with extraordinary physical dimensions, and a performance that is as progressive as it is constant. The main quality of the defender is his ability to protect the run. With his profile as a mover, his explosiveness at the snap and his brawling side, well helped by sprawling upper limbs, Walker knows how to be respected and often puts his vis-à-vis on the back foot to shrink the pocket. More often used as a defensive end, he is extremely versatile and can just as well attack close to the guards to put pressure on the opposing quarterback. He proved it at the Combine: his mobility isn't a problem, and when he spots the ball carrier, Walker can grapple him very quickly thanks to fluid changes of direction, a good sense of pursuit and an ability to finish actions.
Weak points
– Technique to improve
–Panopia of moves
We would almost forget that the Georgia prospect still seems quite raw… Because despite the progress he has shown in 2021, in a defense armed to the teeth, Walker still has work to do to become an elite pass rusher. His dueling technique is particularly a problem. Against tougher and more athletic offensive linemen, Walker can quickly neglect his hand placement and especially his center of gravity, effectively eliminating himself from the actions. In the same idea, his moves mainly focused on power remain limited and he will have to extend his range a little more to perform over time in the NFL. Elements which inevitably lead to questioning the preferential position he could have in the long term among the pros…
Possible destinations
Jacksonville Jaguars, New York Jets, New York Giants, Atlanta Falcons, Baltimore Ravens
A dazzling diamond. A little too much, perhaps? Without a doubt, Travon Walker has unlimited athletic potential and a thirst for learning and developing, having shown clear progress in 2021. But beyond his versatility, it is still abstract to conceive of him as a long-term external rusher pass. Before losing weight at the start of last season, Walker had the same size as a Calais Campbell, and could be more comfortable, in the long term, in a role of defensive end 3-4 or defensive tackle , capable of constantly shuffling the cards for the opposing quarterback. Not sure that an adaptation isn't necessary and that we don't have to wait at least a season to see the full potential of the one that scouts fantasize about…