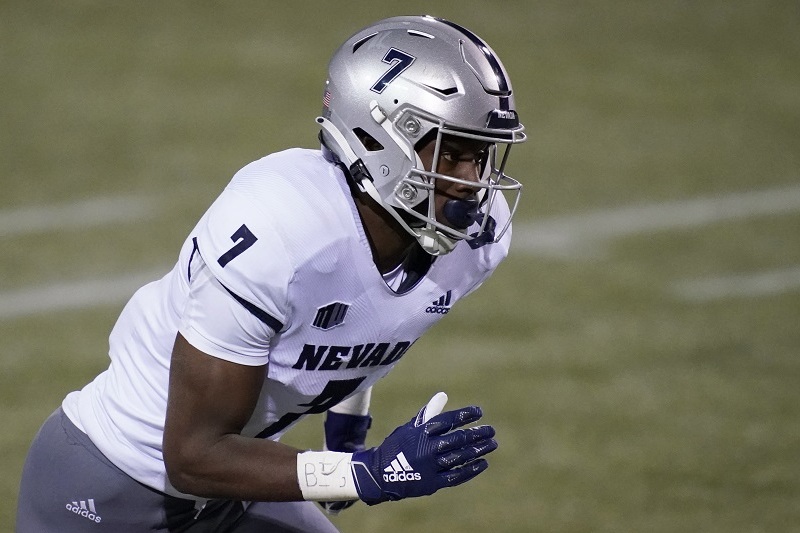 Romeo Doubs – Wide Receiver – 22 years old – Senior – Nevada
Cut : 1m88
Weight : 90kg
Estimated draft position: 3rd round
Stats 2021: 80 receptions for 1,109 yards, 11 touchdowns
NFL Comparison: A large Quez Watkins
Strong points
– Deep Threat
– Speed
– Yards after receipt
– Disputed receipts
In a deep cuvée at the post of receiver, you need a strong particularity to make the difference. Doubs is a deep threat, as he has proven every season for the past 4 years. Capable of making the difference with his speed and a great ability to create separation on long runs, he is a useful weapon to punish a defense that is too lax on deep play.
When he has the ball in his hands, Doubs is always dangerous. Even if the Nevada system did not allow it to be used extensively in this style of play, it is a weapon in screen type games to gain yards on the run rather than in the air.
Even if he is not a physical monster, Doubs knows how to defend himself on disputed receptions. Intelligent in his body placement, he often manages to create an opportunity where other players with similar measurements would have no chance.
Weak points
– Short and intermediate routes
– Hands
– Constancy
If Doubs is a monster on long tracks, this is not the case on shorter actions. Never comfortable creating separation in a small space, it is sometimes too one-dimensional. Is it limited by the system? Maybe, but this inability to dominate every action against average adversity casts doubt on his ability to be decisive at a high level.
While Doubs is a talented receiver, he is frustrating at times. What shocks the most in his game is the excessive number of balls released: 14 in career is too much for a player in the race for the second day of the draft. That kind of stat scares franchises, and it's going to work against it.
While Doubs was stronger than most of his opponents in a weak conference, he didn't dominate as much as he should have. One of the reasons is his lack of commitment on every action. He sometimes seems unwilling to do the maximum, especially on short courses, and will have to learn to be more focused on his game on each action.
The stat
14.8 yards per reception in career
Romeo Doubs is a deep threat, it shows on the videos and in the statistics. Having Carson Strong as a quarterback helps to exploit this talent, but his ability to outrun his opponent is his strength and his value. For a quarterback with a big arm, Doubs is a great weapon.
Possible destinations
Chicago Bears, Cleveland Browns, Indianapolis Colts, Atlanta Falcons, Detroit Lions, Green Bay Packers, New Orleans Saints, Washington Commanders
Teams that lack deep threat are legion in the NFL. Indianapolis and Chicago, for example, need to find targets for their respective quarterbacks, and Doubs is an interesting addition. Jameis Winston could also benefit from such a target. In short, the opportunities are numerous and if the deep draft can make him "fall" in the third round, there is still a superb opportunity.