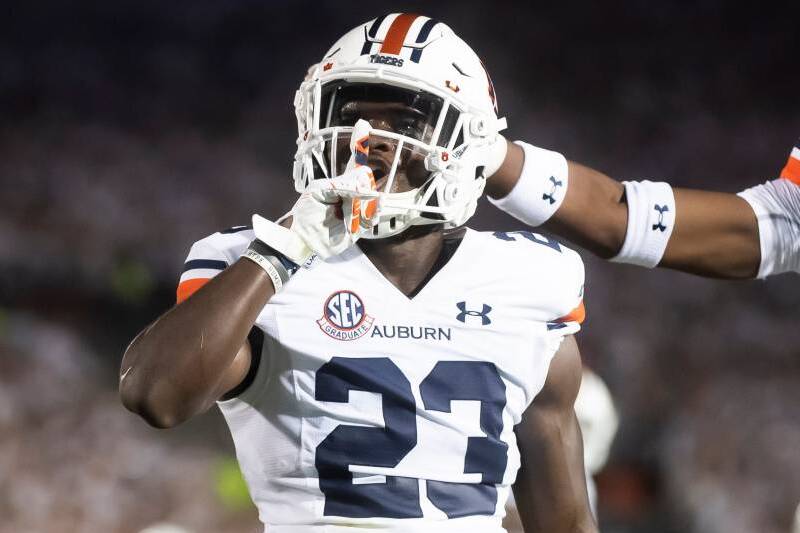 Roger McCreary – Cornerback – 22 – Senior – Auburn
Cut : 1m83
Weight : 86kg
Estimated draft position: Top 40
Stats 2021: 49 tackles including 2 for loss, 1 sack, 2 interceptions, 14 passes defended, 1 fumble covered, 1 defensive touchdown
NFL Comparison: Elijah Molden
Strong points
– Athletic ability
– Explosivity / Change of direction
– Soccer IQ
–Playmaker
– Tackles
With the exception of one characteristic (see below), McCreary can be considered one of the best athletes in the cornerback crop. Lively and able to change direction in the blink of an eye, he excels at replicating or anticipating his opponent's moves, limiting the receiver's creation of separation. Clever in his coverage, he is insanely consistent in man-to-man coverage.
With such intrinsic qualities and a superior football IQ, McCreary can play in the majority of systems, and he will bring his skills as a "playmaker". With an instinct to chase the ball, he manages to generate interceptions and defended passes with disconcerting ease.
If McCreary is strong against the pass, he is far from dishonorable against the run. Although his 2021 season is the worst in terms of tackle, his overall performances over his entire career are reassuring. He projects well forward, and can be useful on all three attempts.
Weak points
– Wingspan
– Speed
The physical dimensions are very (too) watched in the NFL. While McCreary ticks almost all the boxes, one feature has taken him down some rankings: the arms are a bit too short. If this may seem anecdotal for a player who has shown so much on the field, it may work against him especially for a team wanting to play massively in the press. This is the whole paradox of the player: his body is more made for the slot or the zone, while his experience in university is more sure of the external defense in the press.
Looking for another "flaw", McCreary's speed doesn't seem particularly noteworthy. But this relative slowness is not really reflected on the ground, where he is almost always able to follow his vis-à-vis. He may be limited to the slot in the NFL, but he can become one of the best in the league at this position.
The stat
21 incomplete passes in 2021 (1st in CFB)
Roger McCreary is a pot-of-glue, the kind of player who will manage to always disturb his vis-à-vis in one way or another, always remaining close to the receiver. Whether deflecting the pass or provoking the opponent's error, McCreary is a poison and it shows in the stats, where his volume of play in an inconsistent Auburn defense.
Possible destinations
Philadelphia Eagles, Seattle Seahawks, Cincinnati Bengals, New York Jets, Las Vegas Raiders, Houston Texans, Minnesota Vikings
It's always unclear what the defensive patterns will be for teams changing coaches, but a versatile player like McCreary can win almost anywhere. If he does not fall in the first round, he will become one of the main targets of the second. Houston could for example take advantage of the 35th choice to select him in order to shape the Texan defense with a superb athlete.