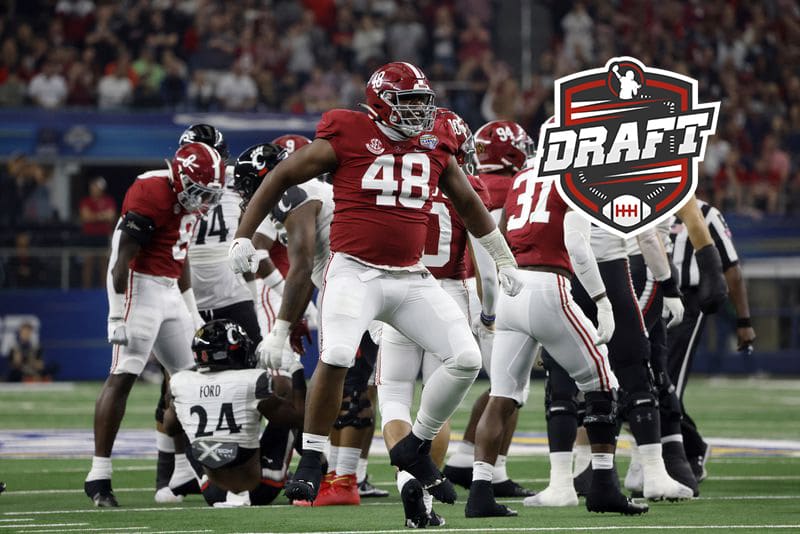 Phidarian Mathis – Inside Defensive Lineman – 22 – Senior – Alabama
Cut : 1m93
Weight : 142 Kg
Estimated draft position : 2nd-3rd round
Stats 2021 : 14 games, 53 tackles including 10.5 for loss, 9 sacks, 2 passes defended, 1 forced fumble, 1 covered fumble
NFL Comparison : Dalvin Tomlinson (Vikings)
Strong points
– Physical
– Run Defense
– Versatility
Phidarian Mathis has the perfect physique for an inside defensive lineman. He's big and strong, with good power and long arms (88cm), which should give him the edge over many NFL interior linemen.
His main quality on the pitch is his defense against the run. He is able to solicit multiple linemen on his own, which frees up his teammates to defend on the running backs. He showed his ability to cover two gaps. If he is blocked by a single opponent, he has a good chance of beating him and making the tackle or the pressure. His ability to be a problem for the linemen will make him an asset on the first downs.
Mathis is also a versatile defensive lineman, a quality increasingly sought after by teams. He showed on the Alabama side that he was capable of playing as a defensive end in a 3-4, even as a nose tackle on very rare occasions, but he can also be a defensive tackle in a 4-3, particularly in 3-tech.
Weak points
– Athletic qualities
– Pass rush
– Game play
Despite his imposing size, Phidarian Mathis is far from being the best athlete on the board. At the university level, he manages to beat his opponents thanks to his power and length, something that will be much more complicated in the NFL. He is neither the fastest nor the liveliest of linemen. To go hunting for a mobile quarterback, Mathis could find it difficult to adapt to the movements.
While his pass rush abilities are far from catastrophic, he really only relies on a collapsing pocket and a rushing quarterback. If he wants to perform in the big league, he's going to have to add some moves to his arsenal. If he succeeds, he can become a defensive lineman on three attempts, which is not really the case today.
Phidarian Mathis sometimes has trouble reading the game. He can sometimes misinterpret the intentions of a running back and thus leave big plays in his area. He also struggles with play actions and changes of direction. This is an area in which he still has room for improvement.
The stat
5 runs stopped against LSU in 2021
During the game against rivals LSU on November 6, in front of more than 100,000 spectators, Phidarian Mathis delivered a major performance, especially on defense against the run. In a tight game (20-14), he was decisive with 9 tackles in total, including 5 to stop the race. Add to that a sack and a covered fumble, and you have a glimpse of what Phidarian Mathis can do on his best days. All against a team that had fought to sign him out of high school, him the native of Louisiana
Possible destinations
Green Bay Packers, Cleveland Browns, Las Vegas Raiders, Dallas Cowboys, Los Angeles Chargers
Fifth-year senior player Phidarian Mathis is ready for the NFL. Like most defensive linemen coming out of Alabama, he's likely to contribute for his team in the first week of the season. His room for improvement is certainly limited, however, his qualities against the run and his ability to crush a pocket can be an asset for any team. With in addition his versatility which allows him to play in all positions indoors, and on various patterns. A team looking for depth on the position, and/or which would not have filled this need in the first round should jump at the chance during the second day of the draft.