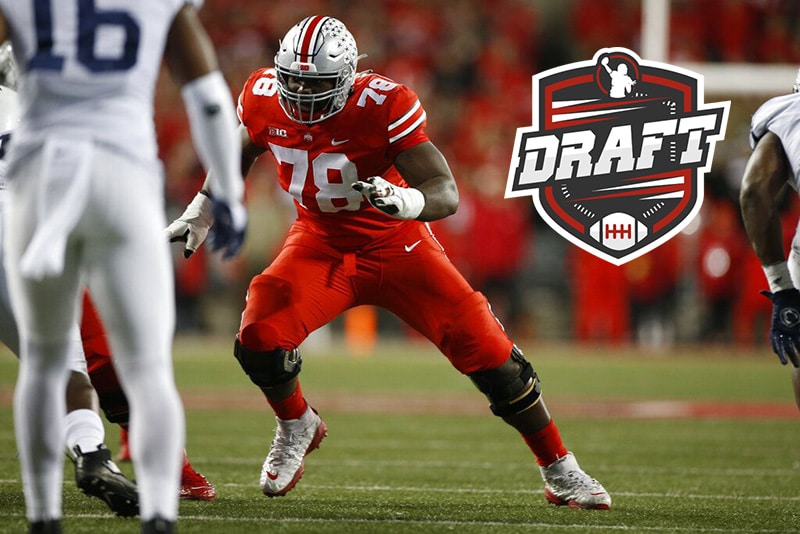 Nicholas Petit-Frere – Tackle – 22 years old – Junior – Ohio State
Cut :1m96
Weight : 143kg
Estimated draft position: end of 2nd – start of 3rd round
Stats 2021: 12 starting games, 11 as left tackle and 1 as right tackle.
NFL Comparison: DJ Humphries (Cardinals)
Strong points
– Footwork
– Physical
– Adaptability
The number 1 tackle in the country upon leaving high school, Nicholas Petit-Frere is, like most 5-star recruits, an exceptional athlete. With the perfect physique for the role at the highest level, he is also much more mobile than his build might suggest. Very light on his feet, he is incredibly fluid in the pro pass, but also and especially in run block, where his mobility allows him to cover a good part of his area and direct his opponents where he wants. The Buckeye has an excellent first step, and he manages to spring from the snap to get the best of the defender. If he proved during his two seasons as a starter that he knew how to move with ease, he also showed that he was still well anchored to the ground, with a good center of gravity and sufficient arm length to force pass rushers to try harder. Finally, he evolved during his two seasons as a starter for Columbus on both sides of the line, all with efficiency.
Weak points
– Timing
– plays too wide
Although very athletic and physically dominant, Petit-Frere tends to misbalance his depth, leaving his opponents too much space. This can cause the tackle to panic as well as lag, forcing him to turn his hips. His angles of attack aren't ideal either. While he has fast footwork, he is severely lacking in coordination, sometimes forcing him to endure more than he dominates the rusher. Petit-Frere also has a bad habit of playing too loose and always pushing the pass rusher to the outside. As a result, he was often beaten on the inside, especially against Michigan, a game in which he was outrageously dominated by Aidan Hutchinson.
The stat
10/19. Nicholas Petit-Frere has played 19 games as a starter the past two seasons, and in 10 of those games he didn't concede any pressure on his quarterback, according to Pro Football Focus. An impressive number for a player who plays in a conference as strong as the Big Ten, while having played on both sides of the offensive line.
Possible destinations
Cincinnati Bengals, Green Bay Packers, Miami Dolphins, Chicago Bears, Carolina Panthers
Opinions vary wildly on the Ohio State player. If the potential is there, there are a lot of things to work on, and concerns on certain points of his game. If the racing game does not seem to pose any problems, he was put in great difficulty against several of his opponents of the Big 10, including Aidan Hutchinson and Arnold Ebiketie.
He has for him the advantage of being able to play on the right as well as on the left. This should allow him to be selected on the 2nd day, either as the 6th man in the offensive line with a development objective, or as a starter from 2022, which could happen in a team with a significant need for the position of tackle. His ability to play in multiple schemes puts him on the radar of multiple franchises, though he was a bit of a disappointment at Ohio State compared to the promise of his high school days.