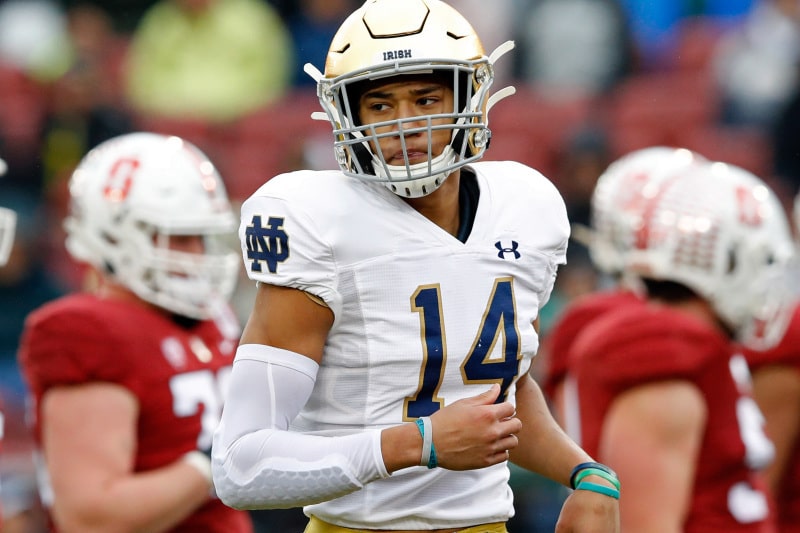 Kyle Hamilton – Safety – 21 years old – Junior – Notre Dame
Cut : 1m93
Weight : 99kg
Estimated draft position: Top 10
2021 stats (7 games): 34 tackles including 2 for losses, 3 interceptions, 4 passes defended
NFL Comparison: jamal adams
Strong points
– Athletic Ability
– Football IQ
– Explosiveness/Mobility
– Versatility
–Playmaker
– Race defense
Perhaps the best prospect for safety since… forever? Like Jamal Adams or Eric Berry before him, Hamilton can legitimately claim a top 10. A real physical anomaly, he is powerful without affecting his speed. Able to respond to the physical challenge of a tight end, he can pursue a receiver with disconcerting ease. Picture example:
KYLE HAMILTON INTERCEPTION 💥

➡️6'4″ 219 lbs athlete
➡️Excellent coverage range
➡️Potential top-10 picks@ojhodgkinson sees the immense talent the Notre Dame safety possesses.pic.twitter.com/neG3GMPGR3

— Pro Football Network (@PFN365) September 6, 2021
What sets it apart from other athletic phenoms is that Kyle Hamilton doesn't just have muscles, he also has an amazing football IQ. His ability to read the opposing quarterback is enormous, and he seems to be half a second ahead of all the other players on the field (sometimes even his teammates). Well used, it can become a Hall of Famer, just that.
An exceptional playmaker, he has managed 8 interceptions in his career. He has an ability to punish the opposing quarterback which makes him formidable. If it is safety, it can evolve according to the diagrams in linebacker, in the box or in the slot with ease. His qualities are not only expressed in pass defense, since he is also a monster for chasing the opposing runner.
Weak points
– Deep coverage
– Durability
– discipline
It's hard to really find "flaws" in Kyle Hamilton, but some limitations or areas for improvement can be highlighted. The main limit is on deep cover. Although he's fast for his build and often plays single high in college, there's no evidence he can play that position in the NFL. Given his characteristics it would certainly be a mistake, because he could not exploit all his abilities, but some teams looking for a safety of this type could pass on Hamilton.
His knee injury suffered in 2021 may also worry some scouts, although it's likely he didn't rush a comeback to be risk-free before the draft. Discipline is also an area for improvement, he must calm his aggressiveness and avoid dangerous tackles, because this kind of error is not forgiving in the NFL.
The stat
6.5% missed tackles in 2021
For a safety, the quality of the tackle is fundamental. Author of 18.2% of missed tackles in 2019, it fell to 13.5% in 2020 and 6.5% in 2019. If the sample is not huge, the progression is visible on the video and on the statistics sheet. And this progression speaks volumes about the player's reliability and his hardworking mentality, typical of Notre Dame. Progression is always important, and it brings another dimension to the projection.
Possible destinations
Denver Broncos, Dallas Cowboys, Atlanta Falcons, Philadelphia Eagles, Detroit Lions, Houston Texans, Minnesota Vikings (and the other 25)
Kyle Hamilton is potentially the only "generational" player in this vintage, and therefore a target for all teams. It also has the luxury of being versatile, so it can work in all systems. To the point of seeing a team go up to take it? Not impossible to see, for example, the Eagles make this choice. A selection by a New York team is highly probable given the choices, but a podium remains an option for such a phenomenon.