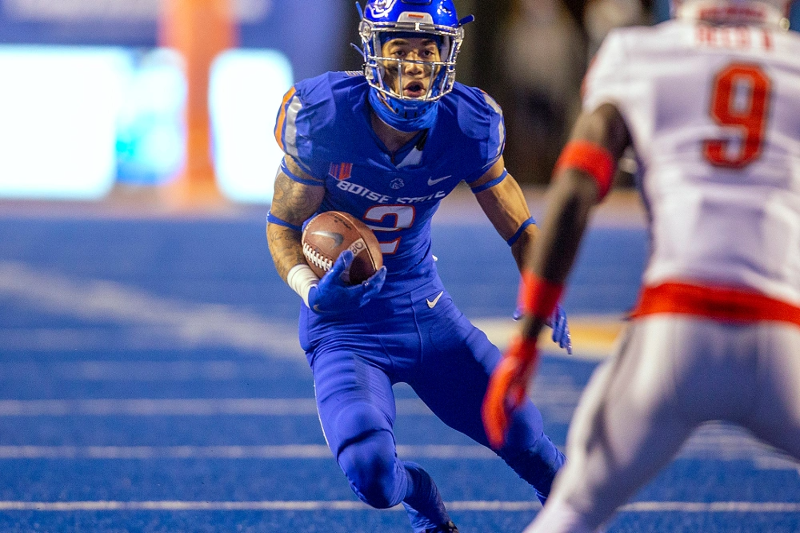 A successor to King Julian Edelman in the slot?
Khalil Shakir – Receiver – 22 – Senior – Boise State
Cut : 1m83
Weight : 86kg
Estimated draft position: Third round
Stats 2021: 77 receptions, 1,117 yards, 7 touchdowns
NFL Comparison: Rahsard Higgins
Strong points
– Yards after receipt
– Slot
– Tracks
– Gadget player
The Boise State player has qualities that can make most NFL teams salivate.
First of all, he is a slot specialist. He masters all aspects, particularly at the level of short and intermediate routes. He knows how to run the roads in relation to the defenders and in particular find the free space between the linebackers.
In addition, after the reception, he is strong at finding free space in the opposing defenses and thus achieving yards at the reception. His fairly low center of gravity and body control allow him to change direction easily and suddenly.
He can also be used as a gadget player that you can use on jet sweeps, as a running back or on wildcat formations. Shakir can also contribute on the kick return phases as a returner thanks to his vision of the game with the ball in hand.
Finally, he seems to have a good head and according to several NFL staff members, he already acts like a professional in everything he does on and off the field.
Weak points
– Slot
– Focus
– Physical
Its biggest strength is also its main weakness.
As a specialist in the receiver position in the slot, Khalil Shakir did not contribute much on the outside positions. Last season, he was faced with a press defense only 59 times, which is very little.
He will have to improve his concentration during receptions. The Boise State receiver is capable of very good catches, but he is also guilty of drops… In 2021, he made ten…
Finally, he will have to strengthen at the muscular level. The contacts will be much tougher in the NFL, especially if he plays exclusively in the slot and will have to face much more physical linebackers.
The stat
529. This is the number of snaps he has played catcher in the slot out of 717 possible snaps in 2021.
Possible destinations
Green Bay Packers, New England Patriots, Kansas City Chiefs, Cleveland Browns
If a team is looking for a specialist in the receiver position in the slot or a gimmick player, they will have an eye on Khalil Shakir. He's not the most complete player in his position, but he has a specialization and that makes him a special player. The new Julian Edelman for the Patriots or for another team?