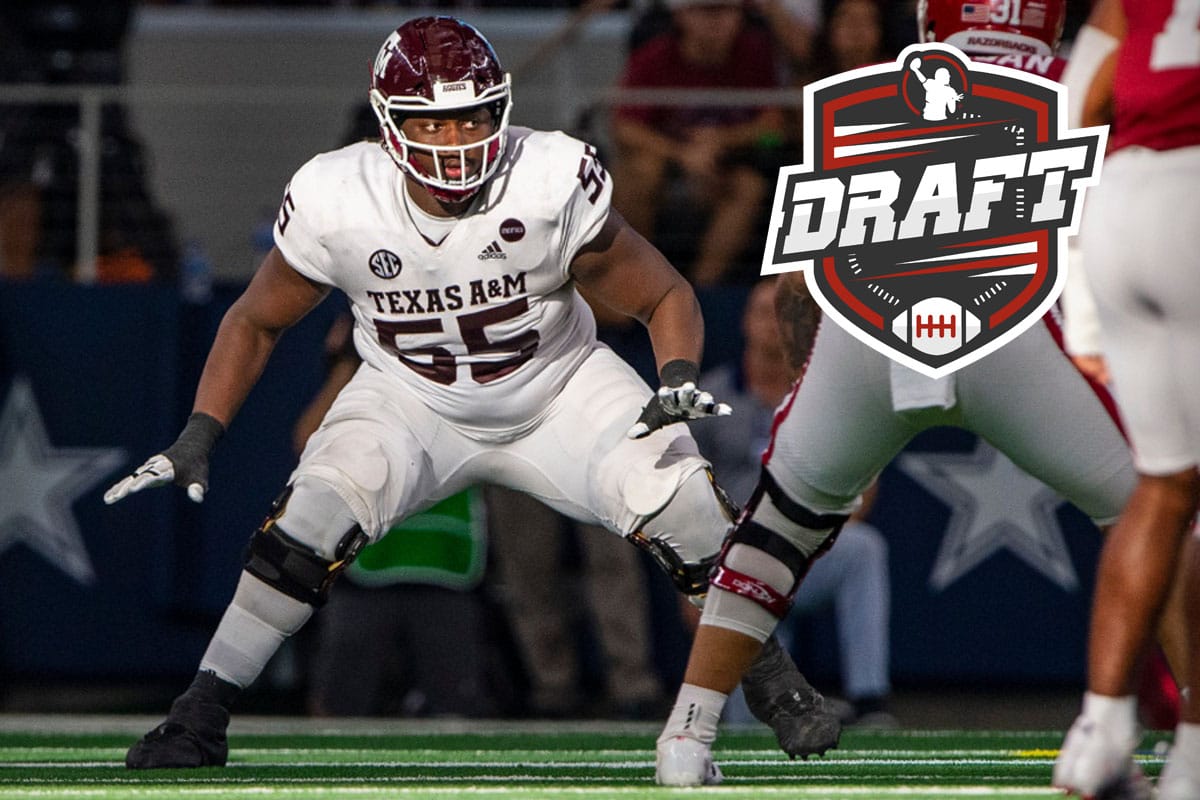 Kenyon Green – Guard – 21 years old – Junior – Texas A&M
Cut : 1m92
Weight : 146kg
Estimated draft position: 1st round (15-30)
Stats 2021: 12 starting matches at four different positions
NFL Comparison: Rodger SaffoldBills
Strong points
Constant
Versatile
Powerful
Mobile
Kenyon Green is a consistent player. Arrived as a 5-star rookie in 2019, he started in his freshman season: 35 games, all as starters and none missed in three seasons. At Texas A&M, he was the anchor of the offensive line. His versatility allowed his team to use him wherever the need arose. Exclusively right guard in 2019 (747 snaps) then exclusively left guard in 2020 (690), the 2021 season gave him playing time everywhere except at the center position: 408 snaps as left guard, 142 as right tackle, 106 as right guard and 86 as a left tackle! In the NFL, his best position will be as a guard, but his ability to help out as a tackle enriches his value. Troubleshoot is the word, Kenyon Green has the potential to be great as a top level guard, not a tackle.
Kenyon Green is powerful, very powerful. Using the hands to better engage his body, he knows how to transfer his muscle mass to weigh in the duel. Dueling? This player loves it and it shows. In the trenches, a shadow fight unfolds with every snap and Kenyon Green has the mentality of a warrior. And this attitude is sublimated by his natural abilities: size, balance and overall power (upper and lower body). He is also very mobile for his size: no, not the type to run quickly for 40 yards but in his movements in block situations. Still perfectible because only a university player, he already offers a complete panoply, that of a holder in the NFL. And a good one. He is a potential future Pro Bowler, if all goes well.
Weak points
Kenyon Green is a competitor and he takes dueling in the trenches very seriously. When he feels overwhelmed, he then tends to hold back his adversary: ​​hatred of failure no doubt. In the NFL, referees are vigilant, sometimes too much. Kenyon Green does not need to "muscle his game", on the other hand he must discipline him.
The stat: 3 pressures allowed in his last 7 games
While still better for running play, Kenyon Green also offers skill in protection. This is reflected by this statistic, knowing that Kenyon Green was playing in the best university conference. In his last 7 games, he still faced the defenses of Alabama, Auburn, South Carolina and LSU.
Possible destinations
Philadelphia Eagles, Los Angeles Chargers, New England Patriots, Dallas Cowboys, Tennesse Titans
In 2021, the Eagles ran more than they threw and with the retirement of Brandon Brooks, they could strengthen the right side of the line. Justin Herbert deserves to be calm and if the Chargers took care of the left side in 2021, with tackle Rashawn Slater, the right side remains weak. Although they also have needs on defense and at the receiver position, the Patriots now have others after free agency and the departures of Ted Karras and Shaq Mason. The young, and talented, Michael Onwenu will not be able to split. The Cowboys let Connor Williams go and Kenyon Green played one of his best games of 2021, on the lawn of AT&T Stadium (against Arkansas). For an offense that runs a lot, Kenyon Green would be a superb addition for the Titans, especially after the departure of Rodger Saffold.
With a similar size, Kenyon Green can be reminiscent of the former Titans, now the Bills. Rodger Saffold also had snaps as a tackle in college. And like his elder, Kenyon Green could become a dominant guard for several years.