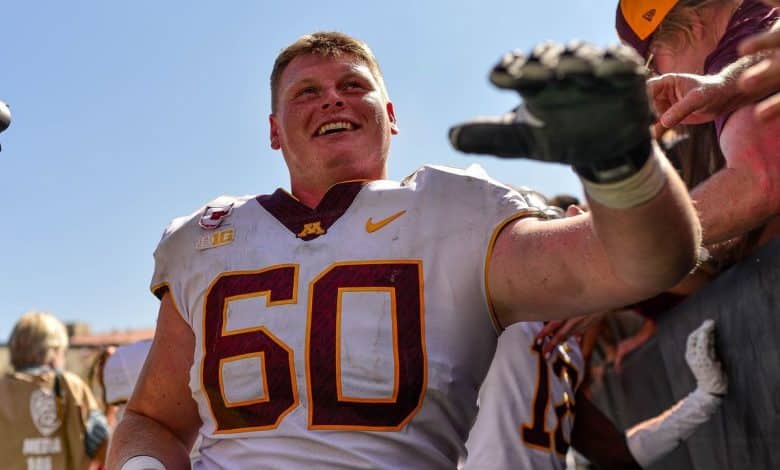 John Michael Schmitz – Center – 24 – Senior – Minnesota
Height: 1m93
Weight: 145kg
Estimated draft position: 1st-2nd round
NFL Comparison: Alex Mack
Strong points
Responsive and athletic despite his size
Soccer IQ
Violent hands and powerful upper body
If John Michael Schmitz had been a restaurateur, no doubt pancakes would have been on the menu. Anchor of Minnesota's offensive line in a conference Big Ten extremely renowned for the ground game, the native of Flossmoor, Illinois has gradually become a complete and intimidating player.
Tall and strong, he has the natural traits of a solid offensive lineman from the Midwest: aggressive in contact thanks to active and violent hands, he does not hesitate to bring his opponent to the mat, using his experience as an amateur wrestler. During his months in Minneapolis, Schmitz developed previously unsuspected athletic abilities. Despite his meter 93, he manages to quickly put himself in position to confront his vis-à-vis, and shows a disconcerting mobility to support his guards or downright pick up.
Once he is anchored on his supports, it is difficult to move the captain of the Golden Gophers. He also composes with a good reading of the game and a good sense of anticipation. Result: not content to crack down on the run blockwith one of the best ground games in the country, the center conceded only two bags in almost 1000 snaps in an academic career.
Weak points
Center of gravity
Overcommitment
Few things currently seem perfectible in his game, but certain elements can make him lose value in the eyes of the franchises.
From a technical point of view, his lower body tends to play tricks on him and it is not uncommon to see him rushing in his execution in the face of more lively pass rushers, at the expense of his balance and positioning. from his hands. This last point has also led him to concede a few avoidable faults (9 in 3 years) in a program where the aerial attack is clearly not a priority.
Other points play somewhat against him: he is already 24 years old, and his ceiling seems quite low now, despite solid achievements. Moreover, unlike other players, Schmitz does not have immense versatility and should be "content" with the center position, despite some rather intriguing tries as a guard during the Senior Bowl.
Possible destinations
New York Jets, Pittsburgh Steelers, Tennessee Titans, San Francisco 49ers
If many prospects suggest a part of mystery as to their potential, this is not necessarily the case for John Michael Schmitz. The offensive lineman knows how to do a lot of things.
Able to be aggressive and explosive on the ground game in a formation opting mainly for bouldering in the zone; the senior also pleasantly surprised on his ability to perform on the professional passdespite a size and weight not ideal for his position.
With a slight framing of his future coaching staff, he has everything of a solid future holder in the NFL, capable of imposing himself in the rotation from his first professional season.