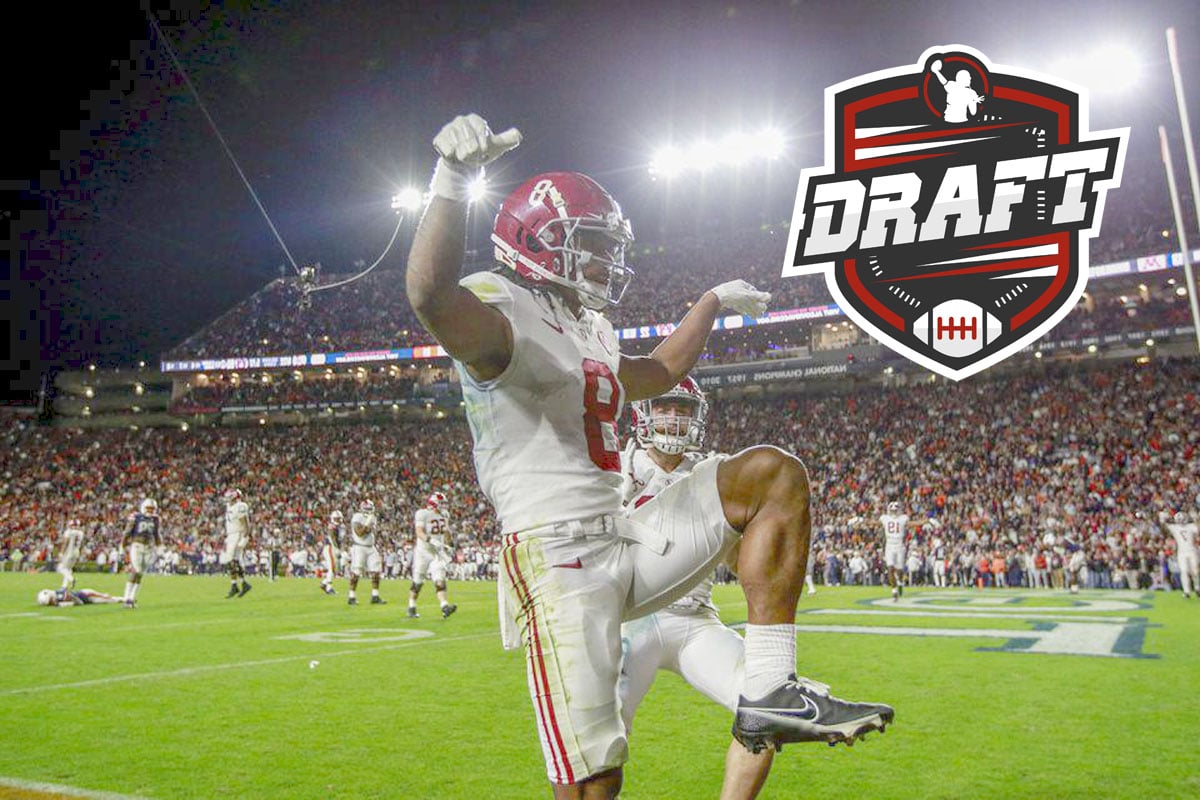 John Metchie – Receiver – 21 – Junior – Alabama
Cut : 1m83
Weight : 88kg
Estimated draft position: 2nd round
Stats 2021: 1142 yards and 8 touchdowns
NFL Comparison: Emmanuel Sanders (ex-Bills)
Strong points
Dynamic
Precise in its lines
Versatile
John Metchie is a dynamic receiver. This means that he is quick to create separation and also that once the ball is captured, it is difficult for defenders to stop him: his ability to accelerate and take the right running angles has allowed him to gain many yards after receiving and avoid many tackles. In addition, he is a receiver who knows how to get to where the quarterback needs to throw the ball. It doesn't seem like much, but at the high level, a quarterback must launch with anticipation: that is to say where the receiver is supposed to go and this, even before he is there. Mac Jones then Bryce Young were able to count on John Metchie to perform the good road.
His quality can be exploited in various places on the field: a third of his receptions have been in the slot. Outside or inside receiver, he also knows how to be a safety valve for a quarterback and 33 of his 96 receptions in 2021 were on a screen pass. Then, his dynamism allows him to gain ground.
Weak points
His footwork allows him to often create separation during the engagement, but in the face of physical cornerbacks, he struggles to resist the duel. Inevitably, this somewhat reduces its value with NFL staff. This Canadian (born in Taiwan and having also lived in Ghana) is keen on his support, but he does not meet the standards expected (by fans especially) for an NFL number 1 receiver.
Problem for a receiver: the balloons released! With a large volume of play in Alabama, John Metchie inevitably had waste. But a little too much: 8 in 13 games in 2021, 14 in two seasons. In the NFL, every game is valuable, so being relatively reliable is not enough: the NFL is the league of excellence, not that of "relatively". Even more so for the receivers, because the eyes are easily on them: if the fans know how to look in various places at the time of the commitment, following the ball is nevertheless the path most often taken by our eyes. So inevitably, releasing a ball is quickly spotted, then judged as a serious error. League of Excellence means fierce competition, John Metchie will have to work to correct this problem.
The stats: 16.7 and 11.9
His figures correspond to average yards per reception for the 2020 and 2021 seasons. In 2020, Jaylen Waddle is injured and John Metchie takes the lead in the attack. To replace the dynamic player of the Dolphins, he then becomes the one who attacks the depth. Jaylen Waddle and DeVonta Smith left for the NFL, in 2021 he became the squad's number 1 receiver: he then took on a more complete role and if his average yards per reception dropped, his volume increased. These two stats tell us that John Metchie can arrive in an NFL attack and be a player for the deep, or a receiver producing on all areas of the pitch.
A profile that will interest many franchises because it corresponds to different needs.
Possible destinations
Indianapolis Colts, Atlanta Falcons, New Orleans Saints, Kansas City Chiefs, Green Bay Packers, New England Patriots, Arizona Cardinals
Equipping your quarterback with quality targets is a strategy that often pays off. His rating currently puts him between picks 42 and 55 (see above). Does John Metchie get the recognition he deserves? Certainly not. The fault is a combination of three factors. The first being an injury at the end of the season which caused him to miss the Draft Process (but he will be available for the first summer camps). The fault also with a vintage of receivers once again very talented. Finally, a cliché on the physical stature that a number one receiver must have. The same one that robbed Stephon Diggs or Terry McLaurin of being top draft picks. However, John Metchie can bring balance to an attack like them, and in many ways.
"Don't forget the sense of balance, very important. Lesson not only for karate. Lesson is for all life. All life, you have to balance and everything is better. ", said Mr. Miyagi to the young Daniel in the film Karate Kid