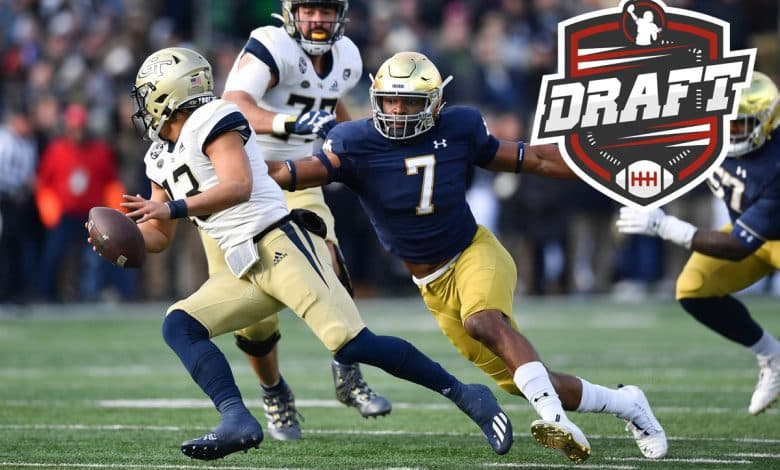 Isaiah Foskey – Edge – 22 – Senior – Notre Dame
Height: 1m98
Weight: 120 kg
Estimated draft position: 20-40
2022 stats: 44 tackles including 12 sacks
NFL Comparison: Jaelan Phillips (Dolphins)
Physical attributes, training at a prestigious university and playing a premium position: Isaiah Foskey has something to seduce.
Strong points
– Fast
– Technical
– Long arm
– Curriculum
Isaiah Foskey is an accomplished athlete, the type of pass rusher namely to pick up speed as soon as the ball is engaged and the first supports.
To win his duels, he knows how to use his strengths wisely: explosive 1st step and use of hands to sweep away those of the opponent. His panoply of arm movements is also a strength for him: he always has a counter in reserve (the fact of trying something else if the first movement is not victorious).
If natural attributes are not enough to make a good player, having them helps a lot. His long arms allowed him to realize his game intelligence: 6 forced fumbles in 2021 and 4 blocked punts in his career!
If major NFL players come from modest universities, leaving Notre Dame is very often a guarantee of quality. Besides, no college has provided more players to the NFL than this Indiana institution. If only two players were drafted in 2022, 21 were drafted between 2021 and 2019!
Receiving quality coaching and teaching, playing football there also means being used to the pressure of a full stadium and being broadcast on a national channel. In 2022, former Notre Dame students like Quenton Nelson (Colts), Zack Martin (Cowboys) or Jeremiah Owusu-Koramoah (Browns) as well as 42 others played Sundays in the NFL!
Weak points
– Bend
– Power
– Comprehensive but not specialized
Isaiah Foskey is fast but that's not always enough to beat his opponent. To overrun, an Edge must know how to round their hips to get around their opponent. It also penalizes him when it comes to suddenly changing direction. When he played Ohio State and tackles Paris Johnson and Dawand Jones, he got into trouble. In the NFL, he will only face players as good or even better.
Although he compensates with his technique, Isaiah Foskey lacks the power to be a top-10 pick in the draft. Still too often contained, if he signed 12 sacks in 2022, he was only the author of 18 pressures (17 in 2021). In the same position and therefore in competition for a draft selection, Felix Anudike-Uzomah signed 29 pressures in 2022 (25 in 2021).
However, putting pressure on the quarterback is what we ask in priority to the players of this position!
Possible destinations
New Orleans Saints, Philadelphia Eagles, Kansas City Chiefs, Houston Texans, Los Angeles Rams
Isaiah Foskey could be chosen at the end of the first round by the Eagles or the Chiefs, two teams looking for a reinforcement in this position. The Saints, positioned just before these two teams, could have the same idea after the departure of Marcus Davenport and the difficulty for Payton Turner to stay healthy.
At the top of the second round of the draft, Houston could enrich its rotation and prepare after Jerry Hughes. the Los Angeles Rams could replace Leonard Floyd at a lower cost.
In the video below, his performance against UNLV on October 22, 2022: 3 sacks and 2 blocked punts!