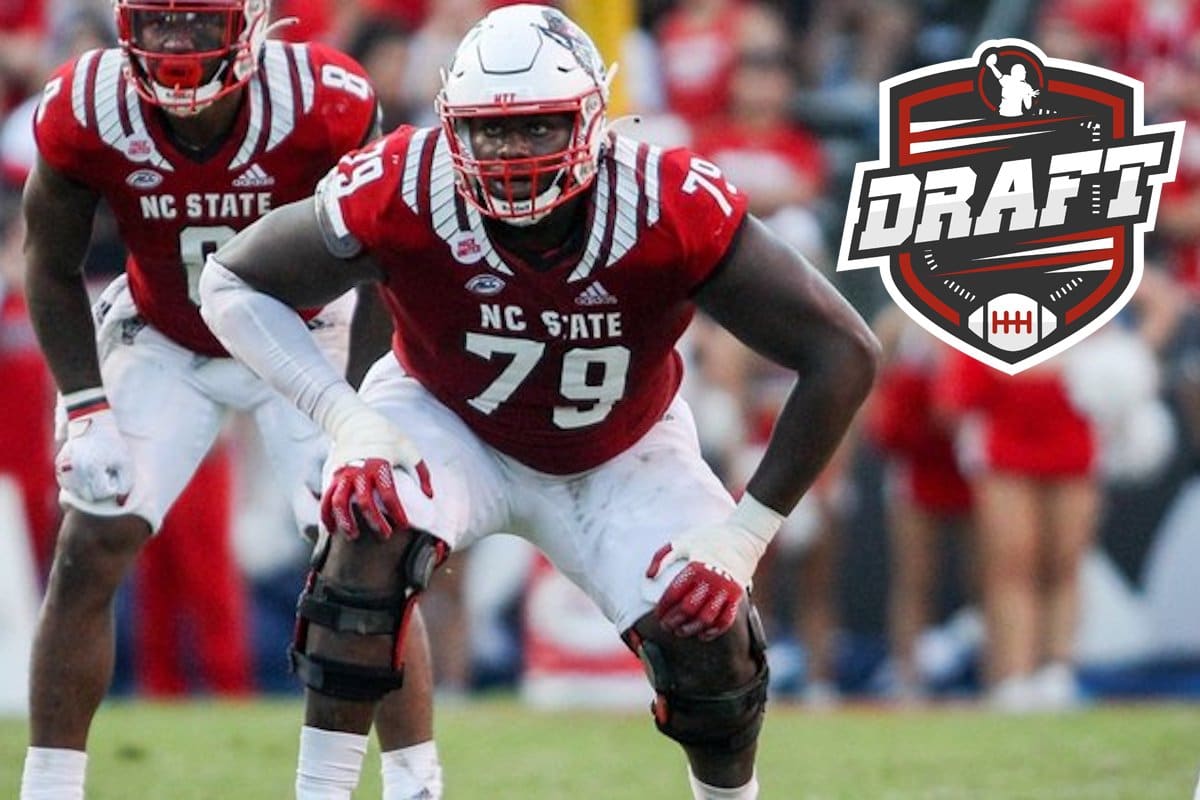 By far the best run blocker of this cuvée.
Ikemefuna Ekwonu – Offensive tackle – 21 years – Sophomore (RS) – NC State
Cut : 1m93
Weight : 145kg
Estimated draft position: end of 1st round
Stats 2021 : 12 games
NFL Comparison: Kelechi Osemele
Strong points
– Explosiveness, athletic qualities
– Mobility
– Amazing run blocker
NC State is not the biggest university for football prospects, but we must admit that it has released some interesting players, especially on the offensive line with Garrett Bradbury and Joe Thuney. The great strength of Ikem Ekonwu is undoubtedly the run block. He literally smashed everything about his time in the NCAA in this compartment of the game. His explosiveness and his natural instincts help him a lot to create gaping holes for his runner. Ekonwu is also very mobile, he picks up easily to go and distill a block on the other side of the line. His power has claimed many victims at the college level and there's no doubt his ability to help the running game will carry over to the NFL.
Weak points
– Template
– Raw on password protection
While he'll be able to play all the racing games on his first NFL day, there's still some work to be done on pass protection. It's not so much that the former Wolfpack was bad at it in college, it's that he got very little use, but with his speed he should be fine for a system of zone blocks in the NFL. The main problem with Ekonwu is that there are still a lot of specialists who doubt his ability to play as a tackle. It is true that he is a relatively small size for the position with his 1m93. NFL tackles often peak around 2 meters and have very long arms at their disposal to parry attacks from pass rushers. He may therefore lack a little extension in Ekonwu in the NFL.
Possible destinations
Tennessee Titans, Houston Texans, New York Jets,
The fact that Ekonwu's position is still a topic of discussion could greatly affect his position in the Draft. If a team sees him as a tackle, they could draft him in the top 15. On the contrary, if everyone is convinced that he will be a guard in the NFL, he will rather leave towards the end of the 1st round. Because of this, and knowing that Ekonwu is an excellent run blocker, how not to put Derrick Henry's Titans who have needs on the offensive line. The analysis is not very long to do for the Texans and the Jets. The needs are very numerous and taking a player who can, almost single-handedly, advance the racing game, in English, we call that a no-brainer. On the Seattle side, the departure of Russell Wilson greatly exposes the running game and Ekonwu could move Cris Carson forward.