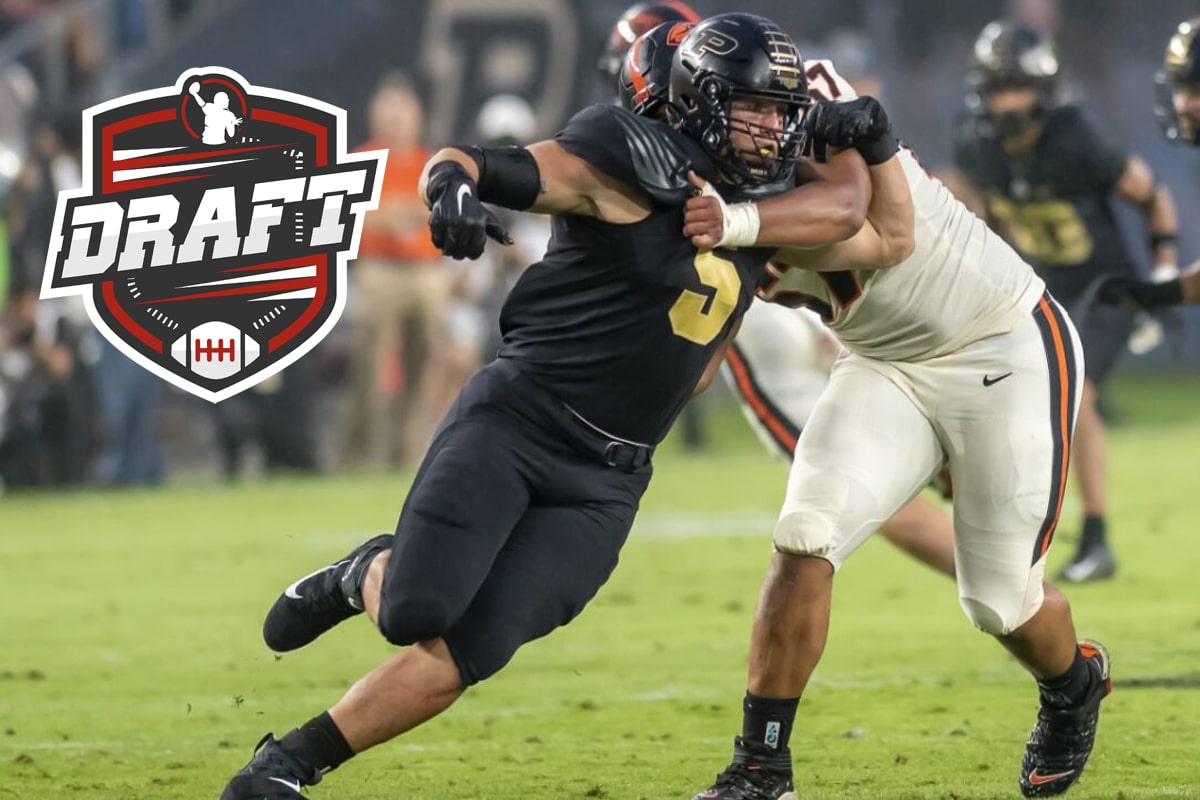 George Karlaftis – Defensive End – 21 years old – Junior – Purdue
Cut : 1m93
Weight : 125Kg
Estimated draft position : second half of the 1st round
Stats 2021 : 41 tackles including 11.5 for losses, 5 sacks, 3 forced fumbles and 2 defended passes in 12 games
NFL Comparison : Trey Hendrickson (Bengals)
Strong points
– Athletic qualities
– Engine
– Technical
George Karlaftis has outstanding athletic qualities. Apart from football, he practiced many other sports which allowed him to acquire many skills. He twice won the Indiana shot put championship. He is an extremely powerful player, and his 21 repetitions at the bench press during the combine attest that he has lost none of his strength. He has very violent hands that allow him to easily gain an advantage on opposing tackles, creating space not only for Karlaftis but also for his teammates.
In addition to throwing, Karlaftis was once part of Greece's youth water polo team. An endurance sport par excellence, it brought its qualities to the football fields. Unlike some players of his size, George Karlaftis remains active throughout a game. He never gives up until the whistle has sounded. A propensity to wet the shirt which is very appreciated by NFL staff and fans, but which can also inspire teammates.
While he doesn't have the most football experience, starting late, Karlaftis is a born pass rusher. He has a wide variety of moves down the line. Capable of passing with strength and finesse, he achieved spectacular results in this area at Purdue: 29 tackles for loss and 14 sacks in just 26 games for the Boilermakers.
Weak points
– Run Defense
– Second effort
George Karlaftis isn't terrible at the running game. He is full of good will, but sometimes that is too much for what he should be doing. He can sometimes even be annoying for his teammates. Karlaftis, through his pass rushing game, tends to sometimes focus too much on the tackle, and forget about the ball carrier, which can hinder the runner's pursuit of the line as a whole. It is a defect that he will have to erase.
If he has undeniable qualities in pass rush, George Karlaftis does not win all the time. And when his first move is repelled by his direct opponent, he can simply get out of the game. It's not a stamina issue, as he will keep trying, but sometimes he can find himself caught out. He lacks second-effort moves in his arsenal to get out of a two-man take.
The stat
70 snaps per game as a freshman
George Karlaftis' first season on the West Lafayette campus was in 2019. While Purdue isn't one of the most reputable programs in the country, it's still an FBS team. And from his first season, George Karlaftis was an indisputable starter on the defensive line. He was even the team leader in sacks and tackles for loss. Proof that he already knew how to be decisive from an early age, and that at only 21 years old, he still has time to reach his full potential.
Possible destinations
Arizona Cardinals, Philadelphia Eagles, Dallas Cowboys, Green Bay Packers, Tennessee Titans
George Karlaftis is an enticing prospect for any team with defensive line needs. He's powerful, tough, smart, and he has a competitive mentality. It is not insignificant that he had success in several sports before fully embarking on football: he is a winner. This kind of player is every coach's dream. He will bring benefits to his new team on and off the pitch. With what he has shown for several years with Purdue, the suitors should be numerous when the pass rushers higher ranked than him (Hutchinson, Thibodeaux, Walker, Johnson…) are no longer available.