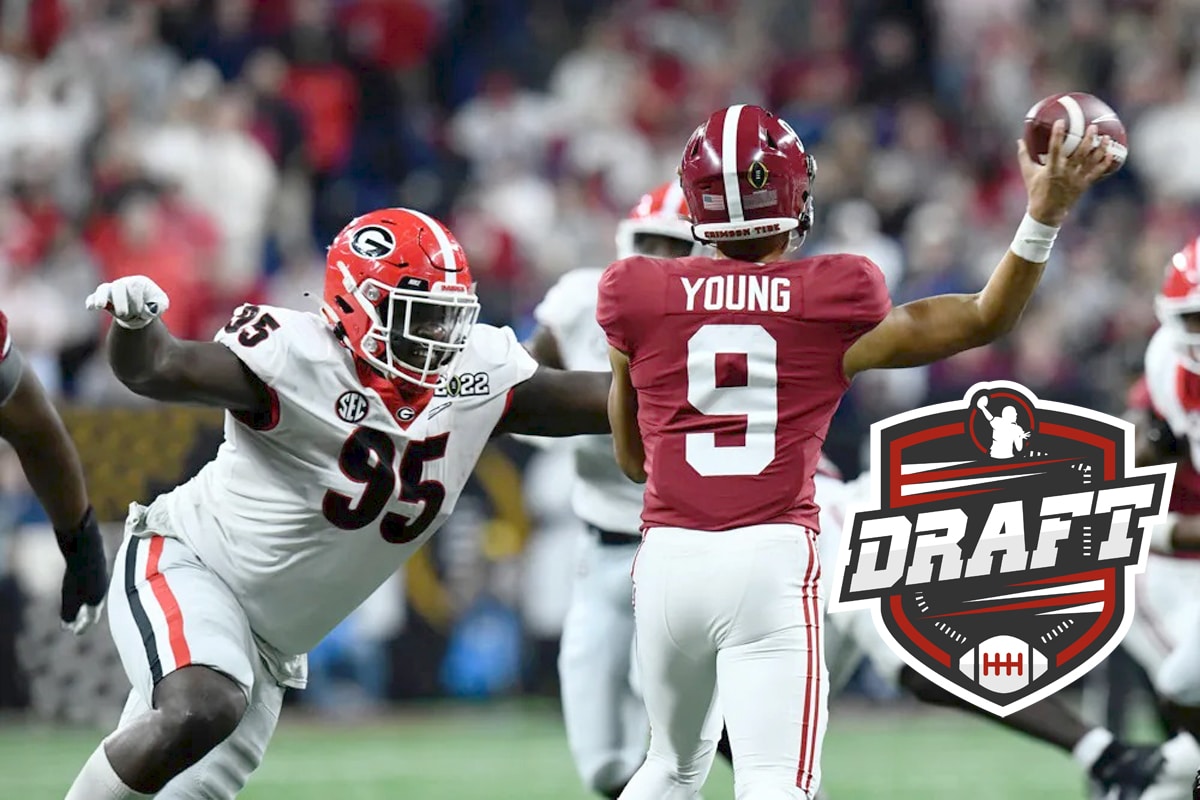 Devonte Wyatt – Lineman Defensive – 24 years – Senior – georgia
Cut : 1m91
Weight : 143 kg
Estimated draft position: 1st round
Stats 2021 : 13 matches, 39 tackles, 2.5 sacks, 2 forced fumbles
NFL Comparison: Larry Ogunjobi
Strong points
– 1st step / explosiveness
– Complete
– Hands
Georgia won the university title thanks to an exceptional defense, and many players from this squad will be selected in the top 50 of the next draft. Among them, Devonte Wyatt, brilliant in all aspects of the game and so valuable in the heart of the defensive line. Its versatility along the line makes it integrable into any system or scheme. Able to evolve all along the line, he will excel both in pure defensive tackle and in defensive end in a 34.
With an explosive first step, he is able to take the measure of the guard in front of him. Capable of rushing from the inside and disrupting the pocket, he was invaluable for the Bulldogs in the field. With 12 tackles for loss in career, he proved that he knew how to drive the opposing offensive line to come and catch the runner.
Equally effective with his hands, violent and powerful, he manages to disengage from the block and continue his action. Also effective against the race, he knows how to stay on his feet in contact and his speed allows him to pursue the leather wearer in traffic.
Weak points
– Power
– Rough draft
In duels, Wyatt relies more on his speed of execution than on his strength. In particular, he is often well muzzled on two-man catches. To express himself fully he needs to be associated with a massive and powerful player as was the case in Georgia.
Despite its many qualities, it sometimes suffers from being put into practice. His good hands are misused at times. He would benefit from better calculating his attacks. A precision that is particularly lacking in his lateral movements.
Possible destinations
Los Angeles Chargers, Green Bay Packers, Tampa Bay Buccaneers, Kansas City Chiefs
Thanks to a brilliant combination, Wyatt consolidated his 1st round status and positioned himself as a credible number one in his position. His more complete profile than his friend Jordan Davis, able to bring on 3 attempts and being able to integrate as well in a 43 as in a 34 to seduce. Despite signing Jaran Reed, the Packers could consider the position to shore up their run defense. A Clark-Reed-Wyatt trio would look great. In Tampa, the non-return of Ndamukong Sue leaves a void alongside Vita Vea. Aligned next to the Polynesian, he would find the kind of template he knew with David, enough to facilitate his adaptation.