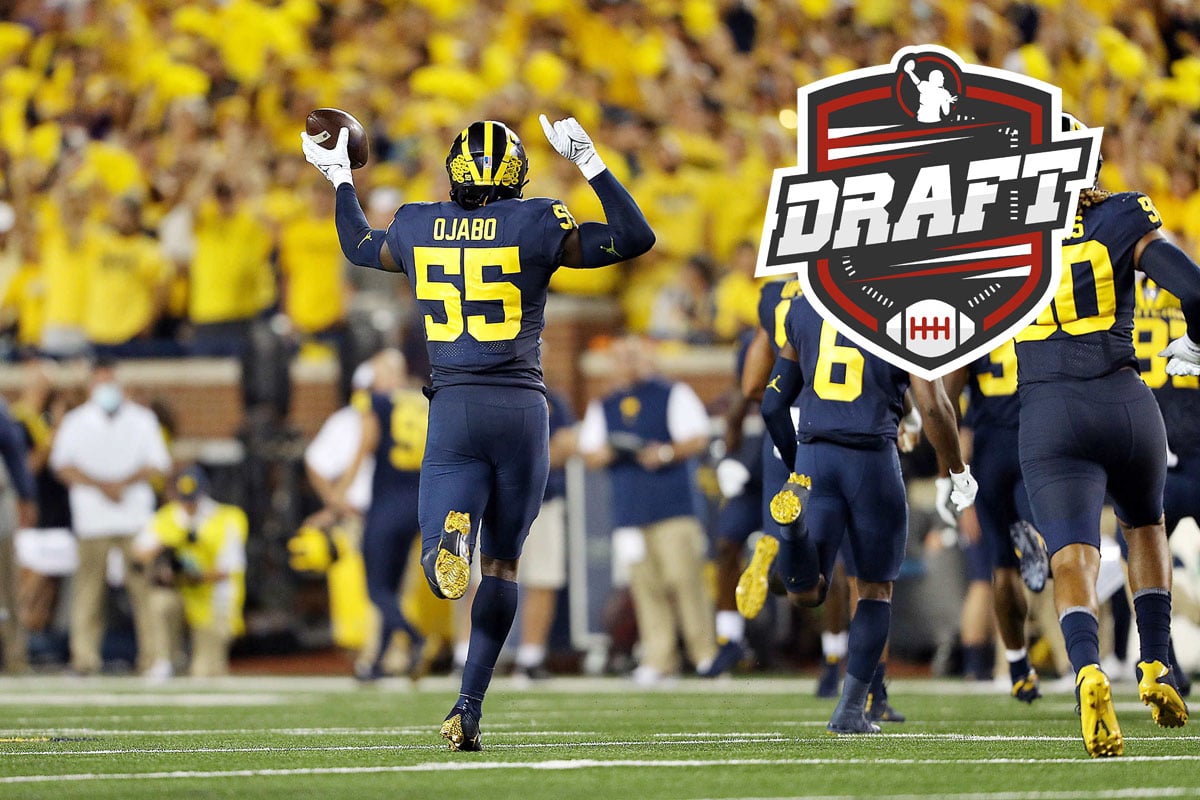 David Ojabo – EDGE – 21 years old – Junior – Michigan
Cut : 1m96
Weight : 113kg
Estimated draft position: 2nd-3rd round (1st round before injury)
Stats 2021: 35 tackles including 12 for losses, 11 sacks, 3 passes defended, 1 covered fumble, 5 forced fumbles
NFL Comparison: Josh Sweatshirt
Strong points
– Physical Dimension
– Football IQ
– Speed ​​/ Explosiveness
– Mobility
– Stamina
The easiest way to qualify for the first round of the draft and to tick the boxes in terms of physical dimensions, and to have extraordinary quality if possible. David Ojabo has a very interesting physical prototype for the NFL, above expected standards, and he shines with his speed. Author of a 100 meters in less than 11 seconds three years ago, he has the explosiveness that can make him a phenomenon in the NFL.
Mobile, Ojabo is also a smart player despite having limited experience (see below). Never locked into a pass rush scheme, he can adapt quickly and attack from the outside or inside depending on the movements of the offensive lineman. He's unpredictable, that's a good thing.
Never lacking in energy, he showed interesting abilities on the cover. About to make him a 3-4 player? Not impossible. The sample is weak, but there is potential. A real ball of energy, he is able to bring the same intensity at the start of the match as at the end. He benefited from the presence of Aidan Hutchinson and a scheme for him, but that doesn't take away from the credit he earned on the pitch.
Weak points
– Inexperience
– Power
– Tackles
Born in Nigeria and brought up in Scotland, Ojabo has only been playing football for 5 years. At the college level, he only played 26 snaps before 2021! Suffice to say that the term "gross" has never been so aptly named. Ojabo is a jewel, which was able to develop quickly because it fell in a good environment. But technically it still lacks refinement.
First in pass rush, where he excels at using his speed but does not yet use all his power. Given his size and weight, he should be able to use the bull rush more often. While he will always be a snappy player, diversifying the threat can make him a complete pass rusher.
Running defense also requires work, not just adjustment. Her weakness is so great in this sector today that her coach did not hesitate to take her out of the field against obvious running plays. His quality of tackles is average (21% missed tackles), and his ability to "deconstruct" the block to go hunting is limited. He wants to eat quarterback, but that sometimes leads him to go forward too quickly. Again, it's something that needs to be worked on, but it's going to take time.
The fact
Achilles tendon injury
During the Michigan pro days on March 19, David Ojabo suffered an achilles tendon injury that should deprive him of a large majority of the 2022 season, perhaps even the entire season. While he's already very raw, he's not even going to have the opportunity to develop as a rookie, and that may slow his progress.
This mishap is reminiscent of that of Sidney Jones, who had fallen in the second round and never regained his level at the Eagles. More than ever, Ojabo is a risk, and we will have to be patient.
Possible destinations
New York Jets, Houston Texans, Atlanta Falcons, Buffalo Bills, Philadelphia Eagles, Green Bay Packers, Cincinnati Bengals, Denver Broncos
Ojabo's fall in the mocks opens up the range of possibilities for the Michigan player. A team wanting to win right away might miss the chance, but others have the "luxury" of being able to wait. The Eagles, Falcons, or Texans have a system where Ojabo can thrive, and the start of the second round can be a chance to see the player down.