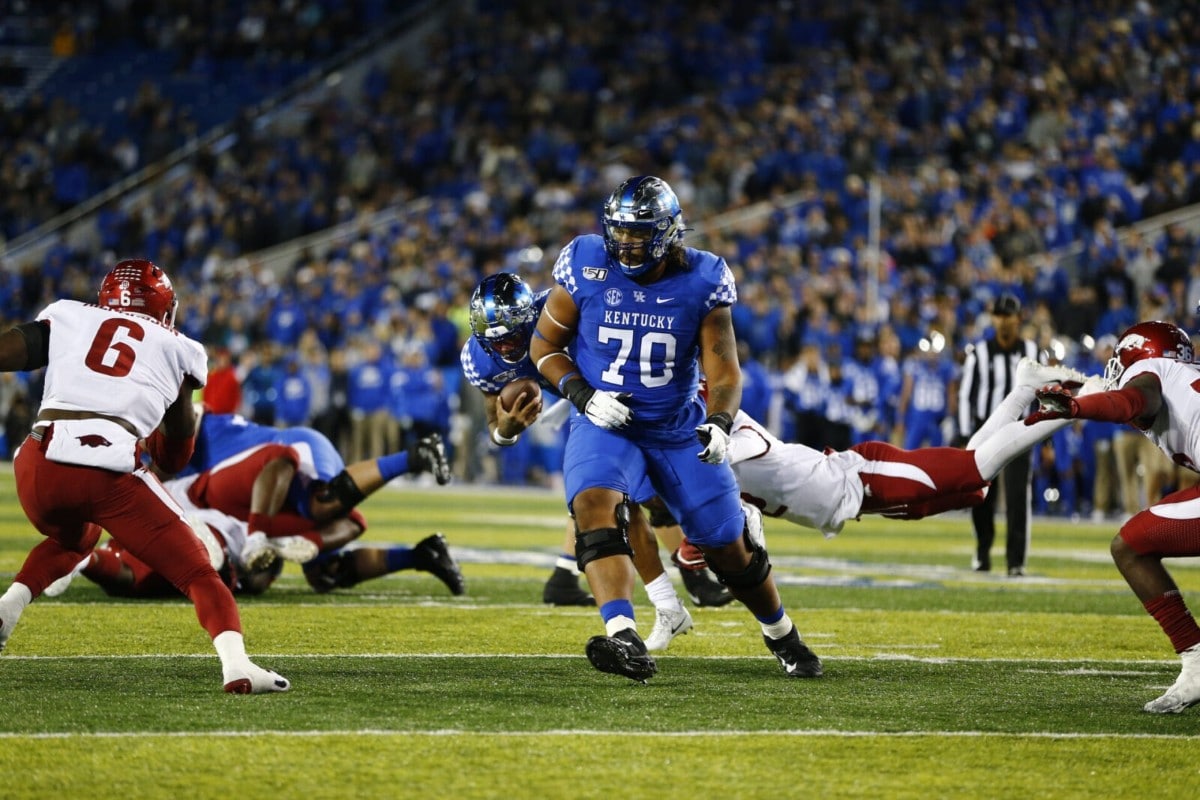 Tackle emeritus in Kentucky, Darian Kinnard will probably have to refocus to learn.
Darian Kinnard – Offensive Lineman – 22 years – Senior – Kentucky
Cut : 1m96
Weight : 156 kg
Estimated draft position: 2nd-3rd round
NFL Comparison: Cody Ford
Strong points
– Mover physics
– Energy ball in active phase
– Mobility and football IQ
A major player in the Kentucky Wildcats' great season in 2021, Darian Kinnard has long been an essential pawn in the Lexington program. Holder for the past three years, in the Southeast of the United States, the one who evolved mainly as a left tackle took the time to develop and become a real leader, thanks to his rapid experience and his undeniable football IQ. However, it is not his intellect that jumps out at first when you observe the lineman closely. Rising to nearly 2 meters and weighing over 150 kilos, Darian Kinnard is not only a mountain to climb to reach the pocket, but knows how to command physical respect. In contact, especially on the ground game, the Wildcats player showed a crazy impact thanks to an impressive amplitude of the body and hands. Upper limbs that have the gift of being violent and constantly on the move. Physical phenomena of this kind, the NFL has seen many, but few that demonstrated the mobility of the person concerned. Decent laterally on the pro pass, Kinnard is more formidable on stall phases where his power and his first impulse can transform him into a steamroller.
Weak points
– Placement of hands
– Center of gravity
– Surprising but limited athletic qualities
Looking closer, the Kentucky forward has few flaws. But one of them could cost him dearly on the position. Because a physique like his inevitably has disadvantages in the modern NFL. Able to respond to bull-rushers, Kinnard may be inclined to neglect his technique in the face of smaller and faster profiles, likely to undermine his center of gravity and his hand placement in the passive phase. This aspect can not be completely erased by his mobility, commendable for his size but far from outstanding compared to the competition, as proved by his combination on the side of Indianapolis.
The stat
1: the number of sacks conceded by Darian Kinnard in 2021, in one of the fiercest conferences in the country, the SEC, dominated by the last two national finalists, Georgia and Alabama. Over the last two seasons, the lineman has yielded three tackles on quarterbacks to his opponents, and his last five outings with Kentucky have resulted in only one authorized pressure. Proof that it is not a hopeless cause on the pro pass, far from it!
Possible destinations
New England Patriots, Pittsburgh Steelers, Tennessee Titans, Washington Commanders, San Francisco 49ers
A top-notch physique. relative mobility. A technique to be optimized. If a lot of profiles question the edge of the draft, the NFL franchises know roughly what to expect with Darian Kinnard. Excellent on the run block, but a little too much on the buttocks in the passive phase, the Kentucky player seems destined for a guard position in his first years of career, but could benefit from effective coaching staff to evolve into a position of right tackle going forward. Its faults are largely rectifiable and there is no doubt that a formation will try its luck on Friday evening, even if its status in the first round does not seem to be really relevant today.
(*number 70)