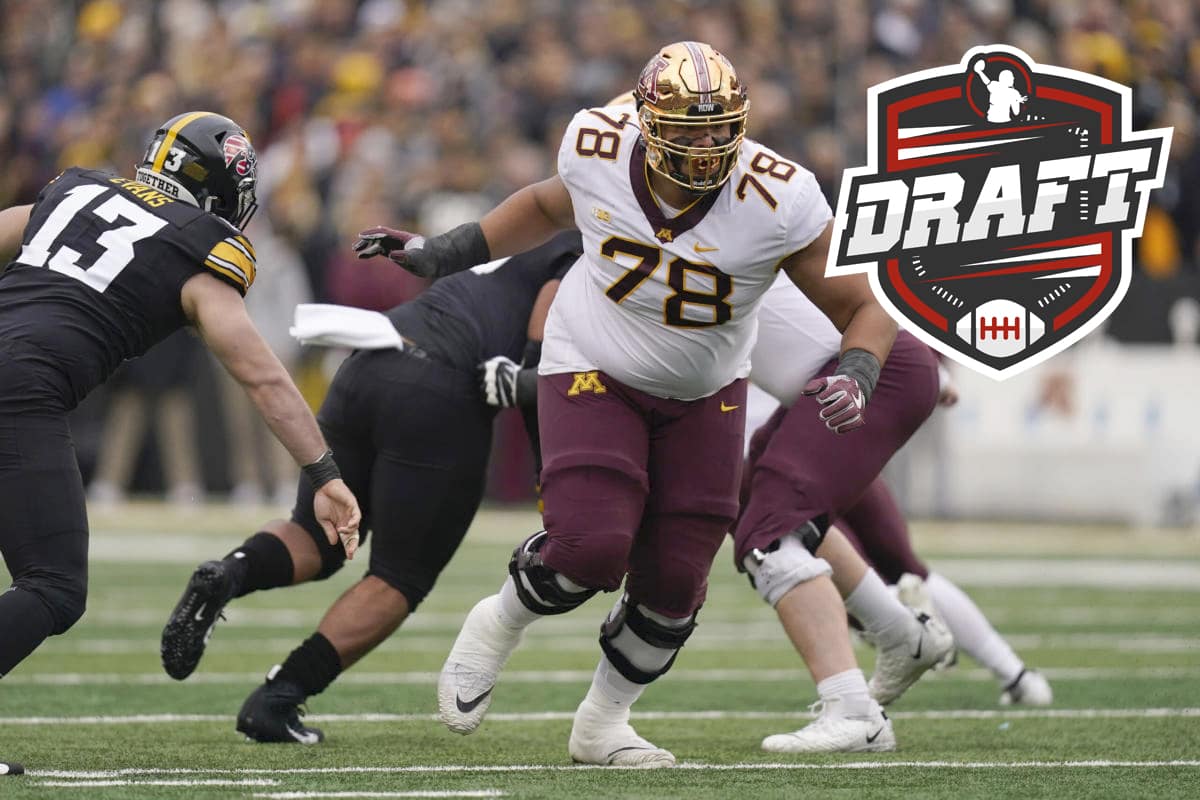 Daniel Faalele – Offensive Tackle – 22 – Senior – Minnesota
Cut : 2m03
Weight : 174kg
Estimated draft position: 2nd round
Stats 2021:
NFL Comparison: Trent Brown
Strong points
– Physical Dimension
– Anchoring
– Room for improvement
Born in Melbourne, Australia, Daniel Faalele discovered football late in life. Discovered after a camp led by Jim Harbaugh (HC, Michigan) in 2016, the Australian giant joined the University of Minnesota in 2018. With its monumental dimensions, Faalele is one of the most imposing prospects in NCAA history. And despite such a mass, the tackle moves with a certain agility. In the physical challenge, he necessarily leaves with a considerable advantage. Pass rushers just can't smash it. Totally immovable, its size also prevents its vis-à-vis from bypassing it. The force exerted by his lower body anchors him to the ground and gives him the advantage in his blocks in the running game.
Playing competitive American football since 2017, Faalele is a quick learner and has shown steady and consistent progression over the seasons. His remarkable 2021 season confirms his progress and has put him in the spotlight and in the discussion for a top 50 selection.
Weak points
– Lack of aggressiveness
– Hands
Despite his size worthy of the Hulk, the Golden Gopher suffers from a deficit of aggressiveness. If some tackles shine by their violence on their opponent, Faalele lacks this killer instinct. He will clearly have to step up a big notch to succeed in the NFL. In this continuity, his progress will go through a perfecting of his hand technique. Whether on his placement or on patience, he sometimes gives the impression of not knowing what to do with his huge hands, which exposes him to opposing attacks.
The stat
1 pressure conceded in the last 8 matches
Like his constant progress, Faalele has revved up in 2021. By conceding only one pressure in the last 8 matches of the season, he has established himself as a very effective player in pass protection. He had already shown his qualities at the start of the season by only conceding pressure against the excellent defense of Ohio State.
Possible destinations
Chicago Bears, Denver Broncos, Seattle Seahawks, Dallas Cowboys
If his still raw profile should rule him out of the 1st round, Faalele will be a name to follow in the first part of the 2nd evening. With only 3 seasons in the legs, he is far from having reached his full potential, and with such a physical size, his profile is almost a fantasy for the front office. Positioned on the right of the line, he could quickly have his chance and become a solid holder from 2021. If the Bears have to surround Justin Fields, the reinforcement could first come from the offensive line rather than a target. After La'el Collins' departure, the Cowboys line is a yard, Faalele could quickly impose his physique on the right side and be a big help to Zeke Elliot in the running game.