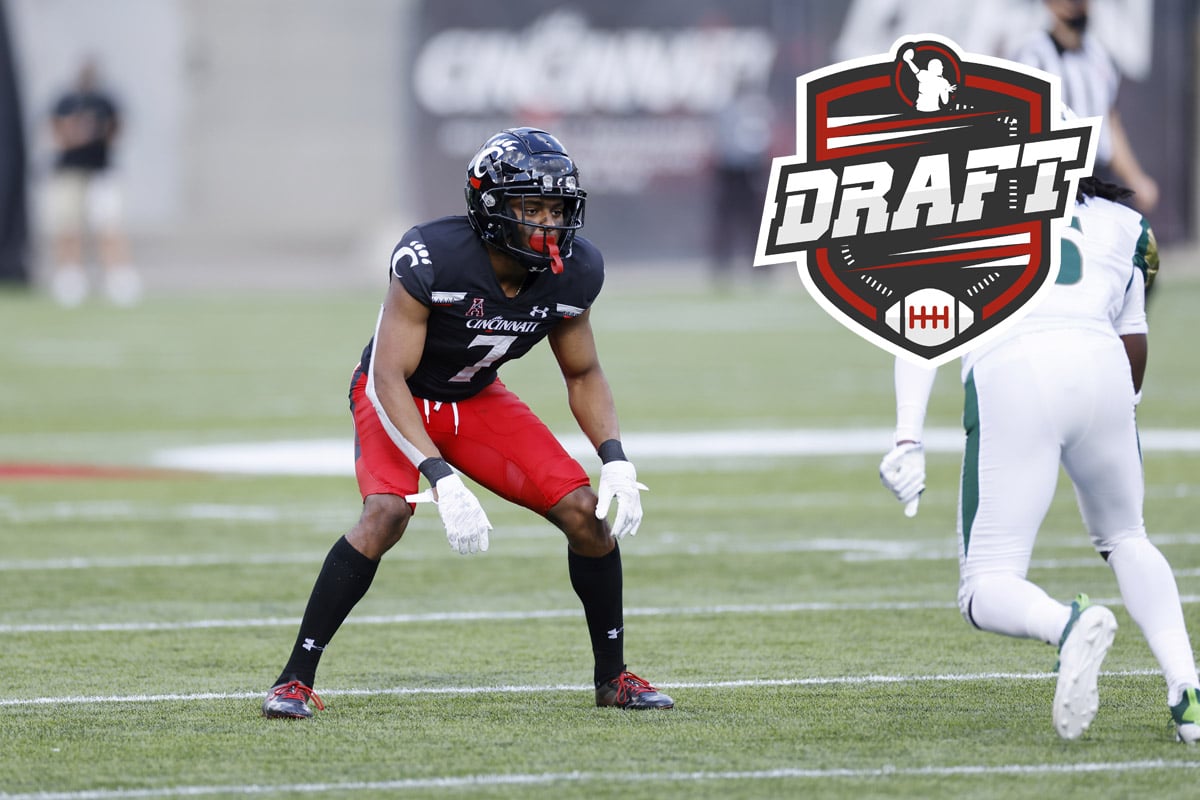 Coby Bryant – Cornerback – 23 – Senior – Cincinnati
Cut : 1m85
Weight : 89kg
Estimated draft position: 2nd round – 3rd round
Stats 2021: 44 tackles including 1.5 for losses, 2 interceptions, 11 passes defended, 1 touchdown, 2 forced fumbles
NFL Comparison: Byron Murphy
Strong points
– Versatility
– Footwork
– Hands
– Soccer IQ
– Progress
There are players who are stars from day one, while others progress day by day to become attractive draft prospects later on. Bryant is part of the second category, and has earned the respect of his peers by winning the prestigious "Jim Thorpe Award" for the best defensive back of the season.
Coby Bryant is an instinctive and intelligent player, able to locate the ball while following his opponent. A real glue for his opponent, he adapts his game in man-to-man as well as in zone and can adapt to each system. As he also has good hands, he can punish the opposing quarterback at any time.
What stands out about Bryant is his mobility and his changes of direction. It is light on its legs, and can easily change its trajectory to project forward or backward. It is also a force in the running game, where it has also improved strongly over the seasons. Able to quickly analyze the terrain, he often makes the right choices to pick up the runner.
Weak points
– Athletic dimension
– Adversity
Athletic ability is not an end in the NFL, but it is still an important characteristic for a cornerback. If Bryant isn't weak, he doesn't have any above average traits. Not the fastest, not the most powerful, not the biggest, it does not burst the screen and marks more by its regularity.
Bryant's other "problem" is the adversity he may have encountered. While playing in a conference weaker than the power fice (American) he was also responsible for facing the number 2 receiver of the teams, the number 1 being in charge of Ahmad Gardner. It's easier to dominate players of this caliber than NFL heavyweights, and it's impossible to know what Bryant can do against greater adversity, knowing that even in the conference semifinals he faced a group of receivers decreased in Alabama.
The stat
6.4% missed tackles
The quality of tackles is important at the quarterback position, even if less fundamental than for a linebacker for example. And as in many areas, Bryant's progress is notable. In 2019 and 2020, the rate of missed tackles was 17%, it almost divided by three this total. He seems to have worked on the mental flaws he may have had in this area, and has been very clean in 2021. A good signal.
Possible destinations
San Francisco 49ers, Cincinnati Bengals, Arizona Cardinals, Philadelphia Eagles, New England Patriots, Washington Commanders, Los Angeles Rams, Los Angeles Chargers
Once the first salvo of cornerback has been chosen, Bryant will be in the figureheads of the second wave. Adaptable in many systems, he has a profile that could appeal to the Patriots, to "compensate" for the departure of JC Jackson.
If he drops, he'll be a target for teams that have a lot of picks, like the Eagles, Rams or Chargers.