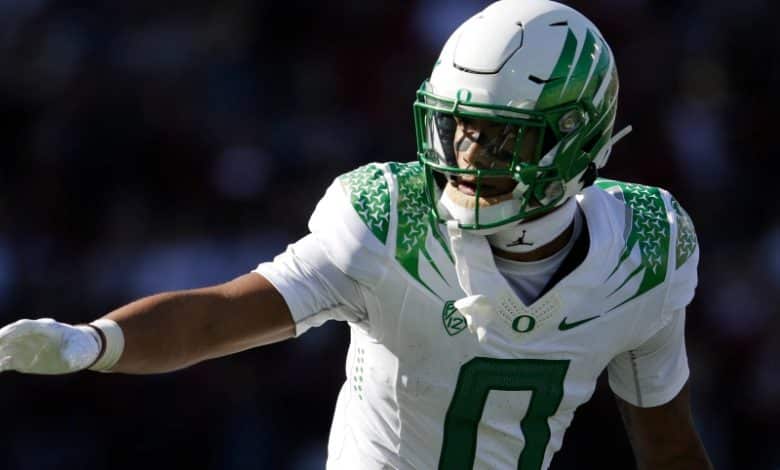 Tall, long and skilled with his hands, is the Oregon player the best cornerback in his promotion?
Christian Gonzalez – Cornerback – 20 – RS Sophomore – Oregon
Height: 1m86
Weight: 85kg
2022 stats: 51 tackles, 7 deflected passes, 4 interceptions
Estimated Draft Position: Top 15
NFL Comparison: AJ Terrell
Coming from a family of athletes (his father was a basketball player and his 2 sisters are in athletics), Christian Gonzalez offers an atypical physique for his position which could make him a number 1 cornerback in the NFL. His great 2022 season at Oregon may not leave big league recruiters and general managers unmoved.
Strong points
Athletic
Size
Change of direction
Cover instincts
For his young age, Christian Gonzalez has the ideal height for his position. Useful against generally larger NFL receivers compared to what he was able to face in the PAC-12 conference.
In addition to a good size, he also has good athletic ability. Even if his name is not Speedy, his speed and his fluidity allow him to very easily anticipate the layouts of the receivers and make plays. Either to deflect the ball or to intercept it.
Another strong point of the player: the cover. He masters the two types of coverage offered by the position, namely man to man and zone. If we had to choose in which he is better, the zone is the one he masters best thanks to his instincts and his athletic qualities.
Weak points
Power
tackle technique
1 year of production only
However, if he turns out to be slender, the player from Texas must gain muscle if he wants to last in the NFL. In the professional world, he may suffer from a lack of power against more seasoned receivers.
If we do not ask to be perfect in the tackle at his post, Gonzalez however lacks consistency in this area, especially if he is asked to defend against the run.
Finally, if he had his best season in Oregon with 4 interceptions, he was especially versatile during his first 2 university years in Colorado with 0 interceptions. To see if he continues his momentum, or if he is only a one-year player.
Possible destinations
Philadelphia Eagles, Pittsburgh Steelers, Tennessee Titans
Darius Slay on the start, Philadelphia could well turn to the draft to find its future cornerback number 1.
Pittsburgh will likely lose Cameron Sutton and Arthur Maulet is still a raw player. Have a shutdown cornerback productive alongside Minkah Fitzpatrick could do Mike Tomlin's defense some good.
The Titans weren't lucky with either Caleb Farley or Kristian Fulton, who were often injured. In reconstruction, Tennessee could turn to this young player to finally be the hoped-for number 1 cornerback.