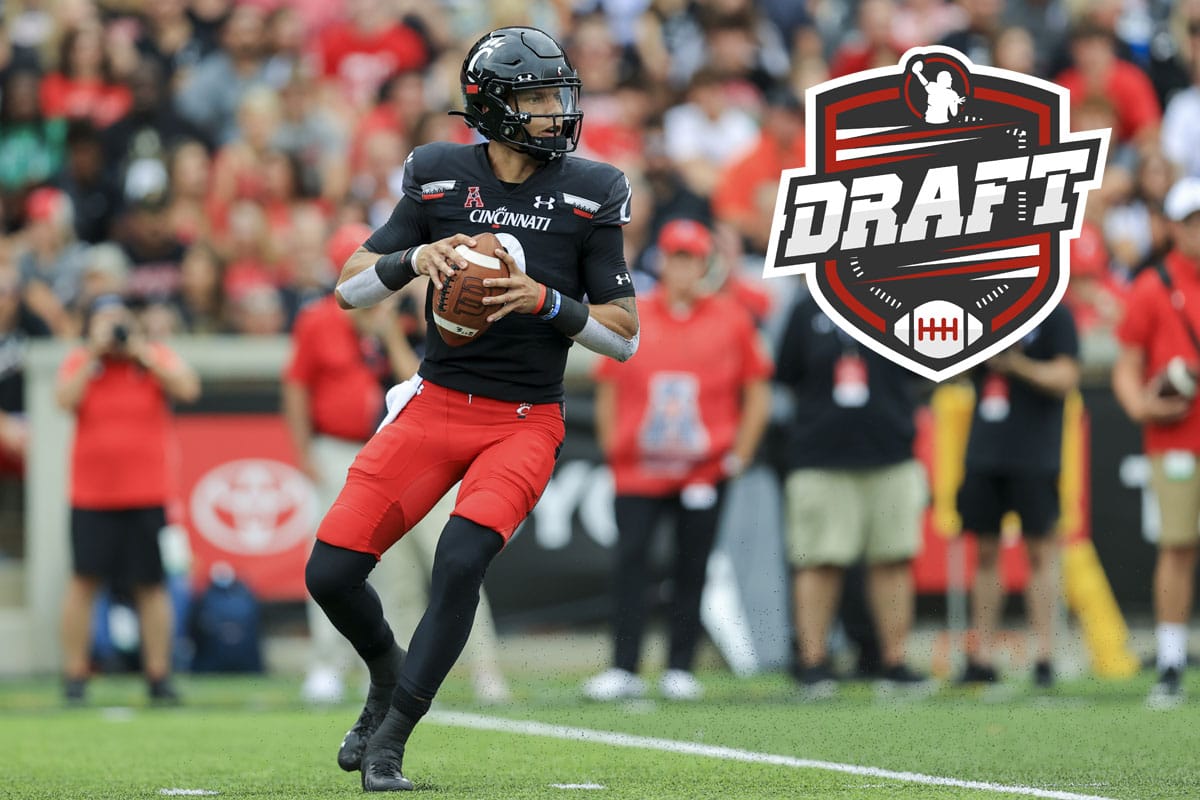 Desmond Ridder – QB – 22 – Senior – Cincinnati
Cut : 1m92
Weight : 96kg
Estimated draft position: 25-50
Stats 2021: 3334 yards for 30 touchdowns and 8 interceptions, 355 yards and 6 rushing touchdowns
NFL Comparison: ceiling Josh Allen (Bills), floor Jacoby Brissett (FA)
Strong points
Ideal size
arm power
Double Threat
Security
Why ideal size, while quarterbacks who do not have it succeed (Russell Wilson or Kyler Murray, for example). Because this position requires being able to read while the players in front of them are tall. Also, because a quarterback knows he will have to take shocks. Many. He must therefore have a size allowing him not to lose his energy and also, to limit the risk of injury. Desmond Ridder has this attribute. And because in the NFL, a QB must know how to challenge a defense on all areas of the field, he must also have an arm powerful enough to attack the deep. That, too, Desmond Ridder owns.
Out of fashion for a few years, a quarterback capable of gaining yards on the ground is now decked out with the term "modern". The native of Kentucky is competent to bring this dimension to his attack. His 18 rushing touchdowns his past two seasons and his 4.49-second 40-yard time show what he could bring to the NFL ground game. Another essential quality to survive among the pros: not losing the ball. Desmond Ridder is the reliable type: able to make bets but most of the time, he knows how to be "clean" in these intentions. It is the realization that sometimes fails.
Weak points
See below for its inconstancy. And this variation in level in a match or from one match to another, inevitably casts doubt on his level in the NFL. In the Senior Bowl, Desmond Ridder made several shots exactly where needed. In matches, he also did it. By sequences. Not on a regular enough basis to secure a spot in the first round of the 2022 draft. Possible top 32 pick, but only possible. Few certainties about it. The level of competition in AAC does not work in his favour. Especially within a team dominating its conference. However, he has progressed each college season: Desmond Ridder is serious in his preparation and his involvement to progress and that, the NFL staffs love it.
The stat: 64.6% passes completed
In an attack yet superior, most of the time, to the defenses encountered, Desmond Ridder has not always shown a reliability that brings hope for his future in the NFL. Rare are the good quarterbacks right away, from their first NFL seasons. Certainly. But this doubt inevitably affects his rating in the draft. The potential is there and it is significant. The risk too. Could he become a clone of Josh Allen (Bills)? Both players share a lot of similarities coming out of college. He could also look like a Jacoby Brissett who had those same characteristics in the NCAA, and who turns out to be a good backup quarterback in the NFL. So who will Desmond Ridder look like? Very clever whoever can say it today.
Possible destinations
Pittsburgh Steelers, Detroit Lions, Atlanta Falcons, Seattle Seahawks, Washington Commanders, Indianapolis Colts
If after the NFL Combine, the name of Malik Willis has been associated with the Steelers a lot, Desmond Ridder could also correspond to their need for the position. With a runner like Najee Harris and a mobile quarterback like Desmond Ridder, Pittsburgh's offense could become hard to read for NFL defenses. The Detroit Lions will likely start on a player from another position with pick number 2, but with pick 32 a quarterback for the future cannot be ruled out.
If we know the draft selection order, the teams can move. And this happens every year, on a more or less large scale. If available around picks 25-26, a team could well come back in the 1st round to pick him. If the Seahawks and the Falcons could take a QB with their choices (9 and 8), these two franchises could also come back at the end of the 1st round.
Strong, mobile and with a powerful arm, the one who was recruited by Zac Taylor (Bengals), has many assets to seduce a franchise.