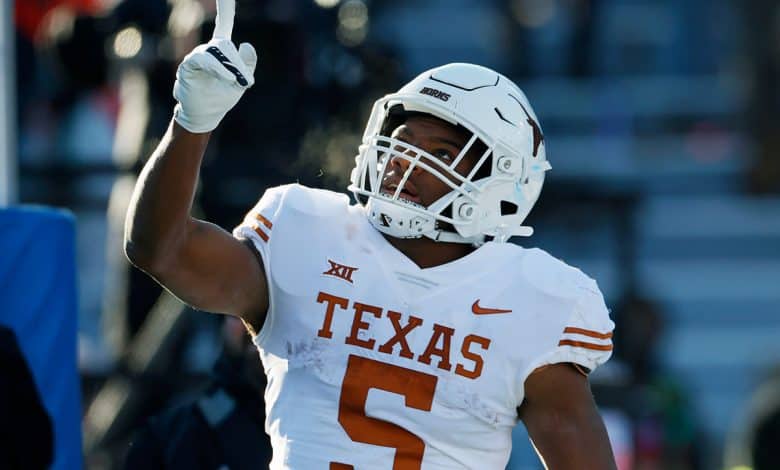 Bijan Robinson – Running Back – 21 years old – Junior – Texas
Height: 1m83
Weight: 100kg
Estimated draft position: 10-25
2021 stats: 258 carries, 1,580 yards, 18 touchdowns, 19 receptions, 314 yards, 2 touchdowns
NFL Comparison: Saquon Barkley
Strong points
– Avoidance ability
– Reading
– Agility / power ratio
– Contribution in the passing game
The Texas phenom is the prototype of the ideal modern runner. Yard machine, Robinson can run full center and rely on his pure power or run on the outside and let his acceleration capacity and his devastating support speak for themselves. Complete, he combines an excellent ability to read the game with an ability to avoid tackles. A real treat for the "highlights", he collects the big games and shines with his ability to adapt in traffic. Hooks, rackets, changes of direction, it quickly becomes a nightmare for defenders with leather in their hands.
As if these qualities of running were not enough, Robinson is also invaluable in the passing game. Particularly comfortable on his lines, he knows how to turn into a receiver if necessary and offers reliable hands for his quarterback. He's also not shy when it comes to lending his support in password protection.
Weak points
– Pure speed
– Accuracy
While his boost ability does damage, his speed isn't his greatest strength. As shown by his 40 yards combined with a correct 4.46, Robinson is not a running back who will sow cornerbacks with his legs.
Despite all the qualities that make him a future offensive gem, Robinson sometimes lacks precision in his actions. Whether in a bad assignment on protection or in hesitation or impatience on the line of scrimmage, working with NFL coaching should allow him to erase his little flaws.
Possible destinations
Los Angeles Chargers, Buffalo Bills, Philadelphia Eagles, Tampa Bay Buccaneers,
Future star, Robinson should delight supporters and delight his coaches. Holder from week 1 and able to play on the 3 attempts, he can become the missing link in an attack. If his position as a runner could serve him, to be selected for a place worthy of his talent, the ambitious franchises aiming for the playoffs could rub their hands.
Endowed with already attractive aerial attacks, the contribution of the Texas phenomenon alongside Jalen Hurts in Philadelphia or to relieve Josh Allen at the Bills is enough to leave you dreaming.
Austin Ekeler being authorized to discuss with other teams, the position of full running back capable of chaining yards and scoring could quickly become a priority in the city of angels.