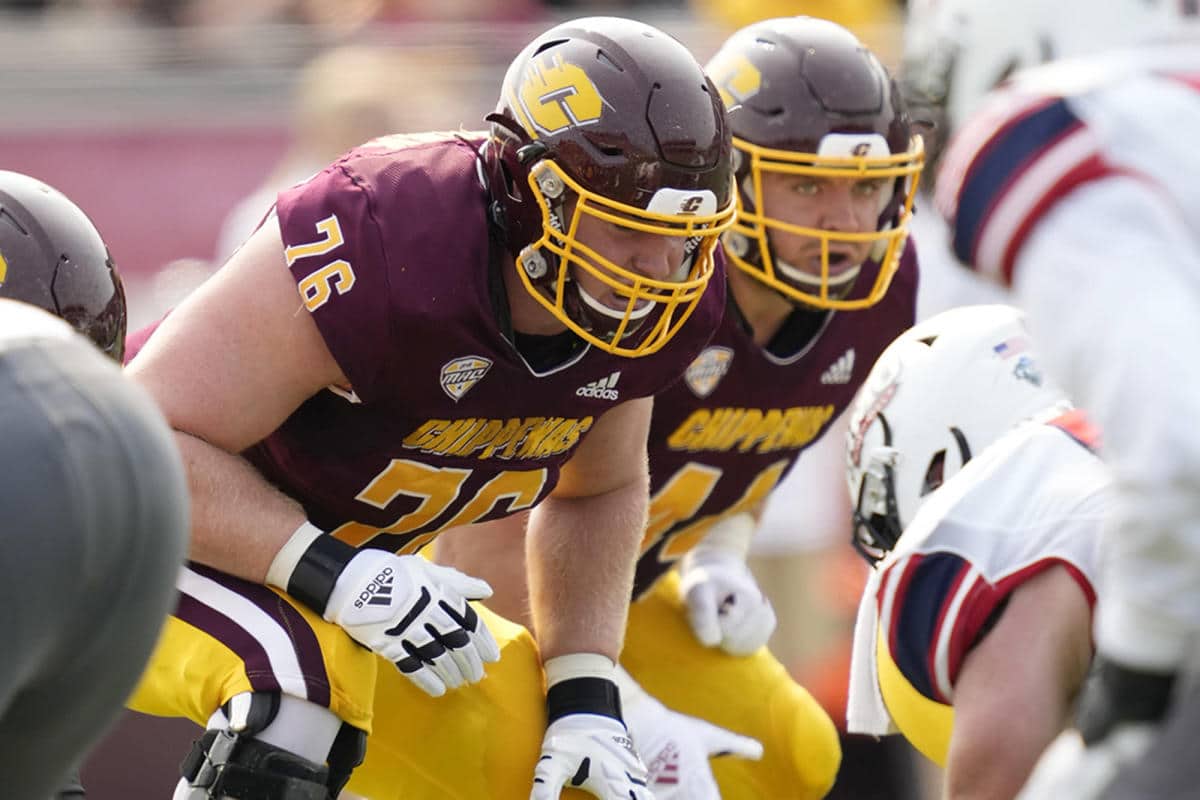 Bernhard Raimann – OT – 24 years old – Senior – Central Michigan
Cut : 2m01
Weight : 138kg
Estimated draft position: Top 50
NFL Comparison: Lane Johnson
Strong points
– Athletic Ability
– Mobility
– Soccer IQ
– Versatility
Initially recruited as a tight end, Raimann has an athletic ability superior to most tackles. Agile and fast, it is perfect as a breakaway to go play in the second curtain or accompany a screen. Zone patterns are his backyard, making him a very versatile player capable of performing lateral and/or horizontal runs without loss of power or balance. His past as a wrestler is felt in his support, and putting him on the ground is far from easy.
Explosive in his movements, he also thinks very quickly. Able to identify the main threat, he adapts his game to his opponent to gain the upper hand. Always determined, he will fight on every action and never give up. Even against more powerful players, he knows how to find the weak point. An attacking coordinator's dream.
Weak points
– Experience
– Adversity
– Power
– Technical
If Raimann is athletic, he is not necessarily powerful. His physical transformation is not complete, and he does not have "violent hands". This does not mean that it will not succeed, but its development will require patience. This lack of experience is also felt technically, or his hand placement is sometimes a little too naive. He must dominate, and develop a "killer" instinct.
The other uncertainty about Raimann is the adversity he has had to face. Impressive against a diminished LSU team, he then faced much smaller teams. This does not detract from his performance, but does not allow him to evolve his impact against opponents experienced in the NFL.
The stat
Combined performance
It is not a statistic, but rather an illustration of the player's athletic abilities. When it comes to projecting forward or running for the second curtain, Raimann is above the pack. Picture illustration:
.@CMU_Football OL @BernhardRaimann has some hops

👀 30.5″ green
👀 9'9″ wide

📺: #NFLCbine we @nflnetwork pic.twitter.com/VA3sRLaF4d

— NFL (@NFL) March 5, 2022
Possible destinations
Cincinnati Bengals, Los Angeles Chargers, San Francisco 49ers, Dallas Cowboys, Carolina Panthers, Seattle Seahawks, Green Bay Packers
Raimann is the kind of player made for inventive schemes like the San Francisco 49ers. Mike McGlinchey is out of contract, and letting the Austrian develop for a year sounds like an ideal situation. However, Bernhard Raimman is likely to leave earlier, for example to the Cowboys to replace La'el Collins. The middle of the second round seems to be the floor for the Central Michigan player, who can even claim the first round.