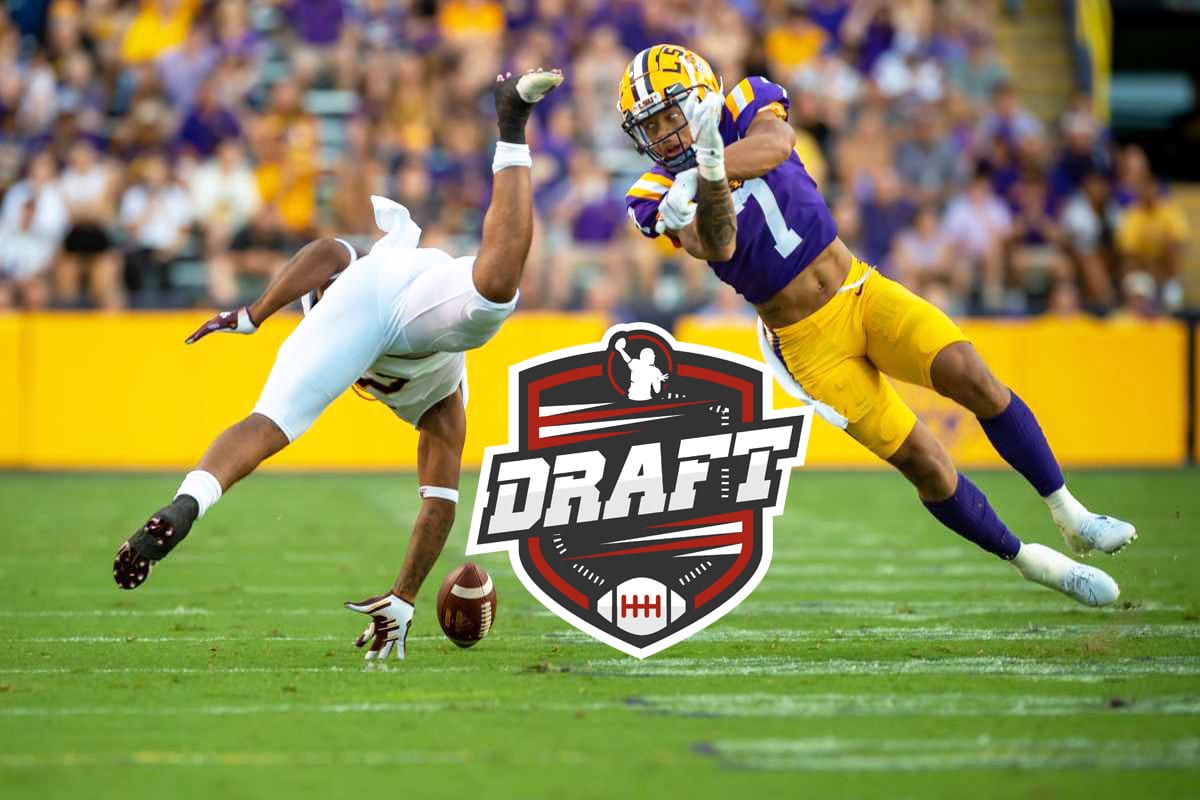 Derek Stingley Jr. – Cornerback – 20 – Junior – LSU
Cut : 1m85
Weight : 88 Kg
Estimated draft position : Top 15
Stats 2021 : 3 games, 8 tackles, 1 forced fumble
NFL Comparison : Stephon Gilmore
Strong points
– Tackle / Run Defense
– Physical
– Man-to-man coverage
Derek Stingley Jr. has everything a team could look for in a cornerback. He is big, fast and explosive. He is described as the most physically promising prospect since Jalen Ramsey. His athleticism is well above average. This allows him to be proficient against the run, even against physical receivers. Despite the absences he has had for the past two seasons, he has forced two fumbles.
His ability to defend physical players is intriguing given how talented receivers are in the NFL today. Stingley knows when to attack the ball and when to attack the receiver. With three defensive coordinators in three years, he's played in different systems, but where he's proven most comfortable is in man-to-man defence. His 2019 season, which launched him as a star cornerback, was in this system. He has proven that he can stick to any receiver's coattails, even the fastest college-level ones.
Weak points
– Injuries
– Regularity
– Missed tackles
The biggest question mark surrounding Derek Stingley Jr. is his ability to stay on the football field. He has only played 10 games over the past two seasons. He only played 3 games last year due to a serious foot injury. Some teams might be worried about these issues.
While Stingley's 2019 season was historic, his 2020 and 2021 seasons were far less brilliant. He wasn't ridiculous, but he didn't repeat the feats that helped the Tigers win the national title.
Derek Stingley Jr. has missed a few tackles in recent seasons. He tends to be too aggressive at times, leaving his support and sometimes diving too early. This is a minor flaw, but will need to be addressed at the highest level.
The stat
41.1% passes completed
A specialist in run defense, Derek Stingley Jr. is also an excellent man-to-man defender. Throughout his college career, he has locked out opposing receivers. Of the 23 games he played with LSU, he defended 20 passes, intercepted 6 balls, and above all conceded only 41.1% of completed passes.
Possible destinations
Minnesota Vikings, New York Jets, Baltimore Ravens, Seattle Seahawks, Phildelphia Eagles
If Derek Stingley Jr. had been able to present himself to the draft in 2020, he would probably have left in the top 5. Only, his irregularity and his injuries will lead the teams to ask themselves more questions. But with his physical qualities and the promise he has shown at LSU, he has the potential to become a true superstar in his position.
In today's league, with the level of current receivers, all teams need high-performance cornerbacks. The Vikings need to rebuild their defense. Patrick Peterson still hasn't re-signed, and is a veteran player anyway. The Jets and Seahawks have needs in every position and could use a player like Stingley.