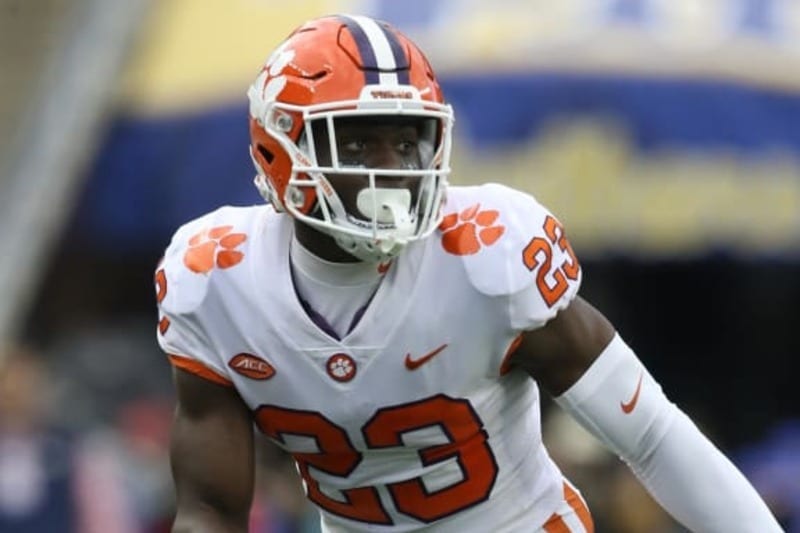 Andrew Booth – Cornerback – 21 – Junior – Clemson
Cut : 1m83
Weight : 88kg
Estimated draft position: 1st round
Stats 2021 (11 games): 37 tackles including 3 for losses, 3 interceptions, 5 passes defended
NFL Comparison: Jaire Alexander
Strong points
– Physical Dimension
– Sight
– Mobility
– Explosiveness
– Versatility
The selection of young people for the draft is based on performance but also on physical dimensions. For the second category, Andrew Booth is almost perfect, although a bit shorter than average. Powerful and explosive, he has long arms that allow him to deflect the ball where others could not even touch the ball. He can therefore do the action even in a bad position, and this is a strength.
Where Andrew Booth excels is in man-to-man defence. Explosive, fast, and able to change direction quickly, he can follow his vis-à-vis with ease. When in press, Booth easily wins the physical duel with his strong hands and powerful body. Booth is adaptable to all systems, but it seems clear that a man defense would maximize his potential.
Weak points
– Tackles
– Experience
– Constancy / Concentration
While his vision and mobility make him a talented player against the run, his poor tackle quality ruins some of his effort (see below). This frustration with this player is also felt in zone defense, where he sometimes goes out of action in an incomprehensible way. The talent is there, but we have to gain consistency.
Booth is raw, and part of that is down to just one year of experience. The Tiger still needs to work on his technique and his fundamentals, that's obvious. Unlike some other cornerbacks in the vintage, he might not be ready on day one, or have a hard time learning.
But the necessary progress is also mental. Booth occasionally slips out of his match, and needs some time to regain his composure. These flaws are felt especially in the zone, but can be improved. Once again Booth is a diamond in the rough, it remains to be seen who will be able to polish him.
The stat
23.9% missed tackles
If the quality of tackles is not as important in cornerback as in safety or linebacker, it remains a reason for concern when a player does not manage to finish an action. With 23.9% of missed tackles, Booth is 494th in CFB, far from the expected level. The problem for him is technical, and his inexperience does not help to appreciate a possible progression or not. Booth is a huge risk, but he also has incredible potential.
Possible destinations
San Francisco 49ers, Minnesota Vikings, Philadelphia Eagles, Washington Commanders, Seattle Seahawks, Buffalo Bills, Arizona Cardinals, Houston Texans, Minnesota Vikings
The ideal for Booth would be to be able to grow in the shadow of an excellent cornerback. Darius Slay or Tre'Davious White could fill this role, for example, bringing the Clemson player the experience he lacks.
If possible, a plan favoring the press could maximize his contribution, and allow him to evolve in an environment that he masters. If a fall is not impossible, he should not come out of the first lap except for injury.