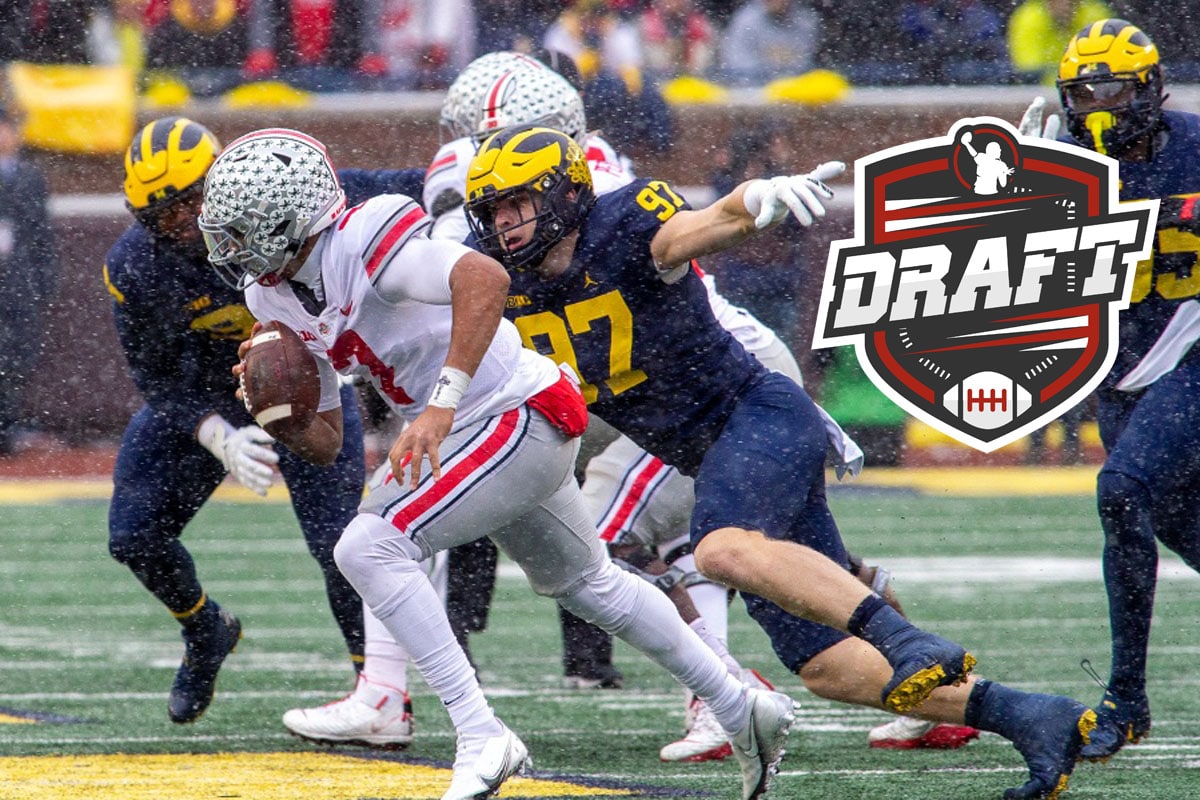 Aidan Hutchinson – EDGE – 21 – Senior – Michigan
Cut : 1m98
Weight : 120kg
Estimated draft position: Top 3
Stats 2021: 62 tackles including 16.5 for losses, 14 sacks, 3 passes defended, 1 covered fumble, 2 forced fumbles
NFL Comparison: Kyle VandenBosch
Strong points
– Physical Dimension
– Effort / Endurance
– Power
– Mobility / Explosiveness
– 2nd movement
– Football IQ
If an EDGE were to be created in a laboratory, it would have the dimensions of Aidan Hutchinson. Powerful on impact thanks to strong supports and violent hands, it is also fast and explosive on impact. From the first to the last minute, he tortures the tackles by never lowering the intensity.
Hutchinson is unpredictable and versatile. Capable of winning in bull rush, he can also outpace his counterpart. That's what makes Hutchinson lethal: he always finds a way to make a difference. His exceptional agility helps him in his game, allowing him sudden changes of direction.
If Hutchinson has the legs, he also has the head. Even when he has a plan in mind, he can change his approach in seconds, relying on a second move to do the action. This football IQ helps him against the pass but also the run, which makes him capable of excelling in both areas.
Weak points
– Injuries
– "One year wonder"
Finding fault with Aidan Hutchinson is difficult, however Hutchinson's durability may be in question after a near blank season in 2020. His ankle injury appears to be behind him, but it will be marked in his medical records and that may scare some GMs. .
Not least because of this injury, Hutchinson only exploded this season. If the 2019 season had been promising, nothing comparable to the 14 sacks of 2021. There is always a risk when selecting a player who has shone "only one year", but the game is worth the candle.
The stat
3 Cone Drill: 6.73 seconds
For a pass rusher, the 3 cone is the most important workshop of the combine. Achieving a great performance requires speed, agility and the ability to change direction easily. Hutchinson has all the qualities named, and he unsurprisingly won the contest in 6.73 seconds. Only he and Travon Walker went under 7 seconds. If further proof was needed that Hutchinson is a phenomenon, the scheme has finished convincing the last reluctant.
Possible destinations
Jacksonville Jaguars, Detroit Lions, Houston Texans
It's hard to imagine Aidan Hutchinson leaving the top 3 of this draft. If Jacksonville could choose Thibodeaux or a tackle, the Michigan player could stay "at home", being chosen by Detroit. Native of the state, he corresponds to the needs of the Lions and the system seems more adapted for him. New coordinator Aaron Glenn worked in New Orleans under Dennis Allen, so he should know how to maximize a player like Hutchinson.
Backup plan: he becomes a Texan and is JJ Watt's successor in Houston. Not bad.