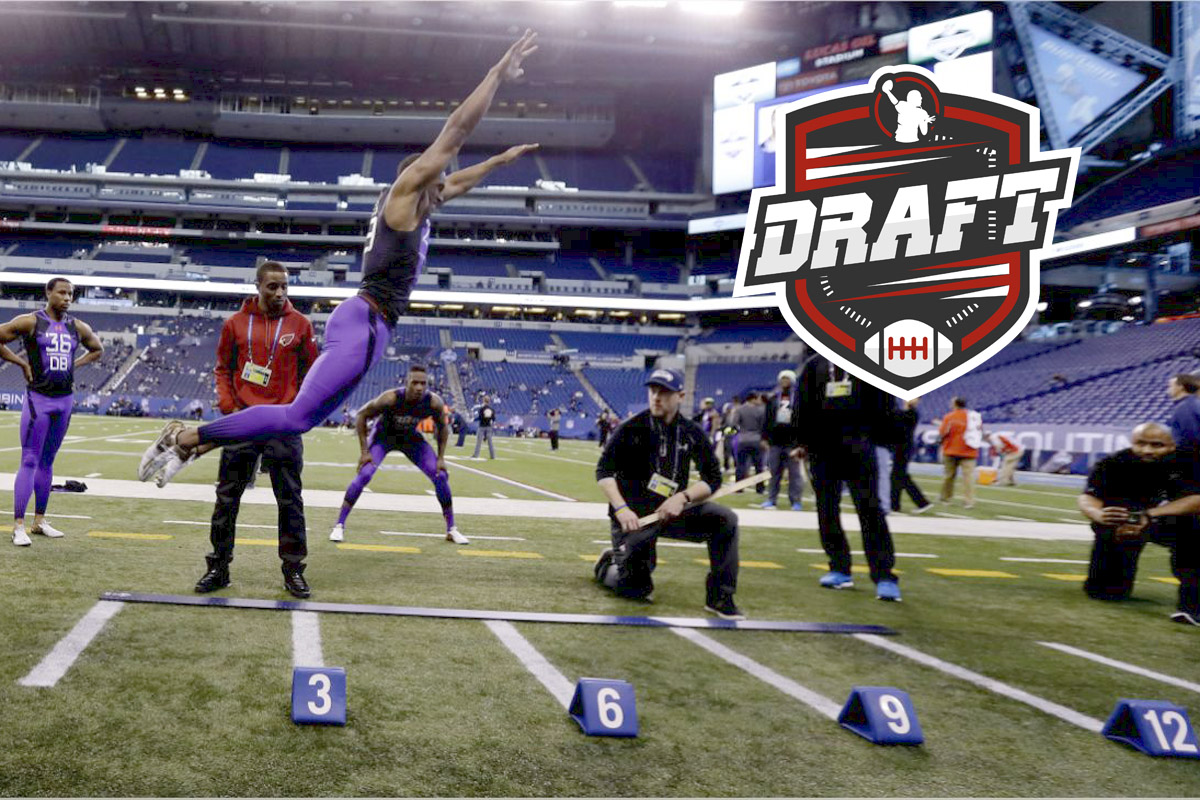 The NFL is a professional league where fierce competition reigns: between the 32 franchises but also within the same workforce during training camps or during the season. The NFL Combine can be likened to a competition: who will overcome the pressure and rise to the challenge? Who is nervous in the face of competition? Evaluation is permanent and at all levels. The importance of the various workshops is relative to the positions played. But football being a sport requiring athletic qualities: running, jumping, pushing or containing, athletes are on the pitch on Sundays. Not so incongruous then, to assess their abilities in these various areas.
Workshops with measurement
40 yards dash
The best known because it is the easiest for the general public to understand: a straight line sprint with a running stopwatch. Simple. And spectacular too. To see a man run 40 yards (36.6 meters) in less than 4.30 seconds is a spectacle. This workshop is above all a show. However, coaches are not insensitive to the qualities of speed, especially among players occupying positions where sprints are found in match situations: receivers and cornerbacks. For heavier players, during this workshop, it is above all their times after 10 yards that interest the scouts: to assess the explosiveness of the first presses. In the trenches, the offensive and defensive line players are very close and therefore, when the ball is engaged, they quickly find themselves in a duel: you must therefore be quick on your first presses, otherwise you will find yourself in difficulty. in the "body to body". That's why that NFL Combine 10-yard split is so important to these linemen.
Receiver John Ross (Giants) still holds the record with a time of 4.22 seconds. In 2022, it will be necessary to follow the receivers Bo Melton (Rutgers) and calvin austin (Memphis) to see hot weather.
The 3-cone
This workshop measures the agility of players who must be quick on their feet to accelerate and allow a quick change of direction. If in a match, understanding that you have to change direction suddenly is important, you still have to be able to do so. This ability is especially important for receivers playing in the slot (inside the field) but also for linebackers who need to know how to react to runners' cuts. To follow, in particular, in 2022 the linebacker of Georgia channing tindall as well as the receiver Jahan Dotson (Penn State).
High jump
Carried out without momentum, it makes it possible to evaluate the dry trigger of a player. Results are more important in certain positions, such as receivers and cornerbacks: you have to know how to rise to get the ball during disputed catches. Also important for tight ends and safeties. Jaguars' Chris Conley set the record in 2015 with 1.14 meters (45 inches). The athletic cornerback Tariq Woolen (UTSA) could stand out in 2022.
Long jump
No, football players should not make forward leaps on Sunday. But carried out without momentum, it makes it possible to evaluate the qualities of the lower body (sheathing and legs). This is essential to be able to take off so the best receivers and cornerbacks in this exercise, score points. Dolphins cornerback Byron Jones still holds a record set in 2015 with 3.73 meters: the stadium was almost too small for him!
The Broad Jump is also scrutinized for interior linemen: defensive tackles, guards and centers. In these positions, the power is important, do not be clumsy either: these linemen are very close to and from the line of engagement so they must explode from the starting blocks when the ball is engaged to take the advantage. Of course, knowing how to play low on your supports and having good hand technique remain the fundamentals in these positions, but being explosive also counts. In 2011, Eagles center Jason Kelce stood out with a jump of 2.80 meters. Iowa Player, Tyler Linderbaum seems to want (and be able) to succeed him in 2022.
The bench press
A 100 kilo bar to be lifted and brought back as many times as possible. This workshop is of course above all a guide for those who have to fight in the trenches: be strong enough to attack or repel your assailant for 60 minutes. Being successful in this exercise is not a guarantee of success in the NFL but, even if counter-examples exist (like Orlando Brown), establishing a low number of repetitions for a lineman is not a good sign. Of course, body type matters and players with long arms are at a disadvantage. Most often, therefore, it is the offensive guards and centers as well as the defensive tackles who shine in this tournament. The record is still held by the 49 repetitions of Stephen Paea (DT, ex Bears) upon leaving Oregon State. To be continued in 2022, the offensive lineman Ikem Ekwonu (North Carolina State).
Shuttle
On 20 or 60 yards, this workshop is a sprint but not in a straight line. It allows to evaluate the speed to have speed, on one side then on another. A particularly important quality for linebackers who have to counter runners' cuts. If supersonic receiver Brandin Cooks (Texans) still holds the record with 3.81 seconds, when defenders get some of the best times then that automatically raises their odds. This was for example the case of Justin Simmons (Broncos) in 2016 with a time of 3.85 sec. A fake game, football requires players who are able to redirect themselves quickly, so athletes capable of doing so are in demand. In 2022, like every year, players will earn places in the draft thanks to this workshop: in 2022, keep an eye on the linebacker Brian Asamoah (Oklahoma) and the safety Markquese Bell (Florida A&M).
Workshops without measurement
The Gauntlet
While catching fly balls during an NFL Combine workshop may not be likened to a game-like situation for receivers, it nevertheless helps to put all players on an equal footing in terms of conditions. And if each season the best receivers are known and followed for months, these workshops mainly benefit players with less media exposure. When performing at the NFL Combine, their names appear on the tablets of the various staffs who rush, the next day, to study videos of the player's match. The exercise consists of starting from one sideline to the other, catching 7 balls thrown from different places on the pitch. See tweet below.
W
The "W" is a workshop for defensive backs because it is close to what they experience in matches. a "W" as a drawing of this exercise: a backward stroke then a forward stroke with an angle to the left, again a backward stroke and a final forward stroke to finish. The sporting interest is that the defensive backs must be able to step back and then anticipate an inside layout of the receiver followed in marking. There is no ball in play and the players are not equipped, but these situations of sudden changes of direction are found on Sundays on the field.
Figure 8
This workshop, well known to Pro-Days and training camps, is also on the program: running around two hoops placed on the ground and picking up an element in places. The goal is to assess the ability to bend your hips while accelerating in an arc, and know how to lean without losing speed. An important exercise for outside pass-rushers because it mimics what they need to be able to do in a match: get around the offensive lineman with speed and leaning to avoid being pushed back. In 2022, pass rush specialists with a "light" size should still stand out: Nik Bonitto (Oklahoma) and DeAngelo Malone (Western Kentucky), for example.
Run and Club
Still for defensive linemen, this workshop consists of a slalom race between five dummies simulating arm movements and footwork in so-called pass-rush situations. Note that the last mannequin has arms to simulate a balloon snatch (strip-sack in the original version). Because the "live" visual impression is important for coaches, some players could increase their ratings even further, such as Georgia players. Jordan Davis and Devonte Wyatt as well as those of Michigan Aidan Hutchinson and David Ojabo. Also to follow, the Minnesota rusher pass Boye Mafe.
Evaluation is permanent
The quarterbacks are of course very scrutinized, whether during their specific workshops or when they throw the balls for the exercises of the receivers, tight-ends and runners. For them, the conditions would not be compared to those of matches but, their mechanics as well as their footwork are constantly evaluated. For coaches and managers, the NFL Combine is often the first time they can get a "live" visual impression of the quarterback and that's important. And of course, the interviews are decisive as to their final evaluations: they are the face of the franchises so you have to prove yourself worthy of this status.
The NFL Combine is also an opportunity for players from modest universities or lower levels to show off. In 2022, we can think of the receiver Dai'Jean Dixon (Nicholls State), offensive lineman Cole Strange (Tennessee-Chattanooga), at linebacker troy andersen (Montana State) or cornerbacks Zyon McCollum (Sam Houston State) and Joshua Williams (Fayetteville State). It's up to them to shine.
Debriefs of these days will, of course, be offered to you: who scored points (and therefore dollars) and who lost? It is this week that we will know the answers.
Before he was the triple crown winner and Super Bowl MVP, he was just a kid from Eastern Washington trying to prove himself. 😤💪@CooperKupp | @RamsNFL

📺: #NFLCbine starting Thursday at 4pm ET on @NFLNetwork pic.twitter.com/YwpI33wQ3g

— NFL (@NFL) March 1, 2022