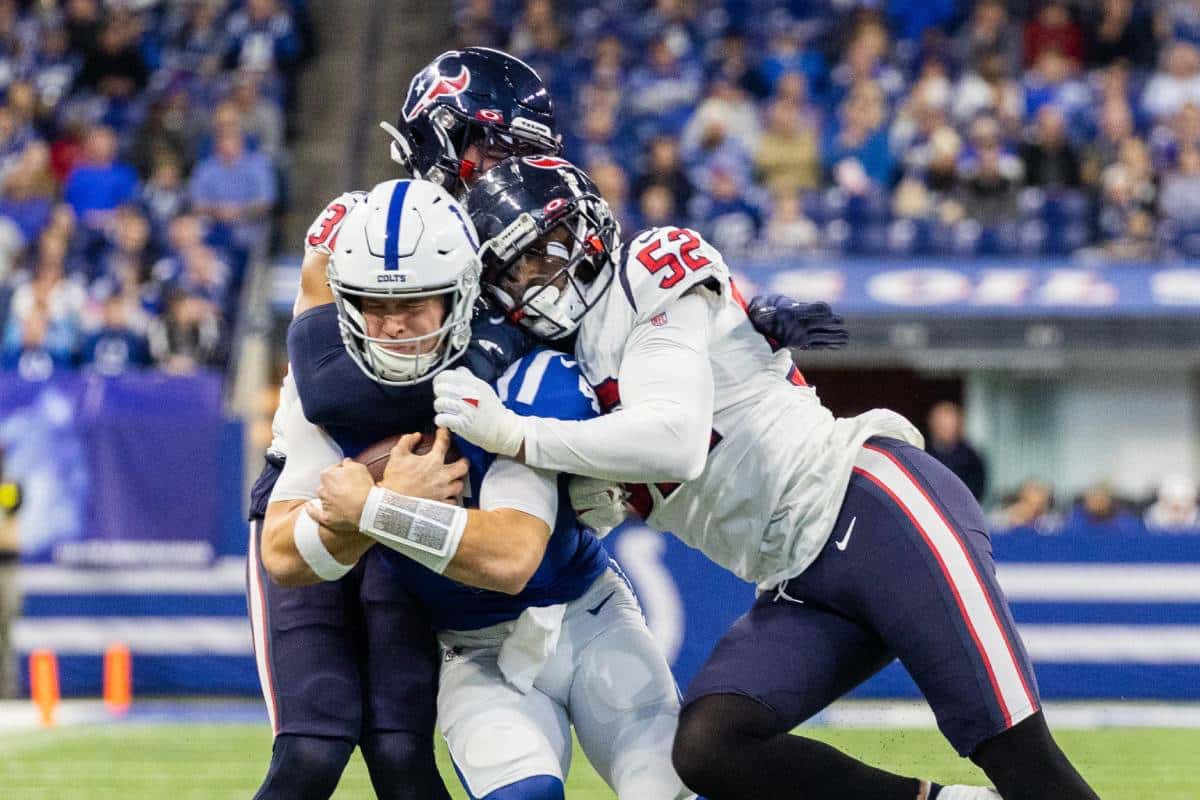 Indianapolis Colts (4-12-1) – Houston Texans (3-13-1): 31-32
A completely crazy bottom-of-the-table match. While they led for three quarters, the Texans seemed to be heading for a loss synonymous with first position in the Draft when the Colts came back in front in the last quarter.
Except that Lovie Smith and Davis Mills (22/38, 298 yards, 3 TDs, 2 int) have nothing to do with the Draft. So they led a completely crazy offensive, during which the quarterback first converted a 4&12 on a 30-yard pass for Brandin Cooks (5 rec, 106 yards, 1 TD). A few actions later, it was squarely on a 4&20 that Mills found Jordan Akins (4 rec, 70 yards, 2 TDs) for a touchdown from 28 yards. On the action, the ball passes completely into the hands of safety Rodney Thomas, who could have ensured victory for Indianapolis. And as long as it was, Mills and Akins connected for the two-point connection that put their team in front (31-32).
ON 4TH AND 20… @HOUSTONTEXANS TOUCH DOWN! pic.twitter.com/POhLDaLMuL

— NFL (@NFL) January 8, 2023
There are 50 seconds left, but the Colts' last desperate offense comes to nothing
Logical, but complicated
If it was intense at the end, the Texans victory is not particularly undeserved. On the contrary. Mills and Cooks connected on the first possession of the game for a touchdown (0-7). A Colts fumble on the next kickoff even gave them a field goal (0-10). Michael Pittman (3 rec, 30 yards, 1 TD) ended up opening the Indianapolis counter, but an interception from Sam Ehlinger (23/35, 209 yards, 2 TDs, 2 int) returned for a touchdown allowed the Texans to lead 17-7 at the break.
In the third quarter, when Zack Moss (18 carries, 114 yards, 1 TD) brought the locals closer (14-17), Houston immediately responded with Akins' first touchdown (14-24).
The problem is that Davis Mills then completely stalled, with two interceptions in a row. The first returned for a touchdown, the second well exploited by his opponents for a touchdown from Moe Allie-Cox. And here is Indianapolis ahead 28-24! With a field goal and more, it's even 31-24 with 3mn33 to go.
It was therefore the moment that Mills and Lovie Smith chose to release what they could do best, with these two crazy conversions on 4th attempt and this touchdown of the victory.
A victory which has the consequence of depriving the Texans of the first choice of the Draft. Because with four successes, Houston finally ends with a better record than the Bears, who will be the first on the podium.