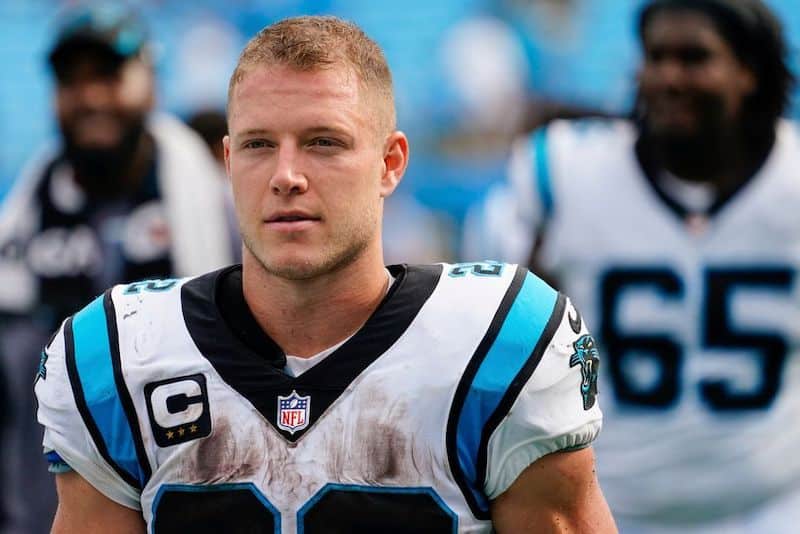 Christian McCaffrey pulls himself west
Homecoming for Christian McCaffrey. Willing to exchange their offensive talisman after the spring cleaning triggered by the dismissal of Matt Rhule ten days ago, the Panthers took action last night.
The running back finds the Bay of San Francisco, where he spent three years under the colors of the Cardinal of Stanford, in exchange for a gaggle of draft picks according to Adam Schefter of ESPN: picks of the 2nd, 3rd and 4th round in 2023 as well as a 5th pick in 2024, such is the price paid by the 49ers.
Subscriber to the infirmary for two seasons, the nimble-fingered runner leaves a franchise in full quest for an offensive identity to come and strengthen the ranks of gold diggers who have not yet given up on the playoffs despite a start to the season in halftone.
In six games this season, finally spared from physical glitches, the running back has already piled up a total of 670 yards on offense, or 43% of the number of yards amassed by the Panthers. The league's worst offensive squad loses its best asset. Maybe his only.
"All I want is to win," claimed a disappointed CMC after yet another setback on Sunday.
A pious wish that has a much better chance of coming true on the side of Santa Clara than Charlotte. New partner of Jeff Wilson on the ground and triplet Deebo Samuel, Brandon Aiyuk and George Kittle in the air, McCaffrey should already be integrated into the game plan for the reception of Kansas City this Sunday.