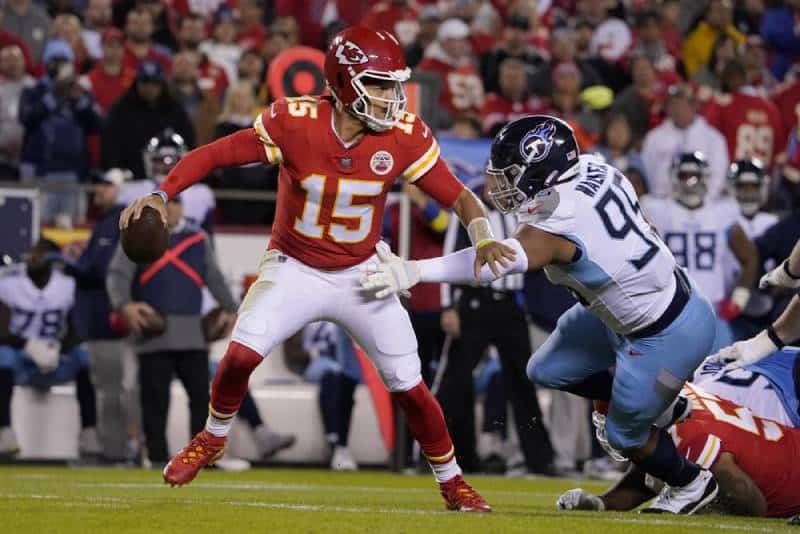 Kansas City Chiefs (6-2) – Tennessee Titans (5-3): 20-17 aet
Things really shouldn't have been this difficult for the Chiefs. Faced with the Titans who have only gained 229 yards in attack, decked out with a more than limited quarterback in the person of Malik Willis (5/16, 80 yards – 8 carries, 40 yards), Kansas City has multiplied the errors to find themselves led for a good part of the evening.
A missed extra run, a field goal wide of the posts and a red interception kept Tennessee alive for a very long time. Finally, Patrick Mahomes (43/68, 446 yards, 1 TD, 1 int) worked magic. First with a conversion to the race on 3rd &17. Then a touchdown, still with his legs, on 3rd & 9 with 2mn56 to go. And it was still Mahomes who converted, still on the ground, the two-point conversion to equalize (17-17).
In overtime, winners of the draw, the Kansas City players monopolized the ball for more than five minutes, with a conversion from JuJu Smith-Schuster (10 rec, 88 yards) on 4th & 1 in passing, before a field goal from 28 yards scored by Harrison Butker. The Titans were then entitled to a possession, but the defense of the Chiefs was not in the lace: Derrick Henry (17 races, 115 yards, 2 TDs) was stopped on the first attempt, Malik Willis sacked on both following, before a missed pass to end the match.
Unlike the Bills, the Chiefs preserved the victory. But it was hard.
Everything for Derrick
Ryan Tannehill tested himself in the warm-up but was unable to play. So the Titans still had to rely on Malik Willis. Or rather Derrick Henry. Led 9-0 after a field goal then a touchdown from Mecole Hardman (6 rec, 79 yards, 1 TD) early in the game, Tennessee put the ball in the hands of its star runner. With success ! The tank scored a first, then a second touchdown to put his team in front (9-14) in the middle of the second quarter.
Except that everything stops there, or almost. The Titans score their next points in the third quarter, thanks to an interception from their defense, which puts their offensive squad directly in the opposing camp. Except that Willis is especially effective on the ground. And that the reds begin to know it. It will therefore be just a field goal for the visitors (9-17). With six punts in the second half, Willis and without a band can't do it anymore.
Tennessee's defense is holding up. But ends up giving in, with wear, in front of Mahomes. Number 15 is not entitled to the help of a ground game. He throws a shower of ball and improvises with his legs until the equalizer and victory in overtime.