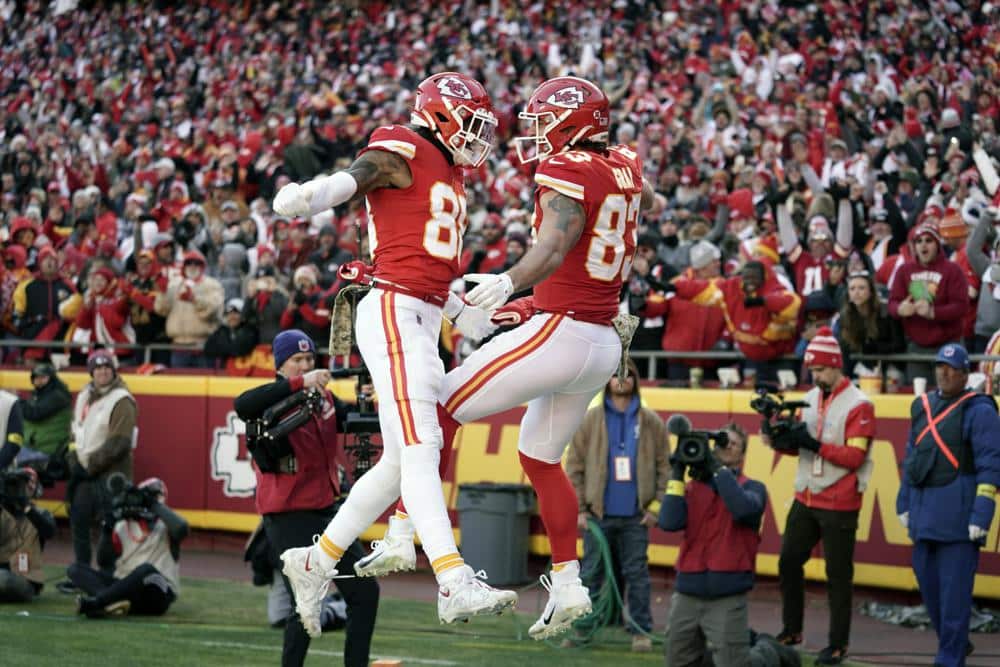 Kansas City Chiefs (7-2) – Jacksonville Jaguars (3-7): 27-17
These are two teams that everything opposes who faced each other at Arrowhead Stadium this Sunday. On the one hand, the Chiefs, who have lost only two games this season, and who already seem, while there are still many games, focused on the playoffs. Opposite, the Jaguars are far from the playoffs, but remained on a good victory against the Raiders, and found another AFC West team without any other pressure than that of making a good impression. In a rather pleasant meeting, the logic was respected, and it was the Chiefs who won in front of their public (27-17).
Without pressure, and without complex, this is how Jacksonville will start the match. From the kickoff, Riley Patterson (who will miss two field goals in the match), the kicker, tries an onside kick, covered by the Jaguars. Thus, they afford the luxury of starting with the ball. Unfortunately, Kansas City's defense takes precedence over Jacksonville's attack, and the squad led by Trevor Lawrence (29/40, 259 yards, 2 TD) continually stumbles on a red wall.
However, the quarterback showed a beautiful face, and knew how to properly advance his attack, without really taking a lot of risk. In particular, he was able to rely on a huge Christian Kirk (9 rec, 105 yards, 2 TD), which week after week justifies his status as number 1 receiver. Only, the step was too high against a defense in great shape, author of 5 sacks, and who totally annihilated the meager hopes of Florida.
Mahomes is still going strong, Toney wakes up
Offensively, Kansas City has fulfilled its mission perfectly. Patrick Mahomes (26/35, 4 TD, 1 INT, 39 yards on the ground), of course, responded, but the whole squad showed up today. 155 yards rushing, 331 passing yards, no sacks taken, the copy made by the Chiefs is almost perfect. For his second game with his new team, Kadarius Toney (33 rushing yards, 4 rec, 57 yards, 1 TD) showed particular advantage, hopping his first NFL touchdown.
Kadarius Toney joins the end-zone on one hop and registers his 1st TD with the pros 🏈#JAXvsKC #ChiefsKingdom

🎥 @NFL pic.twitter.com/2aMKJVIjG4

— DNA of Sports.com – NFL News 🏈 (@DNA of Sports) November 13, 2022
The only shadows on the board, the three stray bullets (two fumbles, one interception), as well as the injury of JuJu Smith-Schuster, violently hit by Andre Cisco on a reception. The safety's helmet shot left JuJu immobile for long seconds on the lawn, but the latter fortunately got up. He was placed on concussion protocol.
Kansas City continues its march forward, and will find a division rival next week, the Chargers. If qualification for the playoffs is on the right track, the objective of Andy Reid's men is much more ambitious. For now, the Chiefs are warming up. See you in January. For their part, the Jaguars are still too fair to fight against such a team on a good day. Still in reconstruction, Trevor Lawrence's teammates are showing signs of progress game after game, but we will still have to wait to hope to see Jaguars candidates for the playoffs.