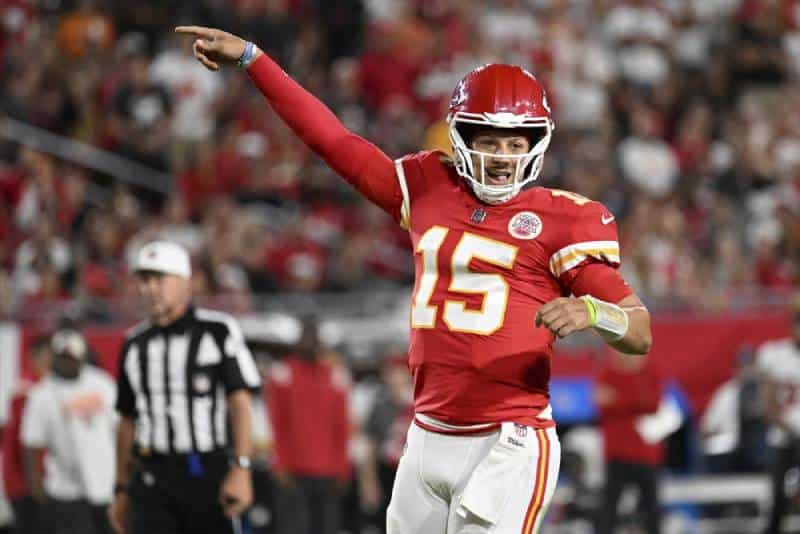 Tampa Bay Buccaneers (2-2) – Kansas City Chiefs (2-2): 31-41
There are times when the first seconds of a game set the tone. It was a bit the case this Sunday when Rachaad White, the returner of the Buccaneers, let slip the ball from the kickoff, offering the ball to his opponents just 21 yards from the end zone. Two actions later, Patrick Mahomes (23/37, 249 yards, 3 TDs, 1 int) sent Travis Kelce (9 rec, 92 yards, 1 TD) in the end zone (0-7) to start his evening perfectly.
Even better against a fierce defense since the start of the season, Clyde Edwards-Helaire (19 carries, 92 yards, 1 TD – 1 rec, 2 yards, 1 TD) scored on the next two possessions to allow Kansas City to lead 21-3 and live a rather quiet match.
The reds only punted once. Mahomes found eight different targets and his line did an honorable job of only exposing him to pressure on 9 of the 40 snaps he attempted a pass. Mahomes and his coach Andy Reid therefore led their most convincing part of the start of the season. Apart from an interception in the last quarter, no alert to report. And at that time, the match was already over.
Better in defeat for Tampa
Without this catastrophic start and another fumble in their half of the field during the second quarter, this time from Tom Brady (39/52, 385 yards, 3 TDs) himself, the Buccaneers could probably have had their chance in this festival offensive. Because despite the defeat, there are positives. The returns of Mike Evans (8 rec, 103 yards, 2 TDs), Chris Godwin (7 rec, 59 yards) and Julio Jones (1 rec, 7 yards) did good. While there have been punts and a bit of erraticism in their efforts, the Buccaneers have scored more points and gained more yards through the air than in any game this year.
At 45, and having had to throw 52 balls to chase the score, Brady has shown he can still carry the weight of attack on his shoulders.
Mike Evans netted a brace in the second quarter, but in between Patrick Mahomes responded with a brilliant improvisation to find Noah Gray.
28-17 at halftime for Kansas City. And even 38-17 in the third quarter after a touchdown from Jody Fortson. Rachaad White and Leonard Fournette closed the gap, but there wasn't enough time to come back.
Kansas City retains the lead in the AFC West, while the Buccaneers also remain ahead in the NFC South, tied with the surprising Falcons.
MAHOMES IS UNREAL 🤯

(via @NFL)pic.twitter.com/rwsDTey5ah

— Bleacher Report (@BleacherReport) October 3, 2022