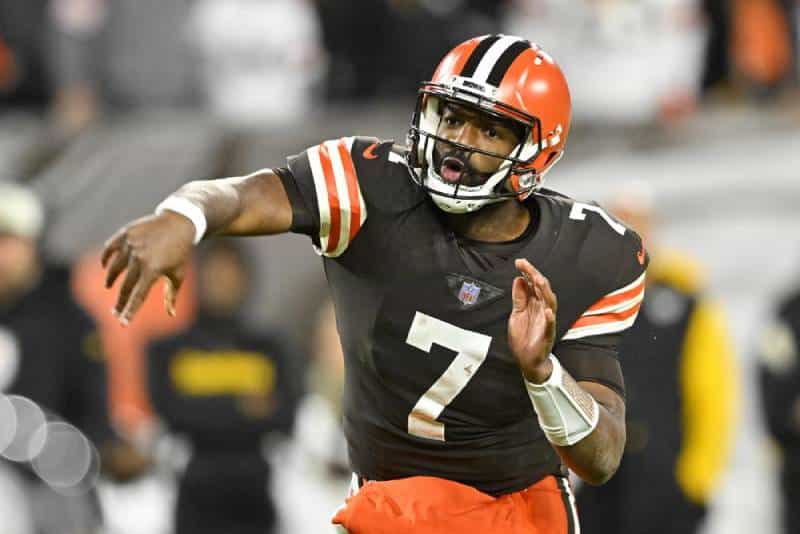 Cleveland Browns (2-1) – Pittsburgh Steelers (1-2): 29-17
It hasn't been pretty or exciting, but the Browns are revived. Even led to the break, the Cleveland players were not really worried by a Pittsburgh team still too fair in attack to beat the best.
The Browns defense took over in the second part of the match, while Nick Chubb (23 carries, 113 yards, 1 TD) allowed his team to take off at the start of the last quarter (23-14).
The Steelers closed the gap with a field goal (23-17) 1 min 48 from the end. But unlike the game against the Jets, Cleveland covered the onside kick. They returned the ball with a punt 15 seconds from time, but the defense recovered the loose ball from the Pittsburgh attackers in the end zone on a desperate attempt. Enough to increase the final score to 29-17.
Mitchell Trubisky rebels… one half
Unable to lead the attack convincingly in the first two games, Mitchell Trubisky (20/32, 207 yards) reacted by completing 8 of his first 9 passes, helped by an incredible one-handed reception from debutant George Pickers.
🤫🤫🤫

📺 #PITvsCLE we @NFLonPrime pic.twitter.com/CHBCksr7Yf

— Pittsburgh Steelers (@steelers) September 23, 2022
Trubisky even scored on the ground, as did Najee Harris (15 carries, 56 yards, 1 TD). Two touchdowns on four offenses, and the advantage 14-13 at halftime. Because if the Browns also scored twice, thanks to Amari Cooper (7 rec, 101 yards, 1 TD) and David Njoku (9 rec, 89 yards, 1 TD), their kicker Cade York missed an extra point.
Except that when you return from the locker room, everything stops. The Steelers leave with three 3&outs and a fourth punt. Meanwhile, a solid Jacoby Brissett (21/31, 220 yards, 1 TD) takes advantage of Akhiello Whiterspoon's injured outing to find Amari Cooper deep. Then Chubb and Kareem Hunt (12 races, 47 yards) extend the drive, until the double of the first (23-14). Already the fatal blow with 9mn29 to play.
If Brissett can hold the barracks while waiting for Deshaun Watson, it is also because, in addition to his runners, Cooper and Njoku are up to it. The first signs his second consecutive game over 100 yards, a first for him since 2016, a time when he played with the Raiders. As for the tight-end, he signed one of his best career games, a few months after signing a juicy contract extension.
The performance of Cleveland's defense despite a rain of injuries remains to be put into perspective, as Trubisky is suffering. From the post-match press briefing, Mike Tomlin brushed aside the idea of ​​playing rookie Kenny Pickett. However, you will have to get there eventually.