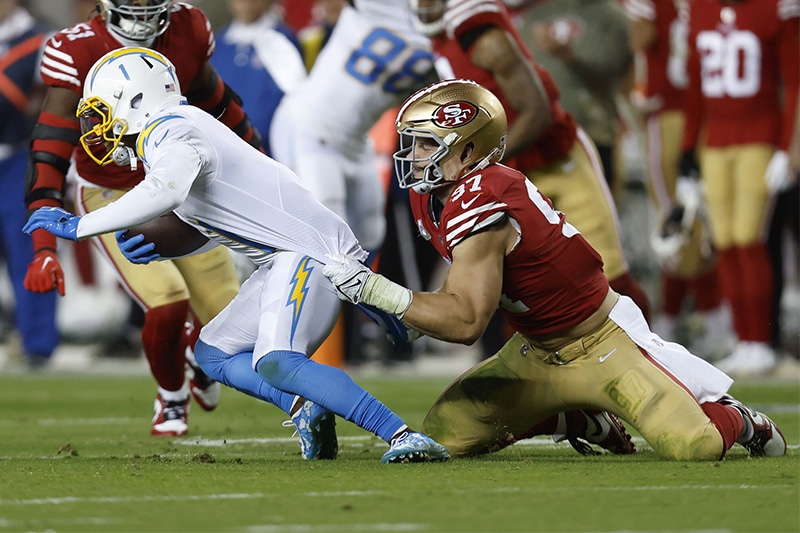 San Francisco 49ers (5-4) – Los Angeles Chargers (5-4): 22-16
For the second time in as many weeks, San Francisco won no points in the second half. Once again, Kyle Shanahan can say thank you to his defense which delivered a high-class match to overcome a Los Angeles team which finds, in bits, its offensive rhythm. The squad gradually got hold of this part, to the point of leaving no solution to Justin Herbert (21/35, 196 yards, 1 TD and 1 INT) at the end of the game.
At the same time, Jimmy Garoppolo (19/28 and 240 yards) and especially the ground game (157 yards gained in all) allowed the locals to take the lead in this Sunday Night Football. However, all had not started so well.
A touchdown and then that's it
The first drive is indeed a demonstration for the Chargers. Led by a pitcher who seems to be gradually regaining full possession of his physical means, Brandon Staley's men cover 75 yards in less than 3 min 25. A first offensive series concluded with a 32-yard touchdown from DeAndre Carter (0- 7). We then say to ourselves that it may be difficult to slow down this attack in view of what it shows. It will ultimately be the only touchdown of the game conceded by San Francisco.
The 49ers tighten, slowly but surely, their grip on their prey. They first close the trenches, to the point where the Chargers will not even try to run (16 attempts for 51 yards in total). Then they put pressure on Herbert with notably 3 sacks and 9 QB Hits. From then on, Los Angeles found it increasingly difficult to move forward. The Chargers add well 3 field goals in the second quarter to switch in front at the break (10-16), but we can see that each point scored is at the cost of an excessive effort.
McCaffrey discreet, but decisive
This is why visitors will not score any more during the next 30 minutes. On the San Francisco side, we are still running after the score following this touchdown conceded from the first drive. For the 49ers, it takes a little longer to get up to speed offensively. The game begins with a field goal and a fumble in the first quarter (3-7).
We have to wait until the end of the first half to finally see the locals reach the in-goal. A sneak QB from Jimmy Garoppolo which rewards a good drive from 75 yards. The next 30 minutes will be much more productive with no less than 12 points scored. Two field goals and a touchdown that definitely put them away. Christian McCaffrey, relatively discreet in this match (14 races, 38 yards and 1 TD + 4 receptions for 39 yards), however marks the touchdown which allows his team to pass in the 4th quarter (19-16).
A defense on fourth attempt and an interception later, San Francisco recorded its 5th success of the season and returned to only one victory from the top of the division. For the Chargers, there are things that can give hope for Justin Herbert's return to form. However, it is a new defeat and a delay that accumulates on the Chiefs in AFC West.