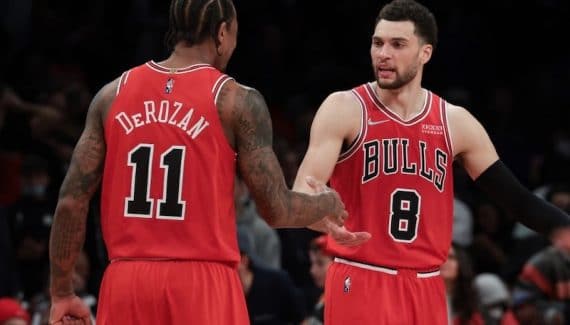 Last year, Zach LaVine was the Bulls' sole representative at All-Star Weekend. For the 2022 edition, they were two to accompany him: DeMar DeRozan, All-Star like him, and Ayo Dosunmu, invited to the "Rising Stars". " It shows the progression of the franchise. We're headed in the right direction and obviously we're all here for a reason.", comments on the Bulls fullback.
The latter, with more than 27 points on average last season, was the soloist of a mediocre team. Team that began to transform in March 2021 with the arrival of Nikola Vucevic. The Bulls then multiplied the good operations during the offseason to get their hands on DeMar DeRozan, Lonzo Ball and Alex Caruso.
More recently, Chicago has recovered an interior likely to come to support Nikola Vucevic, in the person of Tristan Thompson, with whom Zach LaVine has already been able to exchange. " It will bring a lot. He is a player with more experience, a player who has won the title, who has already participated in these matches and who can help us in these situations. ", enumerates the back.
He takes the opportunity to salute the work of recruiting Arturas Karnisovas, the vice-president, and Marc Eversley, the GM of the franchise. " They trust me, DeMar, this band. It means a lot, compared to the last year of my contract, that they put a team around us that is likely to be competitive."
"The best duo in the league"
The team's second-highest scorer believes that its leaders are doing what it takes to improve the team. And thus allow the Bulls " to be competitive and do our best to achieve our title goals ".
This sudden change in franchise status in Illinois is largely due to the arrival of DeMar DeRozan, author, at 32, of his best career exercise. The former Spurs player has already had the opportunity to go far in the playoffs, where Zach LaVine has never been beyond the regular season.
A player " who lived, unlike us, these situations at the highest level in these important matches. He's been to the Eastern Conference Finals multiple times and had some big moments. His calm has always helped the team. He has always been one of the most respected players in the league, whether by players or connoisseurs. This year, he is on the national network and shows how good he is and how much he has worked on his game. "
The former star of the Raptors thus turns to more than 28 points on average, while Zach LaVine scores just under 25 each evening. The two men thus post the best average of points among the duos of the league.
" I think we are the best duo in the league today."judges the former Wolf. "I think so personally in relation to the ranking and our level of play. We started the year with divergent speeches from some about us, we proved (that they were wrong). We will continue to grow and progress."
Shots
Bounces
Players
GM
Minimum
Shots
3 points
LF
Off
Def
Early
pd
bp
Int
CT
party
Points
Demar Derozan
55
35.6
51.7
34.3
86.6
0.8
4.4
5.2
5.1
2.3
0.9
0.3
2.2
28.1
Zach Lavine
47
34.6
48.2
39.9
86.9
0.3
4.6
4.9
4.5
2.7
0.6
0.4
1.7
24.6
Nikola Vucevic
52
33.9
47.4
31.7
75.6
2.0
9.7
11.7
3.6
1.9
1.0
1.2
2.5
18.2
Coby White
39
28.2
45.3
40.1
84.0
0.3
2.8
3.1
2.8
1.3
0.5
0.3
2.3
14.0
Lonzo-Ball
35
34.6
42.3
42.3
75.0
1.0
4.4
5.4
5.1
2.3
1.8
0.9
2.4
13.0
Alex Caruso
28
27.7
42.9
34.5
81.4
0.9
3.0
3.9
3.9
1.4
1.9
0.4
2.4
8.4
Ayo Dosunmu
54
25.9
52.3
40.7
67.7
0.3
2.5
2.8
3.1
1.2
0.7
0.4
2.2
8.1
Javonte Green
42
24.2
54.6
34.9
82.4
1.6
2.8
4.4
1.1
0.6
0.9
0.5
2.1
7.6
patrick williams
5
24.9
56.5
50.0
100.0
0.2
2.0
2.2
0.6
0.4
0.6
0.4
1.8
6.6
Derrick Jones
34
17.5
55.1
40.0
81.6
1.3
2.1
3.4
0.6
0.5
0.5
0.7
2.4
6.1
Troy Brown, Jr.
48
18.1
40.0
33.0
76.0
0.7
2.8
3.5
1.1
0.5
0.6
0.1
1.1
4.6
Matt Thomas
35
12.8
39.7
38.4
80.0
0.1
1.3
1.4
0.6
0.2
0.2
0.1
0.5
4.3
Malcolm Hill
13
11.5
45.0
35.7
70.0
0.7
1.3
2.0
0.2
0.2
0.2
0.2
1.1
4.1
Alfonzo McKinnie
17
12.1
39.3
33.3
25.0
0.8
1.2
1.9
0.3
0.4
0.1
0.2
1.5
3.5
Tyler Cook
19
10.3
61.1
0.0
64.5
0.8
1.9
2.7
0.2
0.4
0.2
0.2
1.4
3.4
Tony Bradley
45
11.1
57.9
0.0
66.7
1.3
2.4
3.7
0.5
0.6
0.2
0.7
1.2
3.1
Devon Dotson
11
7.7
47.8
22.2
55.6
0.1
0.7
0.8
1.4
0.5
0.1
0.0
1.0
2.6
Mac McClung
1
2.5
100.0
0.0
0.0
0.0
0.0
0.0
0.0
1.0
0.0
0.0
0.0
2.0
Marko Simonovic
9
3.9
26.7
20.0
72.7
0.6
0.6
1.1
0.0
0.2
0.1
0.1
0.7
1.9
Alize Johnson
16
7.5
52.2
0.0
57.1
1.0
1.2
2.2
0.5
0.5
0.2
0.0
0.9
1.8
Jordan Bell
1
2.0
0.0
0.0
0.0
1.0
0.0
1.0
0.0
0.0
1.0
0.0
2.0
0.0