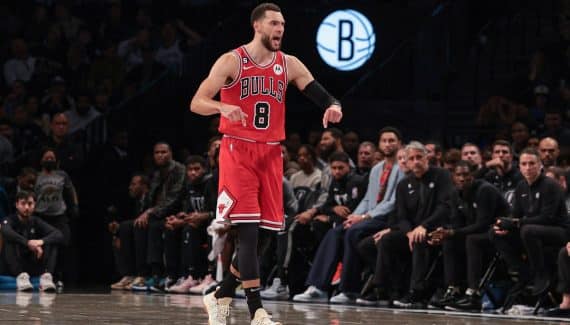 With 9 points scored in 25 minutes before the start of the last quarter, Zach LaVine was pretty average in Brooklyn. Good in the first period, he was however missed his third quarter, not scoring any basket despite three attempts.
Then there was that last brilliant act. Brilliant because the rear of Chicago scored 20 points there at 6/10 on the shoot. With 29 points at 10/21 to shoot in this meeting, his knee seems to be going very well.
"I do my best every day to feel good"reassures Zach LaVine at ESPN. "It's a day-to-day thing. It's up to me, the staff and the franchise to manage this, as best as possible, to have a long-term vision and not just be a short-term solution. I feel good right now. I hope it will still be the case tomorrow [aujourd'hui donc]. »
According to our colleagues from ESPN, Zach LaVine should remain on the bench this Wednesday against the Hornets. The Bulls keep their logic: no back-to-back for the All-Star. Especially after playing the entire last quarter in Brooklyn and 37 minutes in total.
"When Zach missed the first two games of the season, I was asked if he was going to have limited playing time," says Billy Donovan. "But that has never been the case. When he is available, he plays. I only asked him, in the middle of the last quarter, if he wanted to have a little break. He replied no, that he was fine. If something was wrong, he would tell me. »
Alternating phases of one-on-one and catch-and-shoot situations, still rare since the start of the season at home, Zach LaVine dominated the Nets defense in the last twelve minutes. Is it him who raised his level or is it Brooklyn who changed his defense?
"The defensive covers were the same", notice the player. "I was more aggressive I think. I wanted to be to find the rhythm. I wanted to play this match, especially against such a team. I am happy to have been able to play and to have helped my team to win. »
Zach LaVine
Percentage
Bounces
Season
Crew
GM
Minimum
Shots
3 points
LF
Off
Def
Early
pd
party
Int
bp
CT
Points
2014-15
MIN
77
25
42.2
34.1
84.2
0.4
2.4
2.8
3.6
2.1
0.7
2.5
0.1
10.1
2015-16
MIN
82
28
45.2
38.9
79.3
0.3
2.5
2.8
3.1
2.4
0.8
1.9
0.2
14.0
2016-17
MIN
47
37
45.9
38.7
83.6
0.4
3.0
3.4
3.0
2.2
0.9
1.8
0.2
18.9
2017-18
CHI
24
27
38.3
34.1
81.3
0.4
3.5
3.9
3.0
2.3
1.0
1.8
0.2
16.7
2018-19
CHI
63
35
46.7
37.4
83.2
0.6
4.0
4.7
4.5
2.2
1.0
3.4
0.4
23.7
2019-20
CHI
60
35
45.0
38.0
80.2
0.7
4.1
4.8
4.2
2.2
1.5
3.4
0.5
25.5
2020-21
CHI
58
35
50.7
41.9
84.9
0.6
4.4
5.0
4.9
2.4
0.8
3.5
0.5
27.4
2021-22
CHI
67
35
47.6
38.9
85.3
0.3
4.3
4.6
4.5
1.8
0.6
2.6
0.3
24.4
2022-23
CHI
4
32
43.8
46.4
84.0
0.0
3.3
3.3
3.5
1.8
1.0
2.5
0.3
22.5
Total
482
32
46.1
38.7
83.0
0.5
3.5
3.9
3.9
2.2
0.9
2.7
0.3
19.8