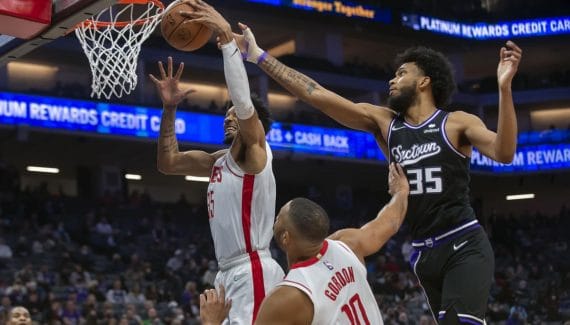 Opposed for the second time in 48 hours to the Kings, the Rockets almost experienced the same misadventure. Friday, they had led by 10 points before being punished because of their stray balls to finally bow 126-115 against the teammates of Marvin Bagley.
That night, they even started with a 13-0 before letting go again to the point of seeing the Kings take control at halftime. Except that this time, Houston did not collapse, and even showed composure in the "money time" when Harrison Barnes then Buddy Hield had brought the Kings back to a short length.
"We played, for lack of a better word, more educated basketball because of our experience in the Sacramento opener" explained Stephen Silas. "But this is our group. We just have to learn from every experience and hope to grow and improve, and we see some improvement because it's a really good course. Winning two out of three times on the move is a big step forward. We are therefore proud of ourselves and we must take advantage of it, but we must also be aware of what allowed us to arrive there, like the "why". The "why" is always important. "
Before this second game in Sacramento, Stephen Silas had decided to perform five separate video sessions, centered on each position. A different assistant led each session, and the goal was to highlight the issues in Game 1: rebounding and defending. Why take so much time on this defeat with five different video sessions? Because the possibility of playing the same team twice in a row gives the illusion of being in the playoffs, and it therefore allows you to develop good habits in adaptation and correction…
"One of the things I've communicated to our group is that we're not a playoff team yet, but when we are, this is what it will look like." continues Stephen Silas about the interest of these sessions. "You play against a team, you learn from that game, you watch the video the next day, you review some things, you take a few shots… You save your energy for the next time you play and hopefully , you apply these things the next day. And that's what it looks like in a playoff series. I hope the group understood that we were ready today".
For Christian Wood, this victory is also a sign of progress.
"We must learn to better maintain our advances" warns inside Houston. "As a young band, that's how we continue to build. So if we had managed to keep our lead, we could have largely dominated them. But I'm proud of our resilience to finish the game. We should be proud of that, especially since we're young. Everyone played an important role. Porter scored an important 3-pointer. Gordon was fantastic. Words fail to describe his performance. It's good to see that everyone is on the same wavelength, and we can build on that.. "
Shots
Bounces
Players
GM
Minimum
Shots
3 points
LF
Off
Def
Early
pd
bp
Int
CT
party
Points
Christian Wood
41
30.7
48.0
35.2
62.7
1.8
8.2
10.0
2.0
1.8
0.7
0.9
2.4
17.4
Jalen Green
29
30.3
39.1
30.6
82.1
0.3
2.8
3.2
2.2
2.4
0.6
0.2
1.4
15.0
Eric Gordon
37
29.2
50.4
45.6
73.3
0.2
1.5
1.8
3.3
2.2
0.6
0.4
1.1
14.9
Kevin Porter, Jr.
28
29.8
36.9
32.3
61.3
0.8
3.6
4.4
5.8
3.7
1.2
0.3
2.5
12.6
Jae'sean Tate
42
27.4
50.0
29.7
69.3
1.8
4.1
5.8
3.2
1.8
0.9
0.7
3.6
12.5
Garrison Mathews
27
27.8
40.3
35.8
79.7
0.5
3.1
3.6
0.9
0.7
0.6
0.4
3.0
10.9
Alperen Sengun
36
18.3
50.4
29.3
70.0
1.7
3.0
4.8
2.6
1.9
0.9
0.9
3.1
9.0
Daniel Theis
26
22.5
46.9
29.1
67.5
1.2
3.8
5.0
0.8
1.2
0.4
0.7
2.4
8.4
Kj Martin
41
18.9
51.2
31.6
64.7
1.0
2.8
3.8
1.3
0.7
0.4
0.5
1.3
8.0
Armoni Brooks
33
18.2
36.7
31.7
88.9
0.3
1.7
2.0
1.4
0.6
0.6
0.2
1.6
7.2
Josh Christopher
36
16.1
45.9
34.2
80.0
0.7
1.3
2.0
1.7
1.6
0.8
0.1
1.1
7.1
Dj Augustine
33
15.0
41.4
41.5
86.8
0.2
1.0
1.2
2.2
1.3
0.3
0.0
0.5
5.5
David Nwaba
33
14.2
47.5
28.6
70.2
0.9
3.0
3.9
0.8
0.5
0.7
0.5
1.2
5.4
Daniel House
16
14.5
33.8
29.4
89.5
0.2
2.4
2.7
1.2
1.1
0.3
0.3
1.0
4.8
Trevelin Queen
8
8.6
44.8
36.4
100.0
0.6
1.1
1.8
0.4
0.9
0.6
0.0
0.8
4.6
Daishen Nix
8
8.4
65.0
42.9
33.3
0.1
1.1
1.2
1.2
1.1
0.9
0.0
0.4
3.8
Usman Garuba
15
7.0
33.3
15.4
50.0
0.6
1.7
2.3
0.5
0.2
0.5
0.4
0.6
1.3