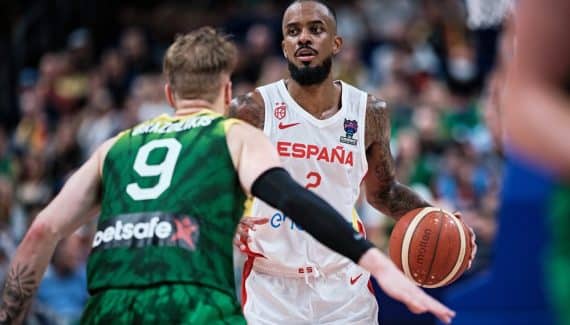 It's been in the works for some time and Lorenzo Brown has officially confirmed it: he won't be part of Spain's squad for the 2023 World Cup.
"Unfortunately, I won't be able to participate with my brothers from the Spain team in this year's FIBA ​​Basketball World Cup" he explains on his Twitter account. "I suffered an injury when winning the EuroBasket gold medal last year and I never had time to recover from it because I had to start the season immediately 2022/23 of the EuroLeague. I met three different specialists who told me that rest and continued treatment was the only way to return to 100% for the coming season. »
Although his quick naturalization had been widely criticised, Lorenzo Brown had been extremely valuable to La Roja in their quest for gold, finishing second in scoring (15.2) and assisting (7.6) in the team. Above all, he had filled an important void in the position of leader, in the absence of Ricky Rubio, injured.
"I hope to have the honor of representing Spain at the 2024 Olympic Games and, after careful consideration and consultation, I believe this decision gives me the best chance to contribute to our quest for gold next summer in Paris. I am forever grateful to the Spanish Federation, to Coach Scariolo and his staff, to my teammates and, above all, to the supporters, who welcomed me with open arms last summer. I hope to have the opportunity to make them proud once again" he concludes thus.
See you in Paris, then?
As a reminder, defending champion Spain is in Group G of the competition, along with Brazil, Iran and Côte d'Ivoire. It will then cross with group H (France, Canada, Latvia, Lebanon), the two best countries of this second group finally joining the quarter-finals of the competition.