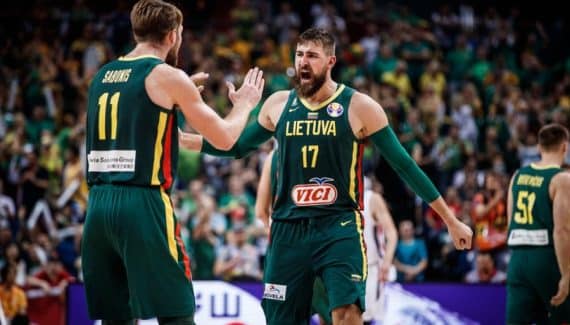 As the next World Cup approaches, Lithuania has revealed all of its preparation matches. A dense program awaits the Baltic selection with no less than ten friendly matches to be played over the course of a month.
The formation, which should still be led by Domantas Sabonis and Jonas Valanciunas, will start their summer tour with a double confrontation against Jordan on July 22 and 24. It will continue against Ukraine, Georgia and Finland.
On August 9, as announced by the Blues, direction Orleans for a confrontation against the French team, before a return match two days later, in Vilnius. Lithuania will end its preparation with a new confrontation against Finland, before continuing against Puerto Rico, and finally the Latvian neighbor.
According to BasketNews, the selection of the Baltic country, which closely monitors the state of the bruised hand of Domantas Sabonis, should be deprived of several major players for this international meeting. There are indeed serious doubts around Marius Grigonis, Rokas Giedraitis and Lukas Lekavicius.
" I won't reveal the list of candidates nor the names today, but I can only say that the team will be different. Players who participated in the last competition will lose their place. I think it will be more difficult to build the team this year », coach Kazys Maksvytis recently confessedwhich should remain in place until the 2024 Olympics despite a very complicated Euro last year.
It is recalled that Lithuania will evolve in group D along with Egypt, Montenegro and Mexico.