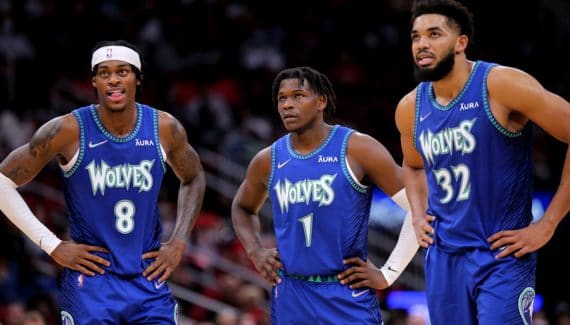 Four wins in a row, and now the Wolves think they are the best team in the NBA! It's a bit the feeling of Chris Finch and Karl-Anthony Towns, very disappointed with the performance of their training last night in New Orleans. Faced with an opponent well within their reach, the Wolves played the "hare" against the "turtle" and inevitably, they… lost!
"We thought it would be easy" summarizes Chris Finch. "We are looking for shortcuts. I don't think we underestimate our opponent, and it's more the fact that we wanted to take shortcuts.
Very frustrated, Karl-Anthony Towns has the same analysis: " We behaved as if it was enough to be on the ground to win, and that it was going to be quiet. As if it was enough to come, to have five wins in a row, and that's cool… But it's the NBA, and you have to work to achieve it. Nothing is acquired. We behaved as if we were going to be given this game. »
For Pat Beverley, the Wolves thought they had reached a certain level with four straight wins, when they quickly forgot the profile of their opponents…
"The last four games were decoys … The Clippers were diminished. The Thunder are one of the worst teams in the NBA. Houston is one of the worst teams in the NBA. As a result, we find ourselves in the zone, obviously scoring a lot of points, and we say to ourselves that this is the recipe for winning matches. Except that's not true. Our recipe has always been to defend well. »
"Every time we win three or four games in a row, we become more or less pretentious"
Embarked on an attack match, Minnesota was very close to the hold-up, thanks in particular to 20 points from Anthony Edwards in the last quarter. But the interested party blames himself, and he recognizes that he did not approach the match with the right attitude.
" I feel guilty. I didn't play at all, and it would have been different if I had taken shots." he explains about the first quarter. "I didn't take any shots, I wasn't aggressive, I didn't create anything. I did not do anything. I was absent. »
Once again Wolves have shot themselves in the foot, as if the lessons of the past have still not been learned.
"But we needed this game" concludes Anthony Edwards. "Every time we win three or four matches in a row, we become more or less pretentious, and we lose our humility. We think we've become a great team, but that's still not the case.
Shots
Rebounds
Players
MJ
Minimum
Shots
3pts
LF
Off
Def
Early
Pd
Bp
Int
Ct
Fte
Pts
Karl Anthony Towns
33
34.3
51.4
42.5
82.4
2.9
6.4
9.3
3.7
3.5
1.0
1.2
3.7
24.5
Anthony edwards
34
35.4
44.1
36.6
78.6
1.1
4.4
5.5
3.7
3.2
1.6
0.7
2.4
22.2
D'angelo Russell
30
32.9
39.8
34.5
80.8
0.4
3.4
3.8
6.9
2.6
0.9
0.5
2.0
18.7
Malik Beasley
40
27.1
36.9
33.7
74.1
0.3
2.8
3.2
1.7
0.8
0.6
0.1
1.2
12.3
Patrick Beverly
27
26.7
42.5
32.7
70.2
1.3
3.3
4.6
5.2
1.2
1.0
0.9
3.0
9.2
Naz Reid
37
17.0
46.6
33.7
72.2
1.5
2.5
4.1
0.8
1.0
0.5
1.0
2.4
9.1
Jaden Mcdaniels
37
26.4
42.5
28.7
78.6
1.4
3.1
4.5
1.1
1.1
0.8
0.6
3.5
8.2
Jaylen Nowell
26
13.9
47.3
34.5
73.3
0.3
1.7
2.0
2.0
0.5
0.6
0.2
1.0
7.8
Greg monroe
3
21.0
64.3
0.0
40.0
1.7
5.3
7.0
3.7
1.3
0.7
1.3
2.3
6.7
Jarred Vanderbilt
35
25.5
57.0
20.0
65.3
3.2
6.0
9.3
1.3
1.1
1.5
0.8
2.6
6.6
Taurean Prince
29
15.1
37.0
30.5
77.3
0.4
1.7
2.1
0.9
0.6
0.4
0.2
1.5
4.7
Nathan Knight
21
8.5
53.3
28.6
70.0
1.0
1.5
2.5
0.7
0.6
0.1
0.3
1.2
3.7
McKinley Wright
1
4.1
100.0
100.0
0.0
0.0
0.0
0.0
0.0
1.0
0.0
0.0
0.0
3.0
Josh Okogie
25
13.9
35.9
26.7
61.3
0.9
1.3
2.2
0.7
0.6
0.6
0.3
1.4
2.9
Jake Layman
18
8.6
37.0
16.7
75.0
0.2
1.1
1.3
0.3
0.4
0.3
0.2
0.4
2.4
Jordan McLaughlin
28
11.2
28.4
14.3
68.2
0.2
0.9
1.1
2.4
0.7
0.6
0.0
0.5
2.2
Leandro Bolmaro
23
8.0
28.1
16.7
88.9
0.7
0.9
1.5
0.5
0.5
0.2
0.0
0.9
1.2
Chris Silva
1
3.5
0.0
0.0
0.0
0.0
1.0
1.0
0.0
0.0
0.0
0.0
0.0
0.0