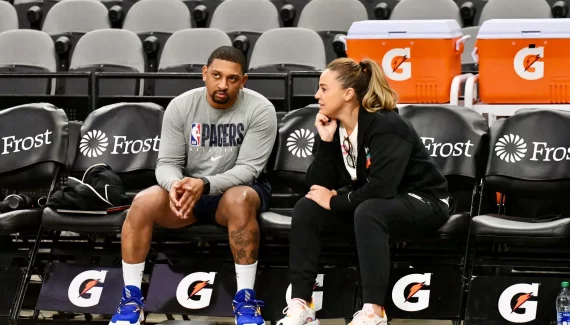 After stealing Natalie Nakase from the Clippers, Becky Hammon continues to draw in the NBA to compose her staff for the Las Vegas Aces, for the upcoming WNBA season.
This time she managed to lure Tyler Marsh into her nets. The two were spotted chatting when the Pacers came to San Antonio on Saturday night and the news was made official yesterday.
In post for two years at the Pacers under the orders of Nate Bjorkgren then Rick Carlisle as assistant in charge of player development, Tyler Marsh, presented by Becky Hammon as the next " Swiss knife " of his staff, will lead the "Player development" section at the Aces. He will also be in charge of developing training during the preparation and then during the season, and will also manage the scouting reports.
"It's an incredible blessing to be part of the Las Vegas Aces organization", said Tyler Marsh. "I want to thank owner Mark Davis, team president Nikki Fargas, and coach Becky Hammon for trusting me and giving me this incredible opportunity. I believe in the goal of the title set by our leaders, and with the incredible talent of our team, I am excited to accomplish our goal, to bring the city of Las Vegas a WNBA title."
Prior to joining the Pacers, Tyler Marsh served as assistant coordinator and assistant player development officer for Nick Nurse's Raptors, NBA champions in 2019.
He also won a title with Nick Nurse in the G-League with the Rio Grande Valley Vipers (2012-2013), before continuing his adventure in the development league, at Iowa Energy (2013-2014), at the Jam de Bakersfield (2014-2015) and the Fort Wayne Mad Ants (2016-2017).