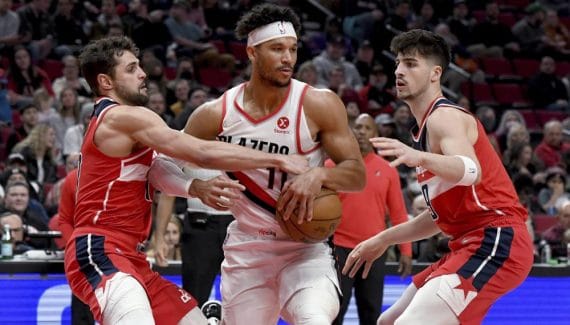 With 44 points, Josh Hart made by far the best game of his career against the Wizards. But he was not the only one to experience a great evening in this victory. Trendon Watford, with 27 points, and Drew Eubanks, 20 points, also broke their career highs.
The three men took advantage of Washington's very permeable defense, like LeBron James the day before, with his 50 points. After 36 minutes, the players of Wes Unseld Jr. had conceded 103 points…
"We have already seen it during the back-to-back, our defense is not there"bitterly notes the Wizards coach for the Washington Post. "We can always use the excuse of fatigue. But it doesn't work with me. "
Especially with 119.5 points conceded per game over the last six games, his players no longer defend. Even in victories, the figures are worrying (123 points taken against Indiana, 113 against Detroit). Without forgetting two weeks ago, the 157 units against the Spurs, then the 127 in this setback in Portland.
"It's always the same problems"continues Wes Unseld Jr. "We're talking about one-on-one efforts or defense in transition. There, it is not a question of systems. When the shots are gone, there are no systems to say that everyone has to be in their place. It's about effort, focus, communication. "
It's unfortunate and it comes at a very bad time since the Wizards are in the race for the "play-in". This third straight loss widens the gap with the Hawks, who have 10th place, the last qualifier. There are now three wins between the two franchises and there is only one month left in the regular season.
"We must be on the same wavelength, but from what I see, we are not there"notes Kentavious Caldwell-Pope. "Sometimes we give the impression of being, then to others, it's as if we didn't know each other, that we were playing an outdoor match. So it affects our defense. It can't happen like that. "
Shots
Bounces
Players
GM
Minimum
Shots
3 points
LF
Off
Def
Early
pd
bp
Int
CT
party
Points
Bradley Beal
40
36.0
45.1
30.0
83.3
0.9
3.8
4.7
6.6
3.4
0.9
0.4
2.4
23.2
Kristaps Porzingis
3
24.2
46.2
41.7
89.5
2.3
4.3
6.7
1.7
0.7
0.7
1.3
3.0
19.3
Kyle Kuzma
62
33.6
45.8
34.1
70.8
1.1
7.6
8.6
3.4
2.5
0.7
0.9
1.9
17.3
Montrezl Harrell
46
24.3
64.5
26.7
72.7
2.1
4.6
6.7
2.1
1.1
0.4
0.7
1.9
14.1
Spencer Dinwiddie
44
30.2
37.6
31.0
81.1
0.8
3.9
4.7
5.8
1.7
0.6
0.2
2.4
12.6
Kentavious Caldwell-Pope
62
29.9
41.7
39.0
90.9
0.5
2.8
3.3
1.9
1.2
1.1
0.3
1.7
12.2
Rui Hachimura
25
19.4
48.4
50.8
76.3
0.4
2.8
3.2
1.0
0.7
0.6
0.2
1.3
9.8
Daniel Gafford
56
20.5
68.2
0.0
70.7
2.3
3.6
5.9
1.0
0.9
0.4
1.5
2.4
9.1
Ish Smith
11
21.3
51.2
35.7
60.0
0.7
2.6
3.4
5.3
1.5
0.9
0.5
2.2
8.7
Thomas Bryant
20
17.6
52.3
27.8
85.2
1.2
2.9
4.1
1.1
0.8
0.3
0.7
1.8
8.3
Raulzinho Neto
56
20.8
45.3
28.6
75.3
0.2
1.8
2.0
3.1
1.1
0.8
0.0
1.6
8.0
Deni Avdija
65
23.3
43.2
30.9
76.5
0.6
4.5
5.1
1.7
0.9
0.8
0.6
2.3
7.4
Corey Kispert
60
21.0
43.3
33.6
87.0
0.8
1.9
2.6
1.0
0.6
0.4
0.3
1.2
7.2
Brad Wanamaker
1
27.1
40.0
0.0
100.0
0.0
4.0
4.0
7.0
0.0
2.0
0.0
3.0
7.0
Aaron Holiday
41
16.2
46.7
34.3
80.0
0.2
1.4
1.6
1.9
1.0
0.6
0.2
1.5
6.1
Davis Bertans
34
14.7
35.1
31.9
93.3
0.2
1.6
1.8
0.5
0.4
0.3
0.2
1.6
5.7
Tomas Satoransky
5
16.6
64.3
33.3
100.0
0.2
1.8
2.0
2.6
0.6
1.0
0.4
1.4
5.6
Greg Monroe
2
8.8
50.0
0.0
0.0
3.5
1.5
5.0
0.5
1.0
0.5
0.5
1.0
4.0
Anthony Gill
30
8.4
61.0
64.3
71.0
0.7
0.8
1.5
0.5
0.4
0.1
0.2
1.4
3.4
Cassius Winston
5
5.4
50.0
40.0
100.0
0.0
0.0
0.0
1.0
0.2
0.0
0.0
1.4
2.0
Craig Sword
3
6.3
75.0
0.0
0.0
0.0
0.0
0.0
0.3
0.3
1.3
0.0
2.3
2.0
Tremont Waters
1
8.4
50.0
0.0
0.0
0.0
0.0
0.0
0.0
0.0
1.0
0.0
2.0
2.0
Isaiah Todd
10
4.1
29.4
36.4
33.3
0.2
0.8
1.0
0.3
0.1
0.2
0.2
0.1
1.6
Alize Johnson
3
6.1
33.3
0.0
0.0
1.7
2.3
4.0
0.0
1.0
0.0
0.0
0.0
1.3
Joel Ayayi
7
2.9
16.7
0.0
0.0
0.1
0.3
0.4
0.6
0.0
0.0
0.0
0.0
0.3
Vernon Carey, Jr.
1
1.4
0.0
0.0
0.0
0.0
0.0
0.0
0.0
0.0
0.0
0.0
0.0
0.0
Jaime Echenique
1
3.1
0.0
0.0
0.0
0.0
0.0
0.0
0.0
0.0
0.0
0.0
0.0
0.0
Jordan Schakel
2
7.1
0.0
0.0
0.0
1.0
0.5
1.5
0.0
0.0
0.0
0.0
0.0
0.0
Jordan Goodwin
2
3.0
0.0
0.0
0.0
0.0
0.5
0.5
0.0
0.0
0.0
0.0
0.5
0.0