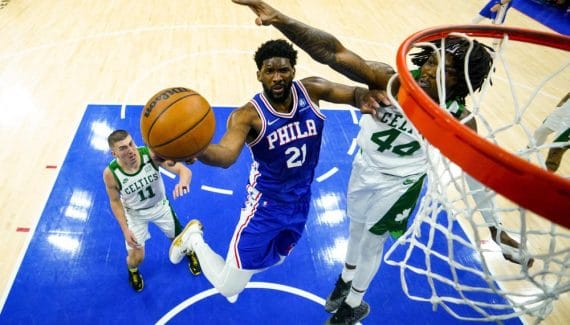 For almost six weeks, Joel Embiid has been scary offensively. He is on a series of 14 games in a row with at least 25 points scored and, in these last 17 games, on 15 occasions, he has exceeded 30 units…
In addition to registering 33.8 points on average since December 12, he also shoots at 55% success and 41% at 3-pts. In short: nothing and no one seems to be able to stop him.
"I think I can be one of the best scorers in the league", he believes for Sixers Wire. "With the progress I've made over the past two or three years, I'm more complete. But I still have a long way to go and I can always add things to my game."
In addition to the numbers, the absence of Ben Simmons this season pushes him to do more in the game. Doc Rivers' troops try to vary their attack and we see a Joel Embiid much more passer. He delivers superb passes and his average confirms his progress since he posts 4.3 offerings per game, his career high.
Another area where he is more present this season is in the fast game. Several times already, he took the rebound, went up the ball and finished the action with a big dunk. His "coast-to-coast" are authoritarian and reflect his desire to play these sequences, usually reserved for Ben Simmons.
"Being able to get the ball back and play the transition, I've always been like that, except this year I have more freedom to do it. In previous years, we had someone who was so strong in this area (Well Simmons, so…) that we only had to give him the ball to launch the attack. His absence creates a vacuum in this sector. That's why I decided to change dimensions in these moments. he concludes.
Joel Embiid
Percentage
Bounces
Season
Team
GM
Minimum
Shots
3 points
LF
Off
Def
Early
pd
party
Int
bp
CT
Points
2016-17
PHL
31
25
46.6
36.7
78.3
2.0
5.9
7.8
2.1
3.6
0.9
3.8
2.5
20.2
2017-18
PHL
63
30
48.3
30.8
76.9
2.3
8.7
11.0
3.2
3.3
0.6
3.7
1.8
22.9
2018-19
PHL
64
34
48.4
30.0
80.4
2.5
11.1
13.6
3.7
3.3
0.7
3.5
1.9
27.5
2019-20
PHL
51
30
47.7
33.1
80.7
2.8
8.9
11.6
3.0
3.4
0.9
3.1
1.3
23.0
2020-21
PHL
51
31
51.3
37.7
85.9
2.2
8.4
10.6
2.8
2.4
1.0
3.1
1.4
28.5
2021-22
PHL
34
33
49.8
39.1
81.4
2.0
8.7
10.7
4.2
2.6
1.0
3.0
1.4
28.4
Total
294
31
48.8
33.6
80.9
2.3
8.9
11.2
3.2
3.1
0.8
3.4
1.7
25.2