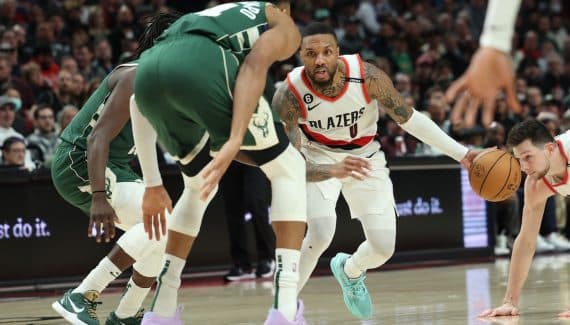 The bookmakers have changed sides. Last June, bettors were betting, in the wake of their title, on the Nuggets to achieve the double in 2024. Today, the Bucks regain the label of favorite due to the arrival of Damian Lillard in Milwaukee.
According to Caesars Sportsbook reference values, Wisconsin players now have the best chance of being crowned next June (+375), ahead of the reigning champions (+425). Behind them we find the reigning finalists in the Eastern Conference, the Celtics (+500), then the very ambitious Suns (+550), around their trio Kevin Durant – Devin Booker – Bradley Beal.
The Bucks move from 4th to 1st place
Ahead of this huge transfer, the Jrue Holiday Bucks were in fourth place (+850), behind the three teams mentioned above. Jeff Sherman, a longtime Las Vegas bookmaker who oversees NBA odds for SuperBook, told ESPN that bettor interest in the Bucks during the offseason had been minimal.
The announcement of the arrival of the former Blazers superstar obviously changed the situation, since the forecast for the number of Bucks victories is also readjusted upwards (from 52.5 successes to 55.5). As for the Heat, long considered the favorite to recover the leader, they saw their odds among bettors drop (from 6-1 to 25-1)…