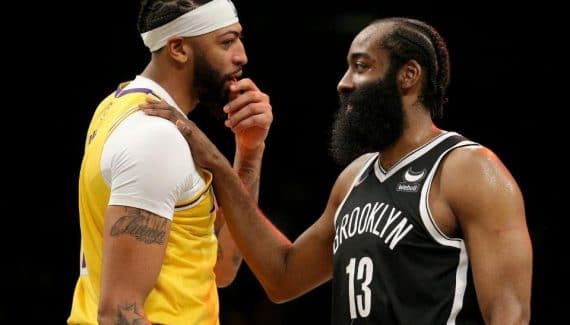 In search of a boost to attack this second part of the season, the Lakers recorded the return of Anthony Davis, absent since December 17, to leave Brooklyn with the victory this night. The contribution of the Californian pivot was modest even if we will remember his 4 blocks to accompany his 8 points at 3/8 shooting for his return to the game, but his presence undeniably helped the rest of the team.
"He makes our team so much more complete, whether it's our defensive span, our ability to defend hard because we know we have him behind, close to the circle, or our ability to switch a lot because he can defend from position 1 to 5", recalled LeBron James, still author of a big game (33 points, 7 rebounds, 6 assists). "Offensively, he draws attention and therefore usually averts the eyes on me, on Russell Westbrook, on Carmelo Anthony, on Malik Monk. His presence takes the pressure off everyone because he is a very dynamic player".
After missing 17 games with a sprained left knee, Anthony Davis gave his feelings after the game, believing he could soon be out of the minute restrictions once he fully regains his cardio.
"Most of the time I felt good. I felt very good on the field. On the first two minutes, adrenaline took over, then my breath caught up with me., he confided. "When I found my second wind, I was good for the rest of the match. I'm not really familiar with the issue of minute restrictions, but I think for me it could be over quickly. I could tell Coach Vogel that I don't need it, but we'll see."
Frank Vogel could indeed need his pivot a little more than expected during the next game of the Lakers since it will be a question of containing Joel Embiid on the floor of the Sixers tomorrow evening. An entire program !
Anthony Davis
Percentage
Bounces
Season
Team
GM
Minimum
Shots
3 points
LF
Off
Def
Early
pd
party
Int
bp
CT
Points
2012-13
NOP
64
29
51.6
0.0
75.1
2.6
5.6
8.2
1.0
2.5
1.2
1.4
1.8
13.5
2013-14
NOP
67
35
51.9
22.2
79.1
3.1
7.0
10.0
1.6
3.0
1.3
1.6
2.8
20.8
2014-15
NOP
68
36
53.5
8.3
80.5
2.5
7.7
10.2
2.2
2.1
1.5
1.4
2.9
24.4
2015-16
NOP
61
36
49.3
32.4
75.8
2.1
8.2
10.3
1.9
2.4
1.3
2.0
2.1
24.3
2016-17
NOP
75
36
50.5
29.9
80.2
2.3
9.5
11.8
2.1
2.2
1.3
2.4
2.2
28.0
2017-18
NOP
75
36
53.4
34.0
82.8
2.5
8.6
11.1
2.3
2.1
1.5
2.2
2.6
28.1
2018-19
NOP
56
33
51.7
33.1
79.4
3.1
8.9
12.0
3.9
2.4
1.6
2.0
2.4
25.9
2019-20
ALL
62
34
50.3
33.0
84.6
2.3
7.0
9.3
3.2
2.5
1.5
2.5
2.3
26.1
2020-21
ALL
36
32
49.1
26.0
73.8
1.7
6.2
7.9
3.1
1.7
1.3
2.1
1.6
21.8
2021-22
ALL
27
35
52.1
17.9
72.7
2.7
7.2
9.9
2.9
2.3
1.2
2.2
2.0
23.3
Total
591
34
51.4
30.4
79.6
2.5
7.7
10.2
2.3
2.3
1.4
2.0
2.3
23.8