Basketball News
Why is Shai Gilgeous-Alexander so clumsy at 3-pointers? | NBA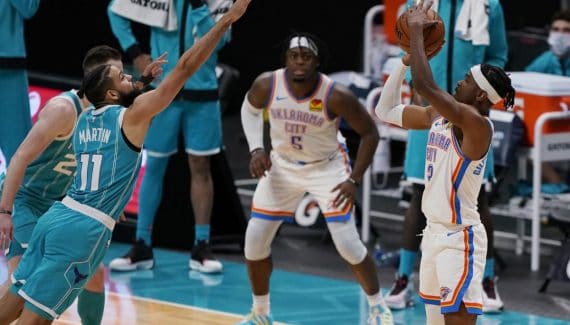 Among the players who shoot at least six times per game at 3-point, there is no more clumsy in the NBA! With 27.7% behind the arc, Shai Gilgeous-Alexander has the worst percentage of his young career, and it's obviously problematic when you're a fullback, and you shoot so much per game.
" It sure embarrasses me »Recognizes the Thunder star. " I don't like to be bad at shooting. But the best way to make it fit is still to shoot. "
Last season, SGA shot nearly 42%, or about 15 points more, and there must be an explanation for this sudden drop in skill. According to The Oklahoman, one of the tracks is technical since the Canadian takes most of his long shots in "step-back", and this was not the case last season. The proof, last year, in 35 matches, he had tried 51. This season, after 34 matches, he is already at 116. Last season, the 3-points in "step-back" represented 30% of his attempts. This season: 56%!
"It's something I've worked on, and it's something I'm comfortable with" defends the person concerned. Except that this gesture does not succeed too much with 27.6% of skill from afar. For his coach, this development will pay off in the long term.
Less have the ball in hand
"I think that the fact that he develops this shot, that he is a threat and that he encourages the players to defend it more closely is certainly strategic for his long-term development for the creation of his shots" says Mark Daigneault. "These young players need space up to a point, but they have to stay in the collective. I would say there are some shots we're comfortable with and some that he has to work on himself. If he has players defending him more closely, he must penetrate, or if they stick several players to him, he must circulate the ball. "
Exploring SGA's 3-point stats in detail, The Oklahoman noticed that he was shooting 43% on catch-and-shoot. These are therefore shots taken from a game without a ball, and as unfortunately, it is often he who serves the others, he only takes one shot on average on "catch-and-shoot".
For Mark Daigneault, the idea is therefore to have more creators so that Shai Gilegous-Alexander plays more as a rear-shooter since he is rather skilful on the balls that have come out.
"When someone else creates, you have to be at the reception on the drive-and-kick. This is the most important point for Shai. The fact that he does this on the catch-and-shots, and not only on that, but that he is also able to penetrate on these re-emerged balloons, is a way for him to involve another creator so that it's not just Shai, Shai, Shai every time. It wasn't, but it will improve the effectiveness of the other creator – be it Tre, Josh, Lu or whoever else – if Shai is more involved in these actions and if he better finish these actions. "
Shai Gilgeous-Alexander
Percentage
Rebounds
Season
Team
MJ
Min
Shots
3pts
LF
Off
Def
Early
Pd
Fte
Int
Bp
Ct
Pts
2018-19
LAKE
82
27
47.6
36.7
80.0
0.7
2.1
2.8
3.3
2.1
1.2
1.7
0.6
10.8
2019-20
OKAY
70
35
47.1
34.7
80.7
0.7
5.2
5.9
3.3
1.7
1.1
1.9
0.7
19.0
2020-21
OKAY
35
34
50.8
41.8
80.8
0.5
4.2
4.7
5.9
2.0
0.8
3.0
0.7
23.7
2021-22
OKAY
33
35
41.5
28.1
82.1
0.6
4.1
4.6
5.2
2.3
1.0
2.4
0.7
22.3
Total
220
32
46.8
34.9
80.9
0.7
3.7
4.4
4.0
2.0
1.1
2.1
0.6
17.2