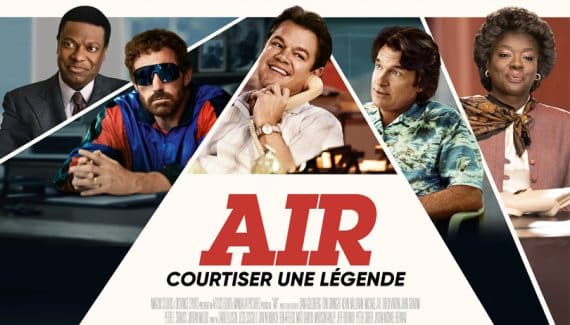 Released in American cinemas on April 5, and now available on Amazon Prime, the film entitled "Air" was rather well received by critics. Well Named.
It must be said that with such a "Dream Team" of actors led by Viola Davis who plays Deloris Jordan, Michael's mother, Matt Damon as Sonny Vaccarro and Ben Affleck as Phil Knight, or even Jason Bateman and Chris Tucker, the level is raised.
But the backstory is also well-woven, with that "history-changing" moment, when Michael Jordan finally chose to sign with the young American firm Nike (for 2.5 million dollars over five years "only" ), which he didn't even want to give an interview to originally, rather than the sacred monsters of the time, Adidas and Converse, who were starting out as the overwhelming favorites in the race.
The unlikely signature at Nike
We never see Michael Jordan in the film, only glimpsed from behind very briefly (and this is another tour de force of the film), but he is obviously the main subject of the narration. By having been the inspiration, through the inevitable documentary released in full confinement…
"When I was watching The Last Dance, there was a five-minute segment on [sa signature avec] Nike, and I said to myself: 'but obviously, there is a film to be made on that! »explains screenwriter Alex Convery for The Hollywood Reporter. "It's mainly because this contract was so unlikely. It was next to impossible, and there was no reason for Nike to get Jordan back. But they did! And it changed the world, so to speak. »
Presented as one of the major players in this decision, the famous talent scout Sonny Vaccaro (who will later take care of Tracy McGrady and Kobe Bryant with Adidas) was in fact only one pawn among others, on the large chessboard that includes many other protagonists.
Moreover, Michael Jordan himself reviewed the script and asked Ben Affleck and Matt Damon to add important characters for him, including George Raveling (former Olympic team assistant) played by Marlon Wayans who was according to MJ the one who played the most in his decision, but also not to forget the importance of Howard White (Chris Tucker). For his part, MJ also weighed in the choice of actors… actress, in this case!
"I asked him in a somewhat offhand way, which is always a mistake, who he saw to play the role of his mother"detailed Ben Affleck for NME. "He told me it had to be Viola Davis. I said okay immediately, because it was like saying you want Michael Jordan when you're building a basketball team. We want the best and I expected no less from him, knowing how competitive he is. »
Successful both in aesthetics and in the narrative, "Air" is nonetheless very free in terms of historical truth. The directors did not hide it, Hollywood effect obliges. For purists, and under the control of Scott Reamesthe brand's historian, we take stock.
Untangling the real from the fake
From the outset, there are several important threads in the script that were simply invented from scratch to reinforce the dramaturgy, such as the idea that the director's office was thinking of eliminating its basketball section in 1984, or that Nike was inventing with Michael Jordan this type of agreement where the athlete receives a share of the profits (5% in fact) on each pair sold. In fact, Nike had already done it in 1975 with the "Pro-Club"a group of ten professional basketball players who received, among other things, 20 cents on each pair purchased.
If it is indeed verified that his agent David Falk is the one who invented the name "Air Jordan", on the other hand, Sonny Vaccaro never negotiated the contract of Michael Jordan with his mother. In truth, neither Sonny Vaccaro nor the mother were involved in the negotiations, which were handled from start to finish by Rob Strasser, a Nike executive played by Jason Bateman and Michael Jordan's agent Falk.
Likewise, while it's true that Sonny Vaccaro pushed hard with his superiors at Nike to sign Jordan, he never visited the Jordan family at their home in Wilmington, North Carolina. Which however occupies several scenes, and an important part of the scenario of Air.
Taking center stage as fictional Matt Damon during the presentation against the Jordans at Nike headquarters in Beaverton in the summer of 1984, Sonny Vaccaro actually didn't say much during the reunion. Strasser and Peter (not Pete) Moore, the designer of the first Air Jordan shoe, had been the main actors.
The case of fines
The presentation was far from perfect, with Strasser sweating profusely as his highlights cassette set to music failed to play in the VCR. And a Jordan who kept his face closed through and through. And this, until dinner in a chic restaurant in downtown Portland after the meeting.
As for the history of fines paid to the League for non-compliance in terms of authorized colors for shoes, there is true and false.
For the real thing: Strasser has indeed agreed to pay the one thousand dollar fine per match (80,000 dollars). Before capitulating when it swelled to five thousand dollars a game, then outright turned into a threat of outright suspension!
For the false: the designers of Nike did not knowingly think of the colors of the first Air Jordan to create the scandal, knowing that they were going to be fined. At the time, all the actors were surprised at the extent of the situation.
In the end, as much for Nike, which only intended to make a small profit of 3 million dollars in three years for the Air Jordan 1, finally amounting to 126 million in one year (!), as for Michael Jordan, who began to build his shoe empire that led him to create his eponymous brand, still as popular as ever, we can safely say that this contract was a "win-win"!