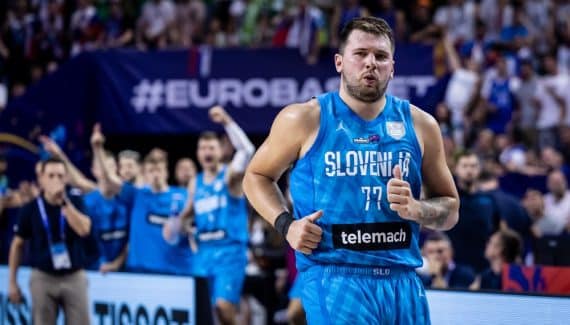 Luka Doncic made headlines again on Tuesday on the basketball planet with an XXL performance against Germany in Cologne to allow Slovenia to take an option on first place in Group B. With 36 points, 10 rebounds and 4 assists in meter, he was indeed decisive in the success of his team, 88-80, with in particular a fourth quarter during which he dominated the debates.
After the meeting, Luka Doncic highlighted the contribution of the group rather than his personal production. Everyone brought their stone to the building, like Mike Tobey with his two 3-point baskets at the start of the second quarter, or Goran Dragic (18 points), also effective at the height of the storm, at the end of the third quarter.
"We fought well, the whole team was ready. Every player who entered the field fought, whether he played a minute or thirty. I'm really proud of this team.", did he declare. "Each player played amazingly, fighting for every possession, it wasn't Luka Doncic who did it, it was Slovenia. It's amazing what we did today. It was very hard to face Germany in Germany in front of 18,000 people. It was a very complicated game but we found a way to win. It makes me very proud of this team."
The concept of a more important team
Even if he shone individually, with baskets in "Luka Magic" mode where Slovenia relied on his talent alone, Luka Doncic also recalled the importance of the collective against the tight defenses of FIBA ​​basketball.
On a smaller field, the spaces generated by Goran Dragic on the outside or Mike Tobey threatens them under the circle, as on his tap at the start of money-time to keep Slovenia at +9, and the work of undermining of each player overshadowed by his historical performance, are all the more precious for him.
"I think there are better defenders in the NBA. But here in Europe, the collective defense is more impressive. Because the field is smaller, you don't have the three-second rule on defense. Collective defense is very important".
Luka Doncic
Percentage
Bounces
Season
Crew
GM
Minimum
Shots
3 points
LF
Off
Def
Early
pd
party
Int
bp
CT
Points
2018-19
LAD
72
32
42.7
32.7
71.3
1.2
6.6
7.8
6.0
1.9
1.1
3.4
0.4
21.2
2019-20
LAD
61
34
46.3
31.6
75.8
1.3
8.1
9.4
8.8
2.5
1.0
4.3
0.2
28.8
2020-21
LAD
66
34
47.9
35.0
73.0
0.8
7.2
8.0
8.6
2.3
1.0
4.3
0.6
27.7
2021-22
LAD
65
35
45.7
35.3
74.4
0.9
8.3
9.1
8.7
2.2
1.2
4.5
0.6
28.4
Total
264
34
45.7
33.7
73.7
1.0
7.5
8.6
8.0
2.2
1.1
4.1
0.4
26.4