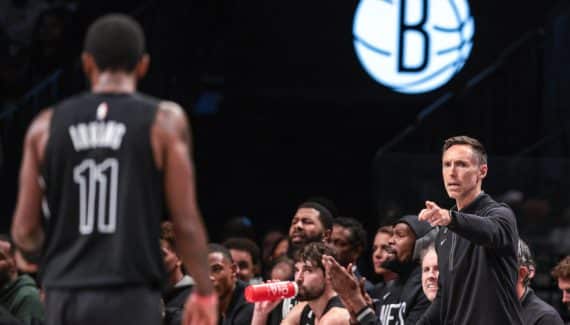 Before Kyrie Irving's latest controversy off the field, the Nets were already a team in crisis, who had just parted ways with their coach, Steve Nash, despite a victory against the Pacers. It must be said that previously, Brooklyn had started the season with five defeats in its first six outings.
During these first six games, many observers were ironic about the fact that the Nets played like a team that wanted the head of its coach. What the New York Post now confirms.
Because an opposing scout, who has worked in the NBA for years, ensures that during Brooklyn's defeat against Indiana on October 29, Kyrie Irving ignored the systems requested by his coach a dozen times.
"I couldn't believe what I was seeing" explained this scout, commissioned by another franchise to study the game systems and habits of the Nets. "Nash was calling something, and he (Kyrie Irving) was setting up the opposite. I had never seen such a thing. »
A situation reminiscent (and more muted) of the departure of Jerry Sloan, in Utah, when Deron Williams had decided to stop setting up his systems, triggering the resignation of the coach at the end of the match…
The New York Post confirms in any case information from Marc Stein, who explained right after Steve Nash was fired that it was well known among adversary scouts that Kyrie Irving didn't always follow Steve Nash's instructions on systems. But that it had become extremely obvious during this defeat against the Pacers.
Two days later, Steve Nash left the Brooklyn bench in any case and, with the suspension of Kyrie Irving, the Nets seem to have regained some collective cohesion.
"We communicate better and we cover each other. Everyone supports each other. That's what really helps"explains Nic Claxton on the last matches. "The main thing is trust. Trusting your teammate no matter who they are. We all have a job to do, and everyone works for a common goal: to win. You have to be able to silence outside noises and concentrate. »
Shots
Bounces
Players
GM
Minimum
Shots
3 points
LF
Off
Def
Early
pd
bp
Int
CT
party
Points
Kevin Durant
11
37.4
51.8
33.3
93.0
0.5
5.5
6.0
4.7
3.5
0.9
1.9
2.5
31.0
Kyrie Irving
8
38.7
45.3
28.0
92.7
0.8
4.4
5.1
5.1
2.4
1.4
1.1
3.0
26.9
Nicholas Claxton
11
28.8
71.8
0.0
42.9
3.3
6.0
9.3
1.2
1.6
0.9
2.3
2.8
12.2
Royce O'Neale
11
36.6
39.8
41.8
75.0
1.0
3.2
4.2
4.1
1.1
1.3
0.8
3.5
10.9
cam thomas
6
17.5
41.5
45.5
87.0
0.2
1.3
1.5
2.2
0.3
0.7
0.2
1.0
9.8
Joe Harris
9
24.8
41.3
32.6
33.3
1.1
2.4
3.6
2.2
0.3
0.6
0.3
2.3
7.4
Patty Mills
11
13.3
45.7
43.2
100.0
0.2
0.5
0.7
0.8
0.3
0.2
0.1
0.6
6.2
Edmond Sumner
9
15.6
37.2
20.0
100.0
0.2
1.4
1.7
1.3
1.2
0.7
0.3
1.2
5.8
Yuta Watanabe
10
16.0
59.5
54.5
0.0
0.5
1.9
2.4
0.5
0.3
0.3
0.6
1.0
5.6
Ben Simmons
7
29.6
43.2
0.0
46.7
1.0
5.0
6.0
6.6
2.6
1.1
0.6
4.1
5.6
David Duke
5
12.1
47.6
0.0
100.0
0.4
1.2
1.6
0.8
1.0
0.6
0.0
2.4
4.6
Day'ron Sharpe
7
11.3
42.1
0.0
50.0
1.3
2.3
3.6
0.7
0.9
0.4
0.7
2.9
2.9
Markieff Morris
6
8.6
31.3
41.7
0.0
0.2
1.8
2.0
0.7
0.7
0.3
0.2
1.3
2.5
Seth Curry
3
15.1
8.3
12.5
100.0
0.0
0.7
0.7
2.0
0.3
0.7
0.3
1.7
1.3
Kessler Edwards
3
1.9
33.3
50.0
0.0
0.0
0.7
0.7
0.7
0.0
0.3
0.0
0.0
1.0