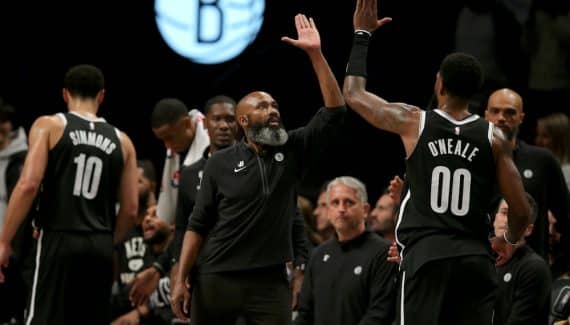 Jacque Vaughn is no longer at his first attempt as head coach in the NBA. After being an assistant for two years in San Antonio to inquire about the basics (2010-2012), the former leader had a first experience, rather complicated, of two and a half years in Orlando (2012-2015). He was then noticed in the "bubble" of 2020 as the Nets' interim coach after the departure of Kenny Atkinson.
This time, his coaching career seems set to last for his return to the helm of Brooklyn, the neighborhood where he is from, in a franchise whose jersey he wore, and after a rather encouraging start (13 wins out of his 20 first games).
Through a long question-and-answer session, the New York Post tried to find out more about the philosophy and principles of Jacque Vaughn as a coach.
Too many rules kill the rules…
Far from the image of the authoritarian coach that he can sometimes let appear on the bench, he learned flexibility in his relationship with the group, in particular on the thorny question of "internal regulations", these red lines that the players do not do not have the right to cross, like arriving late for example.
"I learned early on as a coach that rules get you in trouble. I do not agree with rules that are thought to be 100% non-negotiable. I think everything is negotiable." he explained, while refuting the idea that there is no defined framework. "Technically, for example, when I take you off the field, you have to go out. And when I put you there, you have to go (smiles). But there's nothing like saying, "You can't be late." There are times when something happened, and you're going to be late. When you're asked to explain it to your teammate and the group, there's a reason behind it all… Just like basketball, there can't be zero mistakes. I treat these guys like human beings".
A former playmaker, he learned to share and give, and for him, "selfishness" is the first thing to drive out of his locker room.
"There's this important thing for me, which is to say 'hello' to you in the morning. And the reason I'm doing this is that for that split second, I'm concerned about your morning, not mine. And that's why I try to say "Hello" to every player every day. This is the moment that I give them (to exchange) ".
A shaggy beard like its workforce
The experience has also allowed him to gain wisdom in relation to his job as a coach and the pressure that can exist every night during a long season.
" I've definitely gotten better with age. I learned to separate things more quickly. Whether it's a possession or a game. I am able to take a short and long term view of the situation ", he added, also referring to the evolution of his posture vis-à-vis his players. "At the time, as a young manager, I probably thought I had to have all the answers, and let the group know I had all the answers, not tell my team what I'm going to tell them in the tunnel, like, 'I messed that up. I shouldn't have put you in that position.
This experience can also be read on his face and on his graying beard, roughly trimmed as if to signify that he no longer cares about the appearance he returns, that he has also gained in confidence.
As such, he compared the texture of his beard to the composition of his group: each part grows at its own pace!
" That's it. It's like this side that grows a little faster than the other, the growth is different, "he said. "Whether it's Nic Claxton growing up at a different pace than Day'Ron Sharpe. You have a bit of a gray beard, which is the older ones, like Markieff Morris, and less fleshed out parts, like a young guy getting closer to the pitch, like Alondes Williams. Sometimes it's confusing. You wake up one morning and nothing is going right. So it's up to you to make the whole thing look presentable. You comb and brush your beard, and we solve those worries together. At the end of the day, you want your beard to look presentable. For the team, it's the same, we want them to work hard, to be selfless, and presentable for the Brooklyn neighborhood. That's how you tie it all together."
Shots
Bounces
Players
GM
Minimum
Shots
3 points
LF
Off
Def
Early
pd
bp
Int
CT
party
Points
Kevin Durant
27
36.8
55.6
33.9
92.0
0.3
6.3
6.6
5.4
3.4
0.7
1.7
2.4
30.0
Kyrie Irving
19
36.9
48.3
32.9
91.0
0.8
3.9
4.7
4.5
2.4
0.8
1.1
2.7
25.3
Nicholas Claxton
25
28.1
72.7
0.0
42.3
2.6
6.1
8.7
1.2
1.4
0.7
2.2
3.0
11.8
Seth Curry
17
23.3
46.2
41.9
93.3
0.2
2.1
2.4
2.5
1.2
0.6
0.2
1.9
9.7
Royce O'Neale
27
36.0
37.7
40.7
64.0
0.9
4.4
5.4
4.7
1.8
1.1
0.7
3.3
9.3
Joe Harris
25
26.5
40.7
37.4
70.6
0.5
2.6
3.1
1.7
0.6
0.6
0.3
2.6
8.6
Ben Simmons
18
27.6
61.9
0.0
54.5
1.0
5.6
6.6
5.9
2.4
1.4
0.7
3.7
8.2
Yuta Watanabe
14
18.2
60.9
57.1
66.7
0.7
2.2
2.9
0.9
0.4
0.2
0.5
1.1
8.1
Edmond Sumner
22
15.2
45.4
28.3
92.5
0.3
1.1
1.4
1.2
1.1
0.9
0.2
1.5
7.2
Tj Warren
4
16.7
50.0
25.0
75.0
1.0
1.0
2.0
1.5
0.5
0.8
0.3
1.3
7.0
cam thomas
20
14.4
35.9
28.0
80.0
0.1
1.3
1.3
1.5
0.8
0.5
0.2
1.0
6.1
Patty Mills
20
10.9
42.3
38.2
100.0
0.3
0.6
0.8
1.1
0.4
0.2
0.1
0.5
4.6
Markieff Morris
15
10.7
39.1
46.9
0.0
0.3
1.7
2.0
1.0
0.5
0.3
0.2
1.3
3.4
David Duke
13
7.7
45.7
0.0
75.0
0.3
0.6
0.9
0.7
0.7
0.3
0.1
1.5
2.7
Day'ron Sharpe
16
7.4
46.9
75.0
66.7
0.8
2.0
2.8
0.6
0.6
0.2
0.5
1.6
2.6
Kessler Edwards
12
3.3
23.1
28.6
50.0
0.2
0.3
0.4
0.2
0.1
0.2
0.1
0.1
0.8