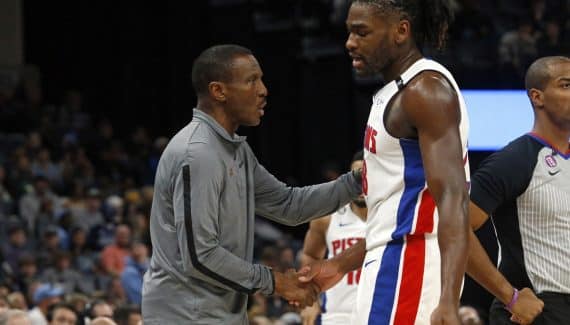 Like the Rockets, the Pistons will have a new face on their bench next season. After five seasons and only 121 victories to his name, Dwane Casey will leave the courts to join the offices of the franchise. Even if his new role is still unclear, which the former coach confirms himself, explaining that he will have to talk about it with the GM, Troy Weaver.
The manager took the opportunity to pay tribute to the work of the technician, who has been the basis of the reconstruction of the Pistons in recent years.
"For three seasons in a row, players have been in the All-Rookie Team under his tutelage", reminds Troy Weaver for the Detroit Free Press. "He took a beating for this franchise. He was on the front line. It's not easy to only win 20 matches, it's hard. He was criticized, but faced it with style, class and integrity. This is the reason why he will continue with us. »
The immediate future of the Pistons is to find him a replacement. Troy Weaver will be patient and the name of the new coach could very well only be known in a few weeks. But his profile is already outlined.
"I know what this team needs and it's simple: discipline, progression and defense. This is what we are looking for the new coach. »
And as Dwane Casey points out: all options on the table.
"It's an ideal situation for any coach, whether young or experienced. The talent is there, it just takes time." he explains. "We know our selling points", adds Troy Weaver. "The owners, the city, the fans are great and we have young talent. »
Shots
Bounces
Players
GM
Minimum
Shots
3 points
LF
Off
Def
Early
pd
bp
Int
CT
party
Points
Bojan Bogdanovic
59
32.1
48.8
41.1
88.4
0.6
3.2
3.8
2.6
2.3
0.6
0.1
1.9
21.6
Cade Cunningham
12
33.4
41.5
27.9
83.7
1.0
5.2
6.2
6.0
3.3
0.8
0.6
2.8
19.9
Jaden Ivey
74
31.1
41.6
34.3
74.7
1.0
2.9
3.9
5.2
3.2
0.8
0.2
3.3
16.3
Saddiq Bey
52
28.8
40.4
34.5
86.1
1.1
3.5
4.7
1.6
1.0
1.0
0.2
1.7
14.8
Alec Burks
51
22.0
43.6
41.4
81.4
0.4
2.7
3.1
2.2
1.1
0.7
0.2
1.9
12.8
James Wiseman
24
25.2
53.1
16.7
71.2
2.3
5.8
8.1
0.7
1.5
0.2
0.8
2.9
12.7
Marvin Bagley III
42
23.6
52.9
28.8
75.0
2.2
4.2
6.4
0.9
1.1
0.5
0.7
1.9
12.0
Isaiah Stewart II
50
28.3
44.2
32.7
73.8
2.3
5.8
8.1
1.4
1.4
0.4
0.7
2.7
11.3
Killian Hayes
76
28.3
37.7
28.0
82.1
0.4
2.5
2.9
6.2
2.3
1.4
0.4
2.9
10.3
Eugene Omoruyi
17
21.9
42.5
29.3
72.3
1.2
2.2
3.5
1.0
1.1
0.8
0.2
2.6
9.7
Hamidou Diallo
56
17.8
57.3
23.8
58.8
1.0
2.4
3.5
1.0
1.3
0.9
0.3
2.2
9.3
Jalen Duren
67
24.9
64.8
0.0
61.1
3.4
5.5
8.9
1.1
1.4
0.7
0.9
2.7
9.1
Rj Hampton
21
18.5
42.3
36.5
66.7
0.4
1.9
2.3
1.0
1.0
0.5
0.2
1.4
7.3
Cory Joseph
62
19.8
42.7
38.9
79.2
0.3
1.4
1.7
3.5
0.9
0.5
0.1
1.4
6.9
Isaiah Livers
52
23.0
41.7
36.5
82.1
0.5
2.2
2.8
0.8
0.6
0.5
0.5
2.0
6.7
Rodney McGruder
32
16.4
40.8
42.3
81.8
0.6
1.7
2.3
0.9
0.3
0.5
0.0
1.2
5.7
Kevin Knox
42
14.1
46.9
37.1
78.8
0.5
2.1
2.6
0.4
0.8
0.3
0.3
1.8
5.6
Jared Rhoden
14
14.1
38.6
25.0
100.0
0.8
1.9
2.6
0.3
0.2
0.3
0.1
1.6
3.2
Nerlens Noel
14
10.8
40.0
50.0
70.0
0.5
2.1
2.6
0.5
0.6
0.9
0.6
1.8
2.3
Stanley Umude
1
2.1
0.0
0.0
100.0
0.0
0.0
0.0
0.0
0.0
1.0
1.0
0.0
2.0
Buddy Boeheim
10
9.0
18.5
16.0
100.0
0.2
0.4
0.6
0.4
0.0
0.2
0.0
0.6
1.6
Braxton Key
3
3.0
100.0
0.0
100.0
0.0
0.3
0.3
0.0
0.0
0.0
0.0
0.0
1.3